RASPADSKAYA, Russia -- Boris Nefko, a coal miner in Russia's Kemerovo Oblast, says he routinely violates safety regulations in order to boost output and earn bonuses.
It's a common practice, experts and union officials say, in an industry where oversight is lax and workers can dramatically increase their salaries if they meet monthly production quotas.
But it's also a practice that costs scores of Russian miners their lives in accidents every year -- and it's likely to continue as long as the financial incentive exists.
"I've violated [the safety regulations] myself," Nefko says. "All they care about is that we produce more and more coal. And what do we get? Just 7-8 kopeks for every ruble [of profit]. They take the rest. They need to raise our salaries and reduce the production quotas."
It is still unclear what caused the twin explosions on May 9 in the Raspadskaya coal mine in Russia's Siberian region of Kemerovo. A total of 90 miners and rescue workers died as a result of the dual blasts.
Officials point to a large emission of highly combustible methane, despite the fact that the mine's safety detectors failed to register any such buildup at the time of the blasts. Miners, however, often disable the methane detectors themselves by blanketing them with wet rags, while management turns a blind eye -- in order to keep working as they push to fill quotas.
The tragedy at Raspadskaya, which produces more than 10 percent of the coking coal used to make Russian steel, is exposing lingering class resentments in Russian society.
It is also spooking the Kremlin, which has a long-standing fear of politicized miners.
Citizen Volkov
On May 15, a week after the explosion, scores of miners in the town of Mezhdurechensk, near the Raspadskaya mine, took to the streets to protest the fact that they must routinely risk their lives in order to earn a decent wage. Some 28 people were arrested as demonstrators blocked a railway line and clashed with police.
"It was a significant move when they decided to block the rail lines," Svetlana Klimova of the Russian Academy of Sciences Institute of Sociology tells RFE/RL's Russian Service, adding that the desperation the miners are feeling may have political consequences.
"This means they lost their last illusions that the authorities in Moscow would understand their plight."
Miners and their supporters bitterly point out that the authorities declared a national day of mourning following the March 29 bombing in the Moscow metro that killed dozens of rush-hour commuters, but offered no such honor for the scores who died in the Raspadskaya blast.
Raspadskaya head Igor Volkov (pictured) stepped down after Vladimir Putin lambasted him.
In an effort to stem the anger, Prime Minister Vladimir Putin held a nationally televised videoconference with the management of the Raspadskaya mine on May 17. In his trademark style, Putin openly berated the mine's director, Igor Volkov, who prior to the explosions had repeatedly been accused of infractions by Rostekhnadzor, Russia's main safety agency.
Addressing Volkov derisively as "citizen" -- a pointed throwback to the Soviet era, when police and prosecutors routinely used the word when speaking to criminals -- Putin openly wondered why Volkov still had a job.
"Last year Rostekhnadzor asked the court four times to remove the mine director, Volkov, who is present here now, from his position for multiple violations. There was no reaction," Putin said.
"As you know a terrible tragedy happened at the mine on May 9. But Citizen Volkov is still working, and he is still sitting in this room with all of you now."
Unsurprisingly, Volkov resigned the following day. He now faces charges for criminal negligence.
Oligarch Owners
But while critics welcome Volkov's dismissal, they say the miners' problems run deeper.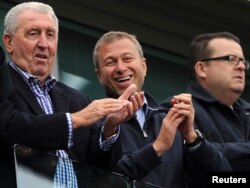 Roman Abramovich (center), seen here watching his English Premier League squad Chelsea, is a part owner of Evraz, which in turn controls the Raspadskaya mine.
The Raspadskaya mine is owned by Evraz, a massive holding company controlled by the Kremlin-connected oligarch Roman Abramovich and steel tycoon Aleksandr Abramov. But both men have emerged seemingly unscathed from the mine disaster, with Putin reserving his wrath for Volkov alone.
Vladimir Milov, a former Russian deputy energy minister, notes that while mine accidents have decreased markedly since the industry was privatized in the late 1990s -- dropping from a late-Soviet average of 450 deaths a year to 50-60 now -- Evraz-owned mines have accounted for a disproportionate share of recent accidents.
"It seems to me that those enterprises owned by Evraz, which is under the control of Abramovich and Abramov, seem to systematically have accidents. This sets them apart from the general decrease in fatal mine accidents," Milov says.
"This is a reason to ask the bosses of Evraz Holding what is going on with safety in their mines."
In March 2007, a gas explosion at the Evraz-owned Ulyanovskaya mine in Kemerovo killed 110 people. An investigation later revealed that the methane detector had been disabled. Two months later, 38 miners died in a methane blast at the Yubileinaya mine, also in Kemerovo and also controlled by the Evraz group.
In a commentary that ran in "The Moscow Times" on May 19, political analyst Yulia Latynina writes that "Evraz must pay Putin's bureaucrats large bribes and kickbacks to stay in operation, and these 'corruption taxes' are built into production costs at Raspadskaya, which translates into lower wages and thus the need for miners to circumvent safety regulations in order to earn bonuses."
According to "The New York Times," miners earn a base monthly salary of approximately $830 a month, which can rise to $1,164 if they meet their production quotas. While considerably higher than the average monthly wage of $580, profound health and safety risks make the profession a potentially costly gamble for its workers.
Until this corruption is tackled, analysts say, disasters like the ones at Raspadskaya, Ulyanovskaya, and Yubileinaya will likely continue.
Appealing To The President
Institutions like truly independent trade unions that protect workers' rights and help guarantee their safety in other countries -- as opposed to officially recognized unions that are de facto under the control of the state -- are largely absent in Russia.
"The authorities have done a lot in recent years to fight against independent labor unions. They had the FSB and the security services working on this," Milov says.
Repair and restoration work at the damaged vertical shaft of the Raspadskaya coal mine on May 10
"The liquidation of independent unions was part of what they call the battle against extremism -- that is, any possible opposition to the authorities."
In an appeal to President Dmitry Medvedev posted on the Internet on May 16, a group purporting to represent residents of the area around Raspadskaya and Mezhdurechensk called for an end to the suppression of independent labor unions and a threefold increase in miners' base salaries.
Small rallies
were held in a number of Russian cities on May 22 to mourn the victims of Raspadskaya and demand better conditions for miners and the dismissals of Interior Minister Rashid Nurgaliyev and Kemerovo Governor Aman Tuleyev.
Some among the authorities, meanwhile, are claiming that unidentified "enemies" are trying to use the tragedy at Raspadskaya to bring down Russia's current rulers. Governor Tuleyev says the protests in Mezhdurechensk were not organized by miners but by "young people and bandits."
There are also signs that, despite Putin's call for tighter controls over the industry, the Kremlin is doing everything it can to prevent a full accounting of what happened at Raspadskaya and why. When the Communists, Liberal Democrats, and A Just Russia factions in the State Duma attempted on May 19 to initiate a parliamentary investigation into the tragedy, they were blocked by the pro-Kremlin United Russia faction, which controls two-thirds of the legislature.
United Russia lawmaker Sergei Neverov took to the podium and accused them of politicizing the tragedy.
"Stop trying to capitalize on the miners' tragedy," Neverov said to applause from his United Russia colleagues. "It has long been clear that some politicians who lack moral principles and values want to use the Raspadskaya mine tragedy to spark a revolution. We don't need this."
written by Brian Whitmore in Prague with reporting by RFE/RL Russian Service correspondents Anastasia Kirilenko from Raspadskaya and from Veronika Bode and Danila Galperovich in Moscow