A British court has granted bail to former Bosnian Presidency member Ejup Ganic, who is wanted by Belgrade on war crimes charges stemming from the start of the Bosnian war in May 1992.
The High Court in London ruled today that Ganic should be freed from prison under "stringent" rules that include a nighttime curfew and the condition that he remain at an undisclosed address in central London and report regularly to a police station.
The judge in the case said a bail payment of $450,000 had been provided for Ganic by "an anonymous lady of substantial means." The money is meant to guarantee that Ganic does not flee Britain before British judges rule on March 29 whether he should be sent to Belgrade or Sarajevo to face a war crimes trial -- or if, in fact, he should be extradited at all.
We have a situation in which certain cases that should be closed are kept open, which is only making life difficult for all those who held any sort of public office in Bosnia and Herzegovina during the war.
As the extradition case against Ganic progresses in London, Bosnian justice officials are coming under increased criticism in Sarajevo for failing to take legal action against Ganic in the first place -- a failure that critics say has left room for Serbia to demand that Ganic be sent to Belgrade for trial.
Ganic was detained on March 1 at London's Heathrow Airport on a provisional extradition request from Belgrade alleging he was involved in and responsible for the killing of 42 Yugoslav National Army (JNA) soldiers on May 3, 1992, under a flag of truce.
No government official in Belgrade would offer a direct response to RFE/RL's questions regarding the basis for the warrant. But on March 10, Belgrade sent a formal extradition request to Britain with what Serbia's Justice Ministry described as "extensive documentation." That official extradition request alleges Ganic was responsible for the deaths of 18 JNA troops. (Ganic has denied responsibility for the incident, and Bosnian officials argue the total death count for the incident is far lower.)
Critics Blame Sarajevo Prosecutor
Sinan Alic, head of a Bosnian nongovernmental organization called the Truth, Justice, and Reconciliation Foundation, told RFE/RL that Bosnian state prosecutors should have dealt with the Serbian allegations against Ganic long ago.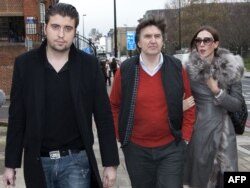 Ejup Ganic (center) is escorted by his son and daughter as he leaves a London police station on March 12.
"I am referring above all to the prosecutor's office -- and in particular, prosecutor Marinko Jurcevic, who failed to act and allowed others to exploit the case for their own purposes," Alic says.
Alic also says that Ganic and 18 other Bosnians who are wanted under Serbian war crimes extradition requests are being "held hostage" to Belgrade's policies "as a result of the incompetence and lack of preparedness" of the Bosnian government.
Some Bosnians argue the evidence against Ganic is weak, and that Bosnia-Herzegovina would have been wise to preemptively launch proceedings before Serbia could build its own case. Marko Prelec, an expert at the International Crisis Group, says he knows of no evidence that would sustain a legal case against the accused.
"We have a situation in which certain cases that should be closed are kept open, which is only making life difficult for all those who held any sort of public office in Bosnia and Herzegovina during the war," he says. "Now they have to wonder whether they can travel anywhere."
To be sure, much of the anger among Ganic's supporters in Bosnia has been directed at Britain for honoring Belgrade's warrant. Thousands of people have attended street rallies in Sarajevo to protest Ganic's arrest in London.
Bosnia's main Muslim party, the Party of Democratic Action (SDA), has been collecting petition signatures demanding that Britain release Ganic. That petition was handed today to the British ambassador in Bosnia, Michael Tatham.
But SDA leader Sulejman Tihic, who is among those who signed the petition, also is criticizing the work of Bosnia's judiciary. Tihic says Ganic would not have been arrested in Britain if the case against him had already been processed in Sarajevo.
Case Reviewed, Rejected By ICTY
According to documents obtained by RFE/RL from the International War Crimes Tribunal (ICTY) in The Hague, a district prosecutor in Bosnia's Serbian entity, the Republika Srpska, initially filed for Ganic to be tried at the UN court for "war crimes against POWs" in connection with the May 3, 1992, killings on Sarajevo's Dobrovoljacka Street.
But the UN tribunal's chief prosecutor at the time, Carla Del Ponte, rejected the request -- saying she had "taken the view that the evidence is insufficient by international standards to provide reasonable grounds for the belief that Ganic may have committed" such violations of international humanitarian law.
Frederick Swinnen, a political adviser to the chief prosecutor at the UN's war crimes court, says the court did not conduct its own investigation into the incident, and that that Del Ponte's decision was based "only on evidence received" from local prosecutors in Bosnia.
Swinnen says those files were returned by The Hague to Sarajevo in 2004 and that The Hague ruling is not relevant to the extradition case in Britain because the British courts may have additional evidence.
"We were asked for an opinion, but the case -- that file -- is now closed, and it was based on information we had received at that time," Swinnen says. "We were not an independent court taking the case independently," Swinnen adds, noting that the case was referred to The Hague under the court's review function over alleged war crimes in Bosnia.
"Today, you cannot ask [the UN's war crimes court] if there is sufficient evidence [against Ganic]," Swinnen says. "It is before other courts, and that is where it should be."
Justice officials in Sarajevo did not move on the case against Ganic -- despite the fact that he lives in Bosnia -- until Ganic was detained in Britain under Serbia's extradition request.
Only then did prosecutors in Sarajevo file a rival extradition request for Ganic -- a move that has complicated the case further and led to accusations from Belgrade that Sarajevo only wants Ganic in order to prevent him from being tried in Belgrade.
RFE/RL's Balkan Service correspondent Branka Trivic contributed to this report from Belgrade