The timing of Belgrade's extradition request to Britain for the arrest of Bosnia's wartime Vice President Ejup Ganic -- just as Radovan Karadzic opened his genocide trial defense in The Hague -- has brought accusations that Belgrade is using it as a tool to support Karadzic's defense.
It could take months for courts in Britain to rule on Serbia's call for Ganic to be handed over for a war crimes trial in Belgrade. In the meantime, Karadzic's trial and the arrest of Ganic by British police at Heathrow Airport on March 1 are stirring an old and bitter debate between Serbs and Bosniaks about what, precisely, happened in Sarajevo in May 1992 at the start of the Bosnian war.
Ibrahim Prohic, a commentator at the Sarajevo daily "Oslobodjenje" newspaper, says it is not a coincidence that the cases of Karadzic and Ganic are happening at the same time. "Very reliable indicators point to somebody directing this," Prohic tells RFE/RL. "The initiators of evil over the past 20 years have shown a remarkable level of skill this time. It remains to be seen what, and how strong, the effects will be."
Swap For Kidnapped President
Belgrade's extradition request claims Ganic was responsible for the deaths of 40 Serbian soldiers in the Yugoslav National Army (JNA) on May 3, 1992. It says Bosnian militia broke what was understood to be a truce and fired on the JNA's armored column.
Then-Bosnian President Alija Izetbegovic -- seized a day earlier by Serbian JNA troops at Sarajevo airport -- had named Ganic as Bosnia's acting president in his absence. The Serbian JNA troops on May 2, 1992, also had launched a heavy attack across Sarajevo but were halted by Bosnian militia along what would form the front line in the 44-month siege of Sarajevo.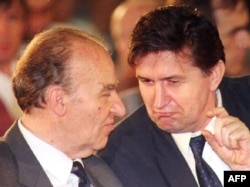 President Alija Izetbegovic (left) speaks with Vice President Ejup Ganic at a parliament session in Sarajevo in August 1993.
On May 3, about 400 mostly Serbian JNA soldiers -- including their commander, General Milutin Kukanjac -- remained trapped at their barracks in Sarajevo's old town neighborhood of Bistrik, surrounded by a ragtag assortment of Bosnian militia fighters.
Belgrade claims Ganic reneged on a guarantee to allow the JNA troops free passage as part of a deal to swap Izetbegovic for Kukanjac -- who would soon be replaced by the now-indicted war crimes fugitive General Ratko Mladic.
The UN-escorted JNA column -- loaded with weapons and ammunition that would be used against Sarajevo's residents during the next three years -- advanced about 500 meters out of the Bistrik barracks when militia fighters started firing on it, despite calls to hold fire.
A live broadcast on Sarajevo television captured the chaos of the situation -- suggesting Ganic had no control over the various Bosnian militia fighters on the ground when the column was attacked.
Western journalists who witnessed the clash later reported that no more than eight JNA soldiers and officers were killed.
Central To Karadzic's Defense
The events of May 2 and 3, 1992, cut to the heart of Karadzic's defense against charges of genocide for the siege of Sarajevo and the Srebrenica massacre. Karadzic, the Bosnian Serb wartime leader, told the UN war crimes court this week that Serbs were the first victims of violence in Bosnia and the conduct of Bosnian Muslims "gave rise" to the Serbs' subsequent conduct.
Karadzic said Bosnian Serbs were merely defending themselves throughout the early 1990s against Islamic fundamentalists who were trying to claim Bosnia as Yugoslavia was breaking up. Ganic is characterized by Belgrade and Bosnian Serbs as an Islamic extremist.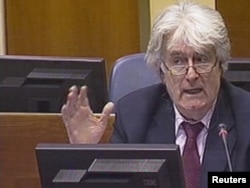 Radovan Karadzic begins his defense in The Hague.
Robin Harris, a speechwriter for former British Prime Minister Margaret Thatcher and close acquaintance of Ganic, tells RFE/RL he believes Belgrade's extradition request for Ganic is an attempt to strengthen Karadzic's defense.
"It's a politically motivated case," Harris says. "It is intended to distract from the Karadzic case and to try to create a kind of moral equivalence between what the Serbs did and anything that the Bosniaks may have done."
Harris says he finds it "rather astonishing" for Belgrade to make such claims. "The Serbs are claiming that in this column withdrawing through Sarajevo that 40 Yugoslav -- in this case, Serbian soldiers -- were killed," Harris explains. "Ten thousand of the Bosnian citizens were killed by these forces which were withdrawing and which then continued to bomb Sarajevo and shell it into the most terrible harm."
Harris concludes that it is "shameless bravado" for Belgrade to suggest there is an equivalence between the events of May 3, 1992, in Sarajevo and "the terrible crimes committed by Karadzic."
Ghosts Of War
The website of RFE/RL's Balkan Service has received dozens of comments from Bosniaks and Serbs about Britain's decision to detain Ganic until the British courts can rule on Belgrade's extradition request.
One Bosnian Serb, who now lives in the United States, wrote: "It is time for Ganic to be held accountable for his acts. The attack on a column of young and unprotected soldiers is significant. Imagine that your sons were there."
But a Bosnian man who identified himself as Bosanac, responded: "What victims? They held Sarajevo under siege -- with artillery and snipers -- and now, all of a sudden, they have become victims? War politics and propaganda continues."
A Bosnian woman in Sarajevo who lived through the 1992-95 siege lamented the amount of global media attention focused on Belgrade's allegations against Ganic this week compared to Karadzic's trial at The Hague. "No one follows Karadzic's trial, but everybody follows where Ganic is," she said.
In Banja Luka, the capital of Bosnia's ethnic Serbian entity, Republika Srpska, a Bosnian Serb man tells RFE/RL he thinks there is an equivalence between Karadzic and Ganic. "I would not agree that the question of Ejup Ganic is less important than the question of Radovan Karadzic," he says. "These are two equally important things."
Anto Nobilo, a Zagreb-based attorney who defended Bosnian Croat General Tihomir Blaskic at his war crimes trial in The Hague, says he also thinks Serbia's extradition request is part of a well-coordinated strategy to equate the actions of Karadzic and Ganic. "Serbia has a consistent policy and strategy," he says. "We may like it or not, accept it or not. But it is a thought-out policy and it has its head and tail and its continuity. They persist. They don't give up, while politicians in Bosnia react reflexively, from case to case."
The Congress of North American Bosniaks, an organization of expatriate Bosnian Muslims, has called Belgrade's extradition request "a direct attack on Bosnian sovereignty, its institutions, officials, and citizens." The group is calling on the Bosnian government in Sarajevo to recall its newly appointed ambassador to Serbia, Borisa Arnaut, in protest.
Harris says that in the end -- regardless of the details of British extradition law or bilateral treaties between Bosnia and Serbia on the right to try war-crimes suspects in their country of citizenship -- he does not expect Britain to hand Ganic over to Belgrade. He says that is because there is "absolutely no way" Ganic can get a fair trial in Serbia.
Nedim Dervisbegovic of RFE/RL's Balkan Service contributed to this report