Political leaders, central bankers, and business elite from around the world are gathering in the Swiss resort town of Davos for the annual World Economic Forum -- a five-day event that starts January 28.
More than 40 heads of state or government and some 2,000 global business leaders are expected to attend the forum, which will largely be dominated by discussions of the global financial crisis, according to Klaus Schwab, the event's founder and executive chairman.
"We are in the midst of a crisis -- a transformational crisis," Schwab said. "The world will be quite different when it comes out of the crisis. So we have two tasks. The first one is to help to manage the crisis, and second, to shape the post-crisis world. Because only if we look at longer-term perspectives can we recreate trust -- trust in our economic system and trust in the future."
In an interview provided by the Davos forum organizers, Schwab says this year's event presents an opportunity to create a unified voice on ways to move out of the financial crisis.
"We have over 90 different countries assembled. We have nearly 50 heads of states and government. The key challenge will be to create, really, a voice of solidarity -- a voice of unanimity," Schwab said. "Because it's the first real global crisis. And if we want to move out of the crisis, we have to address the crisis in a global, coordinated way. So how to create this coordination will be the top challenge for Davos."
But Schwab also cautioned that delegates at the Davos event do not have the power to formulate global policy.
"Davos is not a decision-making event," he said. "It is an event which shapes opinions [and] which makes sure that every decision which afterward is taken by the individual participants is based on the best strategic insights."
Russian Prime Minister Vladimir Putin is scheduled as the keynote speaker when the forum opens on January 28.
Others political leaders to speak during the five-day event include Chinese Premier Wen Jiabao, British Prime Minister Gordon Brown, German Chancellor Angela Merkel, and European Commission President Jose Manuel Barroso.
Azerbaijan's President Ilham Aliyev is to be a panel speaker in an event focusing on the global outlook for energy supplies.
Aliyev also is scheduled to join Kazakhstan's President Nursultan Nazarbaev and Turkey's Prime Minister Recep Tayyip Erdogan in a panel discussion about geopolitics in Central Asia titled "The Great Game Revisited."
Damaged Credibility
Scores of private sector business leaders also are scheduled to speak at events in Davos this week.
But analysts say the global financial crisis has damaged the credibility of some from the private sector who had, in the past, argued for deregulation of the financial markets under the banner of globalization and free trade.
That's because deregulation is now seen as a contributing factor to the financial crisis, because it allowed greed and illegal business practices to go unchecked.
U.S. President Barack Obama expressed similar views during his inaugural speech in Washington on January 20. "That we are in the midst of crisis is now well understood," he said. "Our economy is badly weakened -- a consequence of greed and irresponsibility of some, but also our collective failure to make hard choices and prepare the nation for a new age."
Also contributing to a downbeat mood at the forum is the fact that top finance officials in Obama's administration will not be attending. Instead, they will be staying in Washington to work on the financial crisis or to prepare for confirmation in their new posts.
The White House says the new U.S. treasury secretary, Timothy Geithner, and Obama's top economic adviser, Lawrence Summers, have both pulled out of the five-day event. U.S. Federal Reserve Chairman Ben Bernanke -- not a member of Obama's administration but a top U.S. financial policy maker -- also does not plan to attend.
Instead, the White House says it will send Valerie Jarrett, a top Obama adviser and confidant.
The U.S. State Department has yet to decide who it will send. But spokesman Robert Wood said it is unlikely to be Secretary of State Hillary Clinton.
Rebuilding lost confidence will be a key topic for forum participants, according to Duncan Niederauer, the chief executive of NYSE Euronext, a for-profit corporation that operates multiple securities exchanges -- including Euronext and the New York Stock Exchange.
"What we've learned in the crisis is that we've got to be a lot more focused on transparency, on disclosure, and we've got to be a lot more focused on accountability," Niederauer said. "I can't think of a better time for us all to be together. We've got to be very focused on rebuilding investor confidence. Investor confidence, more than anything, has been lost throughout the crisis. And I think we've got to work together as global leaders to figure out how to rebuild it."
Niederauer continued: "I think nationalistic approaches are interesting. But I think we've got world leaders around the table and we should be focused on solutions that are global in nature."
Beyond The Economy
Former United Nations Secretary-General Kofi Annan has warned that the world's economic problems cannot be allowed to eclipse other key priorities -- including a global food crisis and the need to protect people from climate change. Annan is scheduled to speak at Davos this week about those issues.
Bill Gates, the retired founder of Microsoft, also will be speaking this week. On January 26, Gates posted a 10-page document on the Internet calling on the world's wealthy to increase donations to charitable foundations during the difficult economic climate.
Lee Howell, senior director and program head for the Davos forum, also says it is important to focus on world crises beyond the economy.
"We have to look at the global agenda in its totality. We want to focus on important other issues such as climate change, nuclear nonproliferation, food security, and energy security, among others," he said. "But the key point here is that it is not a zero-sum exercise. We are going to look at the economy, as well as the other global challenges, holistically. And hopefully, looking at it from not just a short-term perspective but a long-term perspective."
Stephen Roach, chairman of Morgan Stanley Asia, said the economic crisis should not overshadow the issues of global climate change or food and water shortages. "We are obviously at a critical juncture in dealing with environmental degradation and air pollution and water pollution. The clock is ticking," he said. "It is incumbent upon us, even in a difficult economic climate, to martial the resources -- both financial, human, and physical -- to deal with environmental issues."
Meanwhile, as delegates meet in Davos, a self-declared "alternative forum" will be taking place in the northeastern Brazilian city of Belem. That gathering -- known as the World Social Forum -- has given opponents of globalization a platform to air their views during the past decade.
World Economic Crisis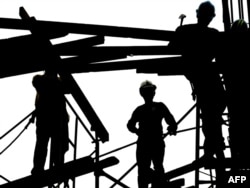 Multimedia coverage on the impact of the global financial crisis on markets and individuals across RFE/RL's broadcast region. More