This year's International Press Freedom Awards seek to honor four journalists who have shown exceptional courage defending press freedom in the face of attacks, threats, or imprisonment.
The prizes, which were being presented by the Committee To Protect Journalists in New York, bestow recognition and credibility but at the same time highlight the severe media limitations and harsh working conditions faced by investigative journalists in many parts of the world.
Prize-winning Iranian journalist Mohammad Davari incurred the wrath of authorities after he exposed the mistreatment at the Kahrizak Detention Center in 2008. Davari videotaped statements from detainees who said they had been abused, raped, and tortured. He published those statements on the Sahem News website. The center was closed in July 2009, in part as a result of Davari's public disclosures. But Iranian authorities arrested Davari in September 2009 and sentenced him to five years in prison for "mutiny against the regime." The 36-year-old Davari is now being held, the CPJ says, at the notorious Evin Prison near Tehran.
Mohamed Abdel Dayem, who is the Middle East and North Africa Program Coordinator at CPJ, will accept the award on behalf of Davari. Dayem says Davari's situation is particularly appalling and worthy of publicity because he's been held in solitary confinement and has not been allowed contact with his family or lawyer for over eight months now. Davari's mother has written to UN Secretary-General Ban Ki-moon to say that her son has been tortured in custody. As a young student, Davari volunteered to fight in the Iran-Iraq war, where he suffered eye and leg injuries. His health in prison has further deteriorated, according to his family.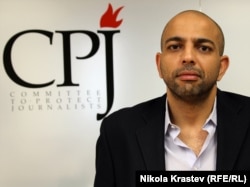 Mohamed Abdel Dayem, Middle East and North Africa Program Coordinator at Committee to Protect Journalists (CPJ)
Dayem says the CPJ hopes that the award's presentation will highlight the plight of other imprisoned journalists in Iran who have been deprived even of the basic rights guaranteed under the Iranian legal system, such as access to counsel, access to family visits and imprisonment in a sanitary facility.
"Currently the Iranian regime views all independent or opposition journalists as potential saboteurs," Dayem says. "That's a very counterproductive way to handle the entirety of a press corps. It's damaging to Iranian citizens who are deprived of variety in their news sources and frankly, at the end of the day it's harmful to the image of the Islamic Republic."
Another of this year's award recipients is 31-year-old Nadira Isayeva, editor-in-chief of the Russian-language weekly "Chernovik" (Rough Draft), published in the volatile North Caucasus region of Daghestan. Isayeva has repeatedly put herself in harm's way, the CPJ says, by publishing articles critical of the methods applied by the state counter-terrorism agencies.
On her arrival in the United States last week ahead of the awards ceremony, Isayeva says she was initially denied entry into the country despite having a valid visa stamped in her passport. She was eventually allowed to enter after the immigration inspector's supervisor verified her credentials. She says she's unsure whether the holdup was related to the fact that she didn't have the official CPJ invitation with her or to her appearance. Isayeva wears traditional clothes and a head scarf. But she says she's surprised that ordinary people in New York seem much more tolerant toward her Muslim attire than many in her native Daghestan.
"Strangely, people here are much more tolerant -- much more tolerant than if I pop up at some state offices [in Daghestan] or if I come dressed like that at work," Isayeva says. "Surprisingly, people here are more tolerant."
Isayeva, who is an economist by training, came to "Chernovik" in 2004 when the newspaper was only one year into its existence. The weekly has since become one of the few independent voices in Daghestan and, despite its limited printed edition of around 12,000 copies, it has wide readership.
Isayeva regularly infuriates Daghestan's powerful security apparatus with reporting on their handling of violence and militant Islam in the region.
Under anti-extremist legislation adopted in 2008, local authorities brought a criminal case against Isayeva after "Chernovik" published an interview with Rappani Khalilov, a former rebel who accused the authorities of corruption and nepotism. She could face up to eight years in prison if convicted.
Despite "Chernovik" being frequently called an opposition newspaper, Isayeva says she doesn't like such labels and would like it to be perceived as a balanced, independent voice much like the respected national publication "Vedomosti."
"The 'Vedomosti' formula is certainly appealing," Isayeva says. "It's another story that in a place like Daghestan it is very hard to report exclusively on the economy because it is almost nonexistent and quite often the [local] economy can be summarized in two words: subsidies and corruption. That's why the newspaper is sometimes perceived as slanted toward the defense of human rights."
Isayeva says that the widespread public attitude in Daghestan to expect and to live on federal subsidies from Moscow has negatively affected the psyche of the local population, particularly the younger generation. Instead of aspiring toward professional growth and accomplishment, she says, the majority look to secure a position in the state apparatus.
"This is the problem of a region which has become used to exist on subsidies," Isayeva says. "It gives growth to a particular way of thinking [attitude], the government work is being prioritized as a way to achieve prosperity, but not through the career channels but through corruption."
Journalists from Ethiopia and Venezuela were also being honored with awards by the CPJ.