TEHRAN (Reuters) -- One of the three defeated candidates in Iran's disputed presidential election has withdrawn his complaints about the vote, the official IRNA news agency has reported.
Conservative Mohsen Rezai, a former Islamic Revolutionary Guards Corps head who finished third in the June 12 election according to official results, cited the country's sensitive
political and security conditions
as reasons for his decision.
"I see it as my responsibility to encourage myself and others to control the current situation," Rezai was quoted as saying in a letter to Iran's top legislative body, the Guardians Council.
"Therefore I announce that I'm withdrawing my submitted complaints," said Rezai, who had previously said he had won many more votes than the official tally showed.
The other two defeated candidates -- moderate former Prime Minister Mir Hossein Musavi and pro-reform cleric Mehdi Karrubi -- have demanded that the election be annulled.
Musavi says the vote was rigged in favor of hard-line President Mahmud Ahmadinejad, a charge rejected by authorities.
Iran Election Special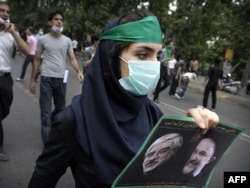 RFE/RL's Full Coverage
Following the disputed reelection of Iranian President Mahmud Ahmadinejad, supporters of Mir Hossein Musavi have taken to the streets to protest.
Click here
for news, blogs, and analysis of the presidential election and aftermath.