Watch: Security and rescue personnel working at the scene of one of the bombings that struck the Iraqi capital on December 8. Video from Reuters.

(RFE/RL) -- A series of apparently coordinated explosions in Baghdad has killed 112 people and wounded more than 400.
The attacks came within quick succession in various central districts of the capital. The dead include both civilians and security personnel.
The powerful bomb blasts shattered a month of relative calm in the capital.
In one attack, a suicide car bomber targeted a police patrol in the southern Dora district. Then, four bombs exploded near official buildings such as the Labor and Social Affairs Ministry and the Interior Ministry, but also in the Shorja market and close to the Al-Rashid Hotel.
"Sources near the Ministry of Labor and Social Affairs said the explosion was caused by a car bomb. People around me are in great shock, especially because of the large number of dead and injured [everywhere]," reported Khalid Walid, one of RFE/RL Radio Free Iraq's Baghdad correspondents.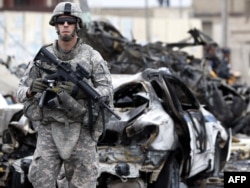 A U.S. soldier secures the site of a bomb blast on Cairo Street in northern Baghdad today.
Iraqi national security adviser Muwaffaq al-Rubay'i blamed Al-Qaeda militants for the attacks, telling the BBC that their aim was to destabilize the country ahead of next year's parliamentary elections.
Following today's attacks, Iraqi officials announced that the vote would take place on March 6, and not February 27 as expected.
The date was selected in a meeting between the Presidency Council, made up of President Jalal Talabani and his two vice presidents, and electoral authorities.
The Iraqi government and the U.S. military have warned of a rise in attacks in the run-up to the vote.
Today's blasts are the first large, apparently coordinated explosions in Baghdad since more than 250 people died in similar attacks in August and October. Those attacks included bombings outside the Finance, Foreign, and Justice ministries.
After that, authorities stepped up security outside government buildings, Radio Free Iraq reports.
But in an interview with Radio Free Iraq following the wave of violence, Abdul Karim al-Samarra'i, head of the Iraqi parliament's Security and Defense Committee, denounced "security breaches."
"There is weakness in the performance of some of our security forces," he said. "This proves the parliament's Security and Defense Committee was right when it called for the replacement of the security commanders and for a thorough revision of security plans so they can be up to the challenges."
Today's attacks came as Iraqi officials prepared to announce the date for parliamentary elections.
The Iraqi government and the U.S. military have warned of a rise in attacks in the run-up to the vote expected in February.
with agency reports