Case Of Detained Iranian-American Under Review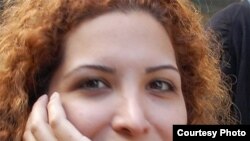 A spokesman for Iran's Foreign Ministry, Hasan Qashqavi, says the judiciary is now investigating the case of a detained Iranian-American graduate student,
Esha Momeni
.
According to the AP news agency, Qashqavi confirmed on October 27 that an investigation is going forward into California State University student Momeni. She was arrested on October 15 for an alleged driving violation.
Momeni's lawyer Mohammad Ali Dadkhah says no charges have yet been brought, but that Revolutionary Court officials told her parents the arrest was related to her involvement in the "Change for Equality" campaign, which aims to collect 1 million signatures to change laws denying Iranian women equal rights.
About This Blog
"Watchdog" is a blog with a singular mission -- to monitor the latest developments concerning human rights, civil society, and press freedom. We'll pay particular attention to reports concerning countries in RFE/RL's broadcast region.
Journalists In Trouble
RFE/RL journalists take risks, face threats, and make sacrifices every day in an effort to gather the news. Our "Journalists In Trouble" page recognizes their courage and conviction, and documents the high price that many have paid simply for doing their jobs. More