Central Asia is home to more than 300 wild fruit and nut species, including apple, plum, pear, cherry, pomegranate, almond, pistachio, and walnut.
But according to the newly released "
Red List of Trees of Central Asia
," this Garden of Eden is under threat.
Of the 96 tree and shrub species assessed in the report, 44 are identified as globally threatened with extinction, according to internationally agreed criteria. More than half of them are considered "critically endangered."
The Global Trees Campaign coordinator for the conservation group Fauna and Flora International (FFI), Georgina Magin, says that these threatened species include both locally and internationally important fruit and nut species.
"There's around 16 fruit and nut species that are included on the list, and they're important really at two levels," Magin says.
"At the local level, obviously they're a very important food source for people in the area -- apples, walnuts, almonds, and so on. On the international level, these species are the origins of many of the domesticated fruits (and nuts) that are grown around the world today."
Species Threatened
The Red List was compiled by international scientists and published by the British-based FFI. It uses information from experts from Kyrgyzstan, Kazakhstan, Tajikistan, Uzbekistan, and Britain.
But the organizers were unable to arrange for an expert from Turkmenistan to attend. As a result, 12 tree and shrub species listed in the Red Data Book of Turkmenistan were not evaluated.
The survey identifies a wide range of threats to the trees and forests in Central Asia. In the Amu Darya River Basin alone, an estimated 90 percent of riparian forests have disappeared in the last 50 years.
Malus sieversii, which is believed to be the origin of all domesticated apples grown around the world, is threatened by habitat degradation, mainly from agricultural development, and overgrazing. It has seen its habitat decrease by 70 percent in the past 30 years in Kazakhstan alone.
Armeniaca vulgaris, the origin of all cultivated apricots, is threatened by unsustainable over-harvesting. Threats to the almond Amygdalus ledebouriana, a species endemic to east Kazakhstan, include the collection of both fruit and flowers.
Saving Trees, Diversity
Aside from concern for individual plant species, forests in general are very important for people living around them. They prevent erosion, and floods by stabilizing the soil and providing things such as firewood, timber, and food that people rely on for their livelihoods.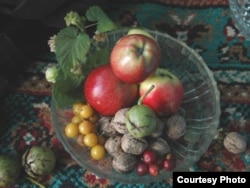 Bounty of Central Asia (Photo: Chris Loades, FFI)
Some countries in the region are taking action to protect these resources. In Tajikistan's Khatlon Province, for instance, local nongovernmental organizations and law enforcement agencies have mobilized to protect a pistachio (Pistacia vera) forest that has been threatened by cutting for firewood.
Tajik environmentalist Shamsiddin Abdurazzoqov tells RFE/RL's Tajik Service that the forest is also being restored.
"In the Khojamumin Mountains, Khulob region rangers are planting trees by hand, and today we see these saplings are growing," he says. "Now, we and employees of the ecology department of Vose district are watching the situation and we can all try to avoid the destruction of this forest."
Due to the often fragmented, mountainous geography of their environment, Central Asia's fruit and nut trees display high genetic diversity. Magin says losing these resources directly jeopardizes the world's food security.
"The wild populations have a much broader genetic makeup [than domesticated crops], which means they're much better at adapting to pests or diseases," Magin says. "Again, the diversity that would allow trees and plants to adapt to changes in the climate could be very, very important."
For instance, researchers have discovered Malus sieversii samples that show resistance to apple scab, fire blight, drought, and soil pathogens.

Community Solutions
The global importance and plight of Central Asia's unique forests has begun to be recognized by a number of internationally funded projects.
FFI has been working in Kyrgyzstan and Tajikistan on co-management of forests involving local communities and rangers to ensure the resources aren't overused.
A new collaborative project involving FFI is also being launched in Kyrgyzstan this year to conduct research on threatened trees, provide training to local scientists, and involve local communities in forest usage planning.
But Magin says far more international attention is needed. "One of the priorities is capacity building for the forestry agencies and the protected-area network in the region," she says.
"Since the breakup of the Soviet Union, a lot of these agencies that are charged with forest management are very under-resourced," Magin says. "There's [also] a need to develop participatory forest management involving the local people who live around the forests so that they have a stake in the future of the forest resources."
Magin says another priority is developing alternative sources of energy for people living around forests, so that they do not completely rely on the collection of firewood.
She also says the food industry should contribute in long-term funding for the conservation of globally important genetic resources. "The resources that are found in these fruit and nut trees are very important for the international food industry," Magin says.
"And at the agencies within the Central Asian region, there need to be agreements developed with the international food industry about use of this genetic material for domesticated varieties of the cultivated crops internationally, so that the benefits are shared and come back to the country of origin and can contribute to conserving these resources in the wild," Magin adds.
Magin says it is "sadly ironic" that Malus sieversii, the progenitor of the domesticated apple, is threatened by extinction in its natural environment, while the export value of apples from the top 10 apple-producing countries is estimated at more than $3 billion a year.

RFE/RL Tajik Service's Iskandar Aliyev contributed to this report