It's rare for central banks to issue a joint statement.
But these are unusual times. And as the global economic crisis spreads, the economies of Central and Eastern Europe increasingly have found themselves the subject of gloomy headlines.
Six central banks in Central and Eastern Europe have now criticized reports that lump their countries together in one stricken region.
The statement issued by the central banks of the Czech Republic, Slovakia, Poland, Romania, and Bulgaria, and later joined by Hungary, singles out recent warnings of the risk to Western European banks posed by their exposure to banks in Central and Eastern Europe.
It said such "publicly announced initiatives" often contained misleading information that could be detrimental to the region and its financial systems.
Please treat us as the individual, varied, countries we are, they appealed -- and not as a homogenized, troubled region. After all, this is a region that includes the relatively robust Czech Republic and Hungary, recipient of emergency International Monetary Fund (IMF) aid.
"It's the notion that international media are providing an unfair and to some extent biased view of the region as a sick man of Europe," says Michal Dybula, an economist with BNP Paribas in Warsaw. "Certainly, policy makers want to step in and convey a message of stability."
The statement could seem like another case of "shoot the messenger." In the words of one analyst who declined to go on the record, if an analyst report points out that a country's current account deficit is at 25 percent and that leads to panic, whose fault is that?
Faulty Figures
But others say they have a point. Koon Chow of Barclays in London says some media and analyst reports have misrepresented the problems in the region, partly by misreading data.
"For example, in an international financial journal last week there was data based on a report by an international investment bank. The data that bank had used was incorrect," Chow says. "And I think it's right that policymakers would feel aggrieved that this data is being shown to international investors who in turn grow concerned about their investment, [and] may pull out, causing currency depreciation, and therefore aggravating the underlying problem."
One example is a $1.7 trillion figure from the Bank of International Settlements. A number of media and banking reports have cited it representing Western banks total lending to Eastern Europe.
But the chief economist for the European Bank for Reconstruction and Development (EBRD), Erik Berglof, says that figure is misleading. In a letter to the "Financial Times" on March 4, Berglof says the $1.7 trillion represents the size of the region's bank balance sheets, not Western banks' exposure to debt.
Instead, he says it would be more relevant to look at the region's short-term external debt -- a much less alarming figure of $130 billion.
Also on March 4, the chief of Italy's UniCredit, which is the biggest lender to the region, sounded a note of optimism. Alessandro Profumo said the situation of banks in the region was "better than described" and that his bank would continue to support its regional units.
In a striking example, the Czech bank Ceska Sporitelna on March 4 announced record profits and said it would pay dividends worth $700 million to its parent bank, Austria's Erste.
A vice governor of the Czech National Bank, Miroslav Singer, this week
challenged editors
at "The Economist" after they lumped the Czech crown in with other "tumbling" currencies in Central and Eastern Europe. Among other things, Singer noted that "the loan-to-deposit ratio of the Czech banking sector is currently 77 percent, among the lowest in the EU."
Not So Rosy
Still, the crisis has hit the region hard; many of its currencies have slumped and most of its economies are likely to be in recession this year.
Hungary is on a growing list of crisis-hit countries -- including Belarus and Serbia -- that have all received loans from the International Monetary Fund (IMF) or other sources.
And the Western parent banks operating in the region -- including Erste and UniCredit -- have asked the European Union for help for their businesses there.
"We will see probably a marked deterioration of the credit portfolios of all the banking institutions doing business there in the region," Dybula of BNP Paribas says.
Dybula says that with the exception of the Czech Republic and Slovakia, "in the other economies you have a pretty substantial share of foreign-currency-denominated loans, in particular granted to households for real estate, and with the currency depreciation we are currently witnessing across the region the servicing costs on these loans are arising pretty starkly. So it might in a worst case be a matter of time when we see the first defaults on that part of loans."
Judging by some of the headlines on March 5, the central bankers' message doesn't seem to be getting across.
"The New York Times" in an editorial wrote that "collapsing economies in Eastern Europe -- including inside the European Union -- could bring down the banks in the West that lent to the East."
And South Korea's finance minister said he worried a possible financial crisis in Eastern Europe could exacerbate Western Europe's problems.
World Economic Crisis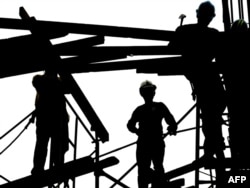 Multimedia coverage on the impact of the global financial crisis on markets and individuals across RFE/RL's broadcast region. More