Chechen Republic Head Brands Exiled Minister 'Liar'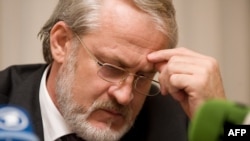 Speaking on October 28 at a regional conference of the ruling United Russia party, Chechen Republic head Ramzan Kadyrov criticized as a hypocrite and a liar Akhmed Zakayev, who heads the Chechen Republic Ichkeria (ChRI) government in exile.
Kadyrov accused Zakayev
of having initially given a glowing assessment of the post-conflict reconstruction Kadyrov launched in Chechnya, then saying the exact opposite and "blackening everything that has been accomplished."
Over the past year, Kadyrov has repeatedly sought to induce Zakayev to return to Chechnya, and in February 2009 he extended a formal invitation to Zakayev to do so. The two men have spoken briefly twice by telephone. But Zakayev declined to commit himself, telling the website
kasparov.ru
that the security guarantees Kadyrov offered were inadequate.
Kadyrov said again
in late March that Zakayev and other prominent ChRI politicians were ready to return to Grozny. Then in late June, when Zakayev had still given no firm commitment, Kadyrov warned that his invitation was not open-ended, and that "if he does not seize the moment I shall close the doors and stop interceding for him." He set a
deadline of one month
for Zakayev to decide whether to stay in London or return to Grozny.
Yet despite that warning, Kadyrov's envoy Dukvakha Abdurakhmanov met with Zakayev in Oslo in late June and mid-July, and then in London in mid-August, to discuss how to promote civic reconciliation in Chechnya and thus enable those of the tens of thousands of Chechens currently living in exile in various European countries who wish to return home to do so. In August, the two sides agreed to convene a world congress of Chechens to promote political stabilization. The tentative date for that gathering is February 23, 2010.
According to Abdurakhmanov, his discussions with Zakayev have the full backing of Russian President Dmitry Medvedev and Prime Minister Vladimir Putin. But Moscow may since have rejected one key issue that Zakayev said he raised with Abdurakhmanov: returning to their families the bodies of slain Chechen resistance commanders, including former ChRI President Aslan Maskhadov. They were buried in unmarked graves in line with Russian legislation on terrorism.
About This Blog
This blog presents analyst Liz Fuller's personal take on events in the region, following on from her work in the "RFE/RL Caucasus Report." It also aims, to borrow a metaphor from Tom de Waal, to act as a smoke detector, focusing attention on potential conflict situations and crises throughout the region. The views are the author's own and do not represent those of RFE/RL.