The Russian daily "Moskovsky komsomolets" has published what it claims is an open letter from Moscow-based Chechen businessman Isa Yamadayev, together with a link to
video footage
in which Yamadayev's former bodyguard Khavazh Yusupov, whose trial on charges of trying to kill Yamadayev opened in Moscow on April 20, says in pretrial testimony that Chechen Republic head Ramzan Kadyrov personally ordered him to kill Yamadayev.
Yusupov also quotes Kadyrov as having admitted to issuing the orders to assassinate Isa's brothers Ruslan and Sulim.
Both Ruslan and Sulim Yamadayev fought on the Russian side during the 1999-2000 war in Chechnya. Ruslan was awarded the Hero of Russia medal and was subsequently elected to represent Chechnya in the Russian State Duma; Sulim headed the Vostok Battalion that was affiliated with the Russian Defense Ministry's 42nd Motorized Rifle Division but directly subordinate to Russian military intelligence.
In the early 2000s, both men were close to then-Chechen Republic head Akhmed-hadji Kadyrov, Ramzan's late father; but after Akhmed-hadji's death in a terrorist bombing in May 2004, relations between Ramzan Kadyrov and the Yamadayev family deteriorated.
Ramzan Kadyrov identified Vostok as having staged a punitive raid in May 2005 on the Avar-populated village of Borozdinovskaya in northeastern Chechnya in which several homes were burned and 11 villagers detained. Sulim Yamadayev denied his men were responsible and claimed Ramzan ordered the attack in order to compromise Vostok.
Sulim Yamadayev (left) and Ramzan Kadyrov in 2006
The simmering animosity between the two men came to a head in mid-April 2008, when Vostok personnel under the command of the youngest of the Yamadayev brothers, Badrudi, failed to yield the right of way to Kadyrov's motorcade and engaged in a shoot-out with members of Kadyrov's personal guard in which two men were killed. Kadyrov retaliated by demanding the disbanding of Vostok and accusing the Yamadayev brothers of various crimes, including the murder of Chechen businessmen Yunus and Yusup Arsamakov.
Vostok personnel were subject to intense pressure, and many resigned to join the pro-Kadyrov Chechen police.
On August 1, an arrest warrant was issued for Sulim Yamadayev in connection with that killing, but the Russian Defense Ministry continued nonetheless to back him, and declined to disband Vostok, which fought in the five-day Russian-Georgian war in South Ossetia in August 2008.
Sulim Yamadayev was demobilized in late August 2008. Then on September 24, Ruslan Yamadayev was shot dead in Moscow in an apparent contract killing. Sulim Yamadayev and his family left Russia in mid-December for Dubai, where he was targeted in an
assassination attempt
in late March 2009.
The Dubai authorities say Sulim died in that attack. Isa Yamadayev, however, has repeatedly affirmed that Sulim was severely injured in the attack, but survived. "
Moskovsky komsomolets
" printed on April 12 what Isa claimed was a photo of him, propped up against a pillow.
In April 2009, Dubai police arrested two men, one of them the groom who cared for Kadyrov's Dubai-based racehorses. The two men were
found guilty
and sentenced on April 12 to 25 years in prison.
The Dubai authorities also identified as the mastermind behind the attack, and issued an arrest warrant for, Kadyrov's cousin Adam Delimkhanov. Kadyrov denied that Delimkhanov was in any way linked to the murder attempt.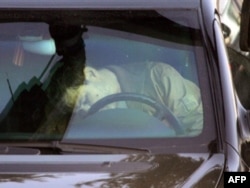 Ruslan Yamadayev was killed in Moscow.
Delimkhanov is similarly believed to have hired Aslanbek Dadayev, the prime suspect in Ruslan Yamadayev's murder.
The failed attempt by Yusupov to kill Isa Yamadayev took place on July 28, 2009, at Yamadayev's Moscow home. According to Yusupov's testimony, he arrived in Chechnya on July 1 and was immediately contacted by Shaa Turlayev, one of Kadyrov's aides, who took him to meet Kadyrov.
Kadyrov freely admitted to having given the orders to kill Ruslan and Sulim Yamadayev. He offered Yusupov $1 million to shoot Isa Yamadayev, threatening to apprehend Yusupov's family and kill them in Yusupov's presence, then kill Yusupov himself, if he refused. "We'll bring all the women and children here, we'll bring them all here. We'll take them to you, line them up here and kill them all, then we'll kill you," Yusupov quoted Kadyrov as saying.
Yusupov agreed to kill Yamadayev, and returned to Moscow, where Turlayev met him and gave him the murder weapon. The Investigative Committee of the federal Prosecutor-General's Office identified Turlayev
earlier this month
as having instigated the murder attempt and has issued a warrant for his arrest.
Isa Yamadayev claimed in his open letter that he had remained silent up until now in order not to influence the investigation into the bid to kill him.