A Chinese man who made a winning bid of $36 million for two imperial Chinese bronzes auctioned in Paris has said his bid was intended to draw attention to the issue of looted art, and that he has no intention of paying for the artworks.
The two bronzes, in the shape of the heads of a rabbit and a rat, were auctioned on February 25 as part of the estate of the late French fashion designer Yves Saint Laurent and his partner.
Cai Mingchao, who has identified himself as the bidder, is an adviser to a China's National Treasures Fund, which seeks to retrieve Chinese looted treasures.
Speaking on March 2 at a news conference in Beijing, Cai said his bid had been a "patriotic" act.
"I think that any Chinese person would stand up at this time. It was just that the opportunity came to me," Cai said. "I am making an effort to fulfill my own responsibilities. But I must stress that I do not have the money to pay for this."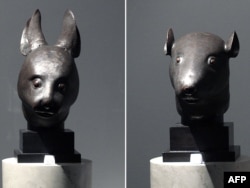 The two sculptures were looted from Beijing in 1860
The two heads were part of a collection of 12 representing the Chinese zodiac and looted from the imperial Summer Palace in Beijing in 1860.
Chinese lawyers, backed by the government, had tried to stop the sale. But auction house Christie's said the sale was legal, a position backed by a French court.
China's heritage administration later warned that new limits would be imposed on what Christie's, whose main hub in Asia is in Hong Kong, could take in or out of China.
Thierry Portier, a Paris-based expert on Far Eastern art, tells RFE/RL that it is the first time he has heard about a bidder refusing to pay an auction price for patriotic reasons, but that Cai's move was unsurprising.
The incident also shines a broader spotlight on the sensitive issue of how some works of Eastern art have ended up in Western countries.
During the Second Opium War of the late 1850s, which Portier called "scandalous," France and Britain "looted and burnt down this palace that was one of the world's wonders, so that the Chinese could consume and buy opium from the Britons."
Five of the twelve bronze statues that were taken from the palace have been returned to China over the past six years. Portier says the rabbit and rat heads could have been taken out of the auction and sold separately, as in 2007, when Sotheby's allowed a Chinese businessman to pre-purchase a horse head statue for $8.84 million.
'A Collector And A Patriot'
The Chinese Foreign Ministry on March 3 denied any involvement in the case, while millions of Chinese were left pondering the merits of Cai's actions.
Zhao Yu, a senior Culture Ministry official, told the "Beijing Times" that Cai had undermined the credibility of Chinese bidders at large international auctions.
"Beijing News" quoted Wang Zhanyang, a professor at the Central Socialist Academy, as saying that "it was Christie's that started violating the rules."
On its front page, the English-language China Daily called Cai "a collector and a patriot."
A vote on the website of the news agency China News Service showed more than 60 percent of site users in favor of Cai's action.
Christie's refused to "comment or speculate" on the next steps that it might take. According to its conditions of sale, buyers have seven days to pay for their purchases.
Yves Saint Laurent's partner, Pierre Berge, told French radio that he would keep the items if Cai did not pay up.