U.S. Secretary of State Hillary Clinton has visited Azerbaijan to seek a restart of peace talks over Nagorno-Karabakh, repair frayed bilateral ties, and press the oil-rich Caucasus nation on human rights.
Azerbaijani President Ilham Aliyev told Clinton he is counting on the United States to help solve the Nagorno-Karabakh dispute, which has pitted his country against neighboring Armenia for more than 15 years. He called the territorial dispute "a major threat" to his country's security.
"We want to find a resolution as soon as possible," he said, ahead of closed-door talks with Clinton at his Baku residence overlooking the Caspian Sea.
Later, during a joint press conference with her Azerbaijani counterpart, Elmar Mammadyarov, Clinton said Washington is ready to help the two sides reach a peace deal and that the issue is a "high priority."
"We see peace as a possibility...and a prerequisite," she said.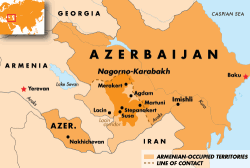 The enclave of Nagorno-Karabakh is populated mainly by ethnic Armenians, who broke off from Azerbaijani rule after a war in the 1990s that killed some 30,000 people. Its independence is not recognized by any country.
Azerbaijan has said it is ready to reclaim Nagorno-Karabakh by force if necessary. More than 15 years of international mediation have failed to produce a final peace deal.
Last month, four ethnic Armenian troops and an Azerbaijani soldier were killed in an exchange of fire close to Nagorno-Karabakh.
Clinton's visit to Azerbaijan, her first as secretary of state, sought to repair ties with Baku, which has accused Washington of siding with Armenia over Nagorno-Karabakh and threatened to "reconsider" its relations with the United States.
A U.S.-backed push for a rapprochement between Armenia and Turkey, Azerbaijan's historic ally, has also strained ties between Washington and Baku.
Azerbaijan serves as a strategic supply route for U.S. and NATO forces in Afghanistan, as well as an important energy hub.
Clinton's visit came just a week after U.S. Defense Secretary Robert Gates visited Baku to personally deliver a letter to Aliyev from Barack Obama, in which the U.S. president said he was confident Washington and Baku would overcome what he said were "serious issues in our relationship."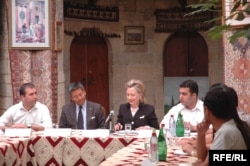 Clinton meets with youth groups in Baku.
But Clinton also used her visit to chide Azerbaijan over its poor record on human rights and media freedom.
Addressing a gathering of youth groups and civil society representatives in Baku, she said, "While considerable progress has been made here, you know better than I there is work to be done. There are still a lot of challenges. For example, President Obama and I have both received many letters about the two young bloggers who are imprisoned."
The bloggers -- Emin Milli and Adnan Hajizada -- were detained in July 2009 after a scuffle in a Baku restaurant. In November, a court sentenced Milli to 2 1/2 years in prison and Hadjizada to two years in prison on charges of hooliganism and minor bodily harm.
Rights groups say the charges against them are in retaliation for posting a video on the Internet that mocked government policies.
The U.S. secretary of state was in Azerbaijan on the third stop of a five-nation tour of Eastern Europe and the Caucasus. She is now in Armenia, where she is also expected to raise the issue of Nagorno-Karabakh.
Clinton was met at the airport in Yerevan by Armenian Foreign Minister Eduard Nalbandian and was due to have talks with President Serzh Sarkisian.
Speaking at a joint press conference with Nalbandian, Clinton called on Turkey to move forward on stalled efforts to normalize ties with Armenia and on opening the two countries' shared border.
written by Claire Bigg, with contributions from RFE/RL's Azerbaijani and Armenian services