CARACAS (Reuters) -- U.S. Secretary of State Hillary Clinton said that Washington would call for more sanctions against Iran if the White House policy of engagement with Tehran failed.
Clinton said U.S. outreach to Iran may not work given the country's recent repression of protests after a disputed election.
"It may not be possible, in which case we would ask the world to join us in imposing even stricter sanctions on Iran to try to change the behavior of the regime," Clinton said in an interview with Venezuelan television station Globovision, broadcast late on July 7.
"We have seen in the last weeks that Iran has not respected its own democracy," she said.
In May, Clinton said more multilateral sanctions could be a way to curb the nuclear ambitions of Iran, which the United States says is seeking to develop a nuclear weapon.
The top U.S. military officer, Admiral Mike Mullen, warned on July 7 that time was running out for dialogue with Tehran to avoid either a nuclear-armed Iran or a possible military strike against the Islamic Republic.
Mullen, chairman of the U.S. Joint Chiefs of Staff, said it was critical for diplomatic efforts to reach a solution before Iran develops a nuclear weapon or faces an Israeli or U.S. strike to turn back its nuclear program.
Iran says its nuclear program is to produce electricity so it can export more of its valuable oil and gas. But it prompted more concern by testing a missile in May that defense analysts said could reach Israel and U.S. bases in the Gulf.
The UN Security Council has imposed three sets of sanctions on Tehran for defying its demand to suspend uranium enrichment, which could also be used to produce nuclear weapons.
The United States has joined Russia, China, France, Germany, and Britain in inviting Iran to talks to resolve the nuclear dispute.
Iran Election Special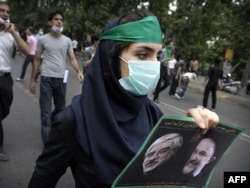 RFE/RL's Full Coverage
Following the disputed reelection of Iranian President Mahmud Ahmadinejad, supporters of Mir Hossein Musavi have taken to the streets to protest.
Click here
for news, blogs, and analysis of the presidential election and aftermath.
The Battle For Iran's Future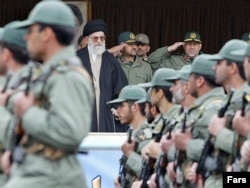 The Battle For Iran's Future
With much more than a disputed presidency at stake for Iranians, RFE/RL's Charles Recknagel and Mazyar Mokfi explore the power plays that could reshape Iran's political establishment.
Click here
for news, blogs, and analysis of the presidential election and aftermath.