WASHINGTON -- U.S. Secretary of State Hillary Clinton has touted the U.S.-led passage of new UN sanctions against Iran and the negotiation of a new START treaty with Russia as highlights of a successful foreign policy record under the administration of President Barack Obama.
In a wide-ranging speech at the Council on Foreign Relations on September 8, Clinton catalogued the diplomatic landmarks of the past 18 months and said that "after more than a year and a half" the administration's focus on reinvigorating U.S. outreach to its allies was paying off.
"Today we can say with confidence that this model of American leadership -- which brings every tool at our disposal to be put to work on behalf of our national interests -- works, and that it offers the best hope in a dangerous world."
She added that successful navigation of an increasingly interconnected world has "yielded a new American moment" -- and that the moment must be seized.
Clinton's speech comes at a key time for the Obama administration, with U.S. budget deficits spiraling, the president's approval ratings sagging, and his Democratic party looking to minimize losses in November's congressional elections.
The country's top diplomat suggested that at least in the foreign policy sphere, the White House's track record is one of success, and that the world still looks first to the United States for leadership. Foremost among the White House's victories is the U.S.-led push to win international backing for a new round of UN sanctions against Iran.
After months of negotiations, State Department officials won the backing in June of UN Security Council permanent members Russia and China for a fourth round of sanctions against Tehran aimed at convincing the Islamic Republic to abandon its controversial nuclear program. The West accuses Iran of seeking to build a nuclear bomb, which Iran denies.
In recent weeks, the EU, Australia, Canada, Norway, Japan, and -- announced just hours after Clinton's speech, South Korea -- have all implemented further restrictions against Iran's banking and commercial sectors.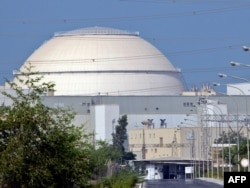 A general view shows the reactor building at Iran's Bushehr nuclear power plant
In keeping with Obama's dual-track approach to solving the Iran problem, Clinton noted that sanctions should not preclude a possible diplomatic solution.
"[Sanctions] are the building blocks of leverage for a negotiated solution, to which we and our partners remain committed."
Clinton continued, "The choice for Iran's leaders is clear and they have to decide whether they accept their obligations or increase isolation and the costs that come with it. And we will see how Iran decides."
Shoe-Leather Diplomacy
Clinton also offered a prediction concerning the people of Iran, who she said would eventually "respond" to their country becoming a "military dictatorship with a religious-ideological veneer."
Hard work around the negotiating table, or as Clinton called it, "classic shoe-leather diplomacy," also led to a new START treaty with Russia, which would cut the number of deployed warheads allowed to each country by nearly a third.
The "reset" in U.S. relations with its former Cold War adversary emerged early as a top foreign policy priority for the Obama administration, and has produced achievements in the nonproliferation sphere and established a bilateral presidential commission. Russia has also agreed to allow the transit of troops and supplies through its territory to U.S.-led forces Afghanistan.
Clinton's cabinet position puts her somewhat above the political partisanship that dominates Congress, but in her remarks on START, she obliquely addressed the divide between Democrats and opposition Republicans.
Republicans -- fearing that cuts to U.S. nuclear arsenals will undermine U.S. strength and reluctant to give the Obama administration a key policy victory ahead of the upcoming elections -- have held up ratification of the treaty.
Using a Cold War-era phrase, Clinton expressed hope that lawmakers can "reestablish something of a detente when it comes to foreign policy that cuts across any partisan divide."
She repeated the oft-stated administration position that closer cooperation with Russia on some issues does not negate areas of disagreement on others, or compromise U.S. commitments to its allies. Clinton pointed to "inevitable" disagreements such as "human rights with China or Russian occupation of Georgia."
She stressed that the United States will continue to pressure certain nations that "do not accept the responsibility that accrues with expanding influence" while continuing to strengthen relationships with other partners.
Clinton made little mention of Iraq or Afghanistan, but said the nearly 9-year-old war in the latter is "always at the top of our minds as well as our agenda."
She also pointed to U.S. leadership in assisting flood-hit Pakistan and emphasized last week's Washington re-launch of direct Israeli-Palestinian talks, which she said could be the last chance at achieving a breakthrough in the long-stalled peace process.
Next week, Clinton will travel to Egypt to take part in a second round of talks between Israeli President Benjamin Netanyahu and Palestinian Authority head Mahmud Abbas.