Mourners gathered in the Belarusian capital to say farewell to one of the country's best-known opposition journalists.
Aleh Byabenin, co-founder and director of the outspoken Charter 97 website, was found hanged at his family's dacha in the village of Pyarhurava near Minsk on September 3. He was buried today in Minsk's Eastern Cemetery.
Prosecutors have declared Byabenin's death a probable suicide, saying there was no evidence of foul play and that two empty bottles of a strong Belarusian liqueur were found near his body.
Byabenin's friends and colleagues, however, strongly reject the suggestion, saying the energetic 36-year-old journalist left no suicide note and had no known problems at work or at home with his wife and two young sons.
Zmitser Bandarenka, coordinator of the Charter 97 website, has accused investigators of fumbling the timing of Byabenin's death, saying the journalist's death certificate puts the time of death a full 15 hours earlier than police and prosecutors' records.
Speaking to RFE/RL's Belarus Service, Bandarenka says it is impossible for him to believe his colleague committed suicide.
"Byabenin was my friend, a real journalist, and a real man. We were together in many difficult situations, and among our team, he was always a center of stability," Bandarenka says. "There was no reason for him to end his life, as the police have said. We absolutely don't believe it. He was one of the pillars of online journalism, and certainly he will be sorely missed by all of us."
Aggressive Reporting
Byabenin was reportedly last seen alive on the afternoon of September 2 and had sent a text message that day inviting friends to a movie in Minsk. His body was discovered in the early evening on September 3.
Prosecutors now say they are trying to determine whether Byabenin was somehow provoked into killing himself.
But workers at Charter 97, the website of the human rights organization that carries the same name, complain that interrogators seem to be more interested in how the site operates than in the circumstances of Byabenin's death.
Aleh Byabenin
Charter 97 has been highly critical of the government, and Byabenin was a particularly sharp critic of the country's authoritarian president, Alyaksandr Lukashenka. Charter 97 has frequently reported on the rising number of temporary abductions of activists and youth leaders and has alleged that such acts are training exercises for security forces looking to create "death squads" with the aim of eliminating prominent opposition figures.
The opposition has blamed several high-profile disappearances which took place in the 1990s on Lukashenka.
Byabenin's aggressive reporting had caused him troubles in the past.
Zmitser Padbiarezski, a journalist with the tut.by Internet radio station and a former correspondent for RFE/RL, called Byabenin "a fearless reporter" who "delved into the kind of subjects that others would simply be too wary of."
He recalled an incident in the late 1990s when Byabenin was briefly abducted.
"I remember one incident where he was snatched up by some people in civilian clothes, hustled into a car, and driven off to some forest," Byabenin says. "They were probably trying to scare him. This was a reaction to his work. I'd venture to guess that not all journalists are similarly 'honored' with such intimidation tactics."
Lots Of Limits
Crackdowns on journalists are common in Belarus, where Lukashenka has steadily stripped the country of nearly all nonstate press and taken pains to limit Internet media.
Svyatlana Kalinkina, the editor in chief of "Narodnaya volya," one of the country's few remaining independent newspapers, said she has received anonymous threats since publishing a column disputing the official version of Byabenin's death.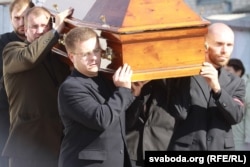 Pallbearers carry Byabenin's coffin at today's funeral.
Kalinkina said she received a postcard reading, in part, "Live and fear. A hunt for traitors has begun." The message was written on a card bearing the logo of the "Tell the Truth!" opposition campaign, a move Kalinkina said was meant to discredit the movement's antigovernment activists.
The controversy comes as Belarus is gearing up for presidential elections in 2011. A number of opposition politicians are looking to challenge Lukashenka, who has indicated he is likely to seek a fourth presidential term. (Belarus has no presidential term limits.)
Among the likely presidential candidates is Andrey Sannikau, a close associate of Byabenin's. Byabenin was a member of Sannikov's headquarters and was expected to play a leading role in his election campaign.
Sannikau, like other Byabenin allies, disputes the theory the journalist committed suicide. "We had extensive plans. We met every day," Sannikau told Charter 97. "Aleh is my friend. He is the main member of my team, a brilliant journalist, and a very reliable person."
International Questions
Byabenin's death has prompted concern outside the country as well.
Jerzy Buzek, the president of the European Parliament, said on September 5 that he was "deeply moved" by the news of Byabenin's death and called for a transparent investigation into the incident.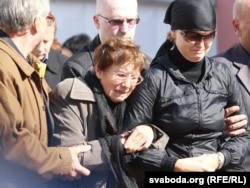 Friends and colleagues reject the possibility that Byabenin could have killed himself.
Dunja Mijatovic, the media freedom representative for the Organization for Security and Cooperation in Europe, echoes the call, saying, "The death of Byabenin is a great loss to Belarusian journalism."
Byabenin was born in 1974. After graduating from Belarus State University's journalism department, he went on to serve in the 1990s as deputy editor at "Imya," an independent newspaper. In 1998, he created the Charter 97 website.
Natallya Radzina, a Charter 97 editor, met Byabenin when she was a 17-year-old fledgling journalist hoping to make a start at "Imya."
"Aleh was not only my colleague, he was my friend and my teacher. He was extremely patient with me, a quality that not all prominent journalists have when they have to teach young people," Radzina says. "A few years later, he told me: 'That's it! Enough. I'm no longer your teacher. You're a professional, and we can learn from each other.' That confidence was very important to me at that time."
In addition to being a caring mentor, Radzina says, Byabenin was also a joyful person. "I've never seen anyone who was more high on life," she says.
written by Daisy Sindelar, with reporting by RFE/RL's Belarus Service