The newly released autobiography of former U.S. President George W. Bush makes for an intriguing read -- not least because of what it leaves out.
It's a surprisingly good read, punchy and direct. He even admits a few mistakes -- something he was notably reluctant to do during his time in office. But if you're looking for substantive second thoughts about the legacy for which he will be most remembered around the world -- his administration's controversial conduct of the United States's war against jihadi terrorists after the September 11, 2001, terrorist attacks -- you won't find them here.
No question -- every political memoir offers a selective reading of events. Few politicians get where they are by constantly questioning their own beliefs; monumental self-confidence is a prerequisite for the job. So if it's a balanced and objective account you're looking for, you're probably better off waiting for the historians to come out with their version.
Take the war in Iraq, for example. "I strongly believe that removing Saddam [Hussein] from power was the right decision," Bush writes -- even though he admits that the U.S. invasion in 2003 revealed that the Iraqi dictator had no weapons of mass destruction, the reason for declaring war in the first place.
Waterboarding
He defends his support for the waterboarding of captured Al-Qaeda operatives as a necessary tool to prevent attacks against the U.S. homeland: "To suggest that our intelligence personnel violated the law by following the legal guidance they received is insulting and wrong." That conclusion is likely to remain unpersuasive to many of his critics, who note that the U.S. soldiers were court-martialed for waterboarding prisoners during the Vietnam War, or that a Texas sheriff and three of his deputies were sentenced to jail terms for using this "enhanced interrogation technique" (i.e. torture) in 1983.
In December 2001, U.S. forces failed to close off Osama bin Laden's escape routes, allowing the terrorist mastermind to escape into the tribal areas of Pakistan. "Years later, critics charged that we allowed bin Laden to slip the noose at Tora Bora. I sure didn't see it that way." He insists that there wasn't sound intelligence proving bin Laden's presence at the scene -- a version of events hotly disputed by many experts, including soldiers and intelligence officers who were there.
American readers will linger, perhaps, over some of the ex-president's vivid snapshots from an eventful life. There are revealing details of life within one of the country's most famous political dynasties. (Bush attributes his fondness for barbed humor to genes inherited from his famously sharp-tongued mother.) His account of one of the major turning points in his life -- his decision to give up drinking at the age of 40 -- is moving.
Fans of the political game will enjoy his colorful tales of political campaigning in his home state of Texas. His account of the devastation wrought by Hurricane Katrina on the city of New Orleans in 2005 is also engrossing, albeit for rather different reasons. Though he's not quite willing to accept all the critics' charges about his handling of the disaster, he does acknowledge that the government's response should have come faster and more forcefully.
For global readers, other moments are likely to stand out. Bush pulls no punches in his descriptions of other world leaders. He lavishes praise on British Prime Minister Tony Blair, his closest ally in the war in Iraq, who inspires a comparison with Winston Churchill. Bush has kind words for his successor Barack Obama, whom he praises for his skill as a campaigner.
'Trust Was Violated'
He is openly dismissive of Iraq war opponents French President Jacques Chirac and German Chancellor Gerhard Schroeder. The latter he regards with something close to outright contempt for promising, and then withholding, support for the invasion of Iraq: "I put a high premium on trust. Once that trust was violated, it was hard to have a constructive relationship again." He is also scathing about Schroeder's decision to take a job with Russian natural-gas behemoth Gazprom soon after leaving office.
Especially intriguing is Bush's characterization of Vladimir Putin, who earns his grudging respect despite the two men's widely divergent policies. He portrays Putin as "wily" and intensely competitive -- all the more so as rising oil prices buoy the Russian economy. After the Russian invasion of Georgia in 2008 the two men have the following dialogue:
"I told him he'd made a serious mistake and that Russia would isolate itself if it didn't get out of Georgia. He said Saakashvili was a war criminal -- the same term [Russian President Dmitry] Medvedev had used -- who had provoked Russia. 'I've been warning you Saakashvili is hot-blooded,' I told Putin. 'I'm hot-blooded, too,' Putin retorted. I stared back at him. 'No, Vladimir,' I said. 'You're cold-blooded.
One of the best reads in the book involves Bush's decision to push ahead with the Iraq war "surge," which boosted the number of U.S. troops there despite intense public and political opposition to the move. Democrats Hillary Clinton and Obama were against. But so too were some members of his own Republican Party -- including Mitch McConnell, today the leader of the party's Senate minority, who is shown in the book pleading for Bush to reduce troop levels in Iraq ahead of the 2006 congressional elections. "What I did not tell him was that I was seriously considering the opposite of his recommendation."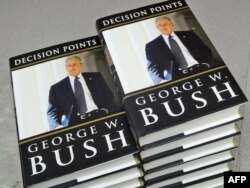 Bush calls the decision to put more troops into Iraq the "toughest and most unpopular" one of his presidency. And yet, as one of several factors that helped to stanch sectarian warfare and stabilize the political situation in Iraq, it has since been largely vindicated by events. Bush certainly deserves the credit for that, and he's happy to show us why.
And yet there are so many other moments in this book where his candor notably fails. U.S. terrorism expert Peter Bergen's new book, "The Longest War," argues convincingly that the Bush administration paid almost no attention to the looming Al-Qaeda threat in the months before 9/11. "Bush administration officials, of course, deny that that they didn't take the threat urgently enough, but there is no debating that in their public utterances, private meetings, and actions, the Al-Qaeda threat barely registered," writes Bergen, who describes the lapse as "the gravest national security failure in American history."
Yet Bush insists, contrary to the evidence, that his security team was focused on the Al-Qaeda threat from the moment he assumed office.
Other omissions are equally telling. During his discussion of the waterboarding issue, Bush offhandedly mentions that he ruled out two other "enhanced interrogation techniques" that "went too far," even though they were deemed legal by his advisers. This discrepancy begs myriad questions (moral as well as legal), yet he does not deign to explain.
His account of the war in Iraq touches briefly upon blunders he is now prepared to acknowledge as such -- like the "Mission Accomplished" banner that adorned the aircraft carrier where he celebrated the successful invasion in 2003, at a moment when thousands of U.S. deaths (and hundreds of thousands of Iraqi casualties) still lay ahead -- yet never really addresses the catastrophic intelligence failure that led to the war in the first place.
Bush is certainly right to point out that many Democrats, as well as foreign intelligence services, shared his belief that Hussein possessed weapons of mass destruction. What he passes over in silence, though, is how his administration's repeated declarations of a link between Al-Qaeda and Hussein's regime warped the work of the intelligence agencies, who had been told all too clearly what their masters wanted to hear. Nor does he touch upon the disastrous effect that the focus on Iraq had on the war in Afghanistan. The world is still living with the consequences.
Bush's memoir tells us a lot about his time as president that we didn't know. It's a pity he didn't choose to tell us more about the things we need to know.
Christian Caryl is RFE/RL's chief editor in Washington and a contributing editor to "Foreign Policy." The views expressed in this commentary are the author's own and do not necessarily reflect those of RFE/RL