It is one thing to discuss and debate the fate of a remote foreign country. It is quite another thing to ponder and worry about your own country, which appears before you in three dimensions even in your dreams.
Kyrgyzstan, a tiny country with soaring mountains carved with valleys, is my motherland. Most of the world knows what happened in southern Kyrgyzstan in June, but few are aware of the effort to heal old injuries and move beyond the current heartache by changing the country's political environment. On October 10, Kyrgyz will vote in parliamentary elections that are a key part of that effort.
Despite the recent violence and turmoil, most Kyrgyz have high expectations for these elections. On June 27, the country approved a constitutional referendum to shift the country from a presidential to a parliamentary republic. In effect, the people were saying they'd had enough of the authoritarian presidential system and the corruption it engendered.
While there is nothing wrong with presidential republics per se, and they have worked successfully in some countries around the world, they have proven poisonous in the post-Soviet space. There, presidential republics are inevitably facades behind which hide authoritarian rulers who wield supreme power without significant checks or accountability. Elections are falsified and manipulated, so citizens become hopeless and cynical. A true presidential republic cannot be built upon the Soviet legacy of abusing administrative resources in order to hold on to power indefinitely through massive fraud.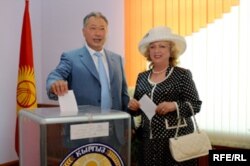 President Kurmanbek Bakiev and his wife Tatyana vote in July 2009.
After the 2006 presidential election in Belarus, the country's authoritarian president, Alyaksandr Lukashenka, claimed he'd actually instructed the Central Election Commission to reduce his vote total from 94 percent to 86 percent in order to publish results more in line with Western experience.
It is not surprising that Russia's president, Dmitry Medvedev, and prime minister, Vladimir Putin, have been critical of Kyrgyzstan's move toward a parliamentary system. They argue that a strong presidency is crucial to stability, which in turn is the foundation of building a new democratic state. But their vision of state building is from the top down without the real participation of civic society, without the active involvement of ordinary citizens in public life.
In the case of Kyrgyzstan, supporters of ousted authoritarian Presidents Askar Akaev and Kurmanbek Bakiev (citizens of Turkmenistan and Uzbekistan might describe them as "semi-authoritarian" compared to their own experience, but Kyrgyz citizens remember the corruption and nepotism those leaders fostered) might argue that they were building a strong presidency as a prelude to creating a democratic system. But such arguments would find little support among impoverished and impatient Kyrgyz.
Average citizens throughout the country are looking toward the October 10 election as a major step in carrying out the democratic choice they made in the June referendum.
Including Minorities
The upcoming parliamentary elections will be important in implementing another significant achievement of post-Soviet Kyrgyzstan: at least 30 percent of the deputies elected will be women. It will be recalled that in the disputed 2005 elections, not a single female lawmaker made it into the 2005-07 legislature. The situation was only slightly better in the 2007 elections, which were also falsified by then-President Bakiev.
But thanks to pressure and demands from opposition parties and civic organizations, a new article was inserted in the Electoral Code stipulating quotas for women, youths, and ethnic minorities on each political party's list of candidates. This is a major breakthrough toward achieving meaningful representation.
As a result, even parties led by Kyrgyz politicians espousing nationalist rhetoric (and there are some among the 29 parties competing the polls) must field representatives of the country's Russian, Uzbek, Ukrainian, Uyghur, and Dungan minorities. And, of course, their lists must meet the quotas for women and youths.
Of course, such measures themselves will not bring about a democratic society. But they are a much more inspiring step in that direction than anything undertaken by the post-Soviet authoritarians espousing "presidential republics." They are a practical example to all the multiethnic countries of Central Asia, every one of which can only build true stability on a foundation of inclusion and minority participation.
Hope For Real Change
The usual answer to the question of whether fair elections can be held in Kyrgyzstan is: "God only knows." In the country's multiconfessional society where Muslims, Buddhists, Christians, Tengrianists, and atheists live side by side, maybe divine supervision offers sufficient checks and balances to ensure fairness.
Can nongovernmental groups have an impact on the cleanliness of this year's vote?
But the country also has healthy political competition among rival parties and strong, independent nongovernmental organizations like the Coalition for Democracy and Civil Society, Torch of the Century, and Civil Society Against Corruption, etc., that will be monitoring the polling and watching for irregularities. Kyrgyz media have also become much more transparent and varied since the events of April.
In addition, the Central Election Commission has made great strides in overseeing the election process fairly, independently, and disinterestedly. Commission Chairman Akylbek Sariev has been lauded as a competent manager without ties to any political groups or the interim government. A commission member recently stepped down because a relative of hers is running in the election.
President Roza Otunbaeva, who came to power after the April events and who secured the approval of her presidency through 2011 in the June referendum, has stated again and again that her interim government will resist any attempts to use state administrative resources to benefit any political party.
If the interim government had been dominated by a single party in the period prior to September 10 (when government members who intended to participate in the elections had to resign their positions), then such pledges would rightly be dismissed as predictable and meaningless posturing. But the interim government, from the beginning, was established by several competing parties and political groups.
It seems to me that the shift toward a true multiparty political system in Kyrgyzstan has already begun. The Kyrgyz people are looking to the October 10 elections with hope that real change is on the way.
Tyntchtykbek Tchoroev (Chorotegin) is an analyst for RFE/RL's Kyrgyz Service. The views expressed in this commentary are the author's own and do not necessarily reflect those of RFE/RL