Late last month in Bishkek, Russian and Kyrgyz historians gathered to toast 225 years of diplomatic ties between the two nations.
They were commemorating the visit to St. Petersburg by Kyrgyz tribal emissaries, who at the time sought support from the Russian tsar.
Within a century, their lands would be annexed by the Russian Empire.
And despite successive regime changes on both sides, Russia has played a major role in the lives of the Kyrgyz people ever since. That has been especially noticeable during Kyrgyzstan's current parliamentary election campaign, with polls set for October 10.
Just as two centuries ago, leaders of the top Kyrgyz political parties have been beating a path to the Russian capital.
Social Democratic Party leader Almaz Atambaev, Respublika leader Omurbek Babanov, and Ak-Shumkar (White Falcon) party leader Temir Sariev have all visited Moscow in recent weeks.
The Kremlin Vote
But the man who received the most attention, both in the media and at the Kremlin, was Ar-Namys (Dignity) party leader Feliks Kulov, who met with Russian President Dmitry Medvedev and took full advantage of the photo opportunity. Ar-Namys even signed a well-publicized cooperation agreement with the ruling United Russia party.
Central Asian expert Erica Marat, author of Freedom House's "Nations in Transition" report on Kyrgyzstan, says Kyrgyz politicians who are seen to have good ties with Russia do well with many voters in Kyrgyzstan.
Marat says that for Kulov and Ar-Namys, meeting with Russia's president or its ruling party "does create an image...that he and his party are supported by Moscow. And we should remember that Russian influence is considered to be positive in Kyrgyzstan, especially among the urban population."
It has helped certainly in the case of Ar-Namys. Polls in Kyrgyzstan now show Ar-Namys is one of the leading contenders among the 29 parties competing on October 10.
But Bishkek-based political analyst Jyrgalbek Kasabolotov says these meetings with Kremlin officials reflect an old way of dealing with Moscow and a confused set of priorities.
Russian Prime Minister Vladimir Putin meets with Almazbek Atambaev, leader of the Kyrgyz Social Democratic Party.
"The fact that our politicians are going to Moscow one by one and trying to please them [the Russians] shows one thing -- our people's minds have developed, but our politicians are still following old stereotypes," Kasabolotov tells RFE/RL's Kyrgyz Service.
"First of all they must please the Kyrgyz people," he says. "And only after that, after finding out what our people want, they [politicians] can hold negotiations with other sides after taking power."

Pulling Russia In
Most in Bishkek, however, would say Kyrgyzstan needs to please Moscow. Russia remains Kyrgyzstan's biggest trade partner and, ultimately, the country's guarantor of security. Russian relations will be a priority, by necessity, for any future Kyrgyz government. And Russia will have to deal with whatever government emerges in Kyrgyzstan.
Moscow-based political analyst Fyodor Lukyanov says that right now, the Kremlin wants someone who can bring stability back to Kyrgyzstan, hence Russia's intense interest in the country's election campaign and willingness to meet with local politicians.
He says this Kyrgyz election interests Moscow "not because a new president or prime minister might come out against Russia, but because there are doubts about whether a capable and reliable government will be established. For anyone -- a president or prime minister -- who comes to power, being against Russia would be stupid, suicidal."
Back in April, angry crowds ousted former Kyrgyz President Kurmanbek Bakiev from power, leaving the current interim government led by former Foreign Minister Roza Otunbaeva. Otunbaeva's government proved incapable of defusing ethnic tensions between Kyrgyz and ethnic Uzbeks in southern Kyrgyzstan, which exploded in large-scale violence in June, leaving hundreds dead.
Following that tragedy, the authorities in Kyrgyzstan's second city, Osh, openly challenged directives from Otunbaeva's government and it appeared unable to assert its authority in parts of the south.
In late June, Kyrgyzstan held a referendum to approve a new constitution that changed the form of government from a presidential system to a parliamentary system. President Medvedev, in much-quoted remarks, predicted at the time that parliamentary democracy would prove a "catastrophe" for Kyrgyzstan.
Lukyanov says that if "parliament is splintered, and the parliament will be comprised of the various groups that are now competing, how it would function is not clear. Therefore Russia has serious concerns because if, God forbid, there are events in Kyrgyzstan similar to those in the first half of this year, then Russia won't be able to keep out of it and will somehow have to get involved."

Soft Power Raises Hackles
But what some in Kyrgyzstan especially object to is the Kremlin's use of soft power to discredit the head of the leading contender in the elections, Ata-Meken's Omurbek Tekebaev.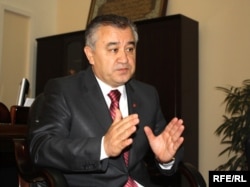 Did Omurbek Tekebaev's politics make him a target for Russian TV?
On September 28, Russia's NTV television network aired a report on Tekebaev that screened a two-year old sex tape of the Ata-Meken leader involved in an extramarital affair. Analysts say Tekebaev may have been targeted because he was one the main architect of the new constitution that Moscow so strongly criticized.
One Ata-Meken leader, Ravshan Jeenbekov, accused NTV of "not only attacking Tekebaev with such a dirty story, but the [Kyrgyz] nation's dignity, and the independence of our country, and also our people's right to a free choice to some extent."
In a follow-up report on October 3, NTV journalists claimed that off-microphone, Tekebaev threatened that once he came to power, he would treat NTV the same way that the Georgian president, leading Kremlin foe Mikheil Saakashvili, treats the Russian channel.
Freedom House's Marat says the Tekebaev affair, which is "clearly Russia's use of its soft power in Kyrgyzstan," is likely to have some effect on the election, because "Russian media is the most popular media" in the country.
Away from the campaign trail, Russia has just pledged to send 40 border guards to areas in southern Kyrgyzstan where the situation remains unstable since June's violent ethnic clashes.
Russia also just promised Kyrgyzstan $8 million in aid, while the Kremlin has also signaled it's ready to pay higher rent for its military base in the country.
Venera Djumataeva and Toorokul Doorov of RFE/RL's Kyrgyz Service contributed to this report