The Georgian parliamentary commission established last fall
to launch a new investigation
into the circumstances surrounding the death of former President Zviad Gamsakhurdia has
summoned
Eduard Shevardnadze for questioning. Shevardnadze was head of Georgia's ruling State Council at the time of Gamsakhurdia's death on New Year's Eve, 1993, a few months after his abortive attempt to regain power.
A Soviet-era dissident, Gamsakhurdia was elected president in May 1991, but fled Georgia seven months later following a coup by informal paramilitary groups, apparently with backing from Moscow. He took up residence in Grozny, from where he launched an abortive comeback attempt in September 1993 at the height of the war in Abkhazia.
But he soon abandoned his march on Tbilisi, and died on December 31, 1993, in a remote village in western Georgia. The Georgian authorities claimed he committed suicide; his widow Manana Archvadze-Gamsakhurdia insists he was murdered. The parliamentary commission, which is headed by Gamsakhurdia's son from his first marriage, Konstantine, hopes to clarify the issue once for all.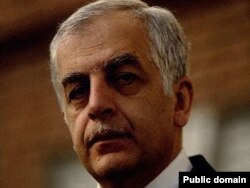 Zviad Gamsakhurdia (file photo)
Testifying to the commission on February 25, Tengiz Sigua, who served as prime minister under Gamsakhurdia, implied that Shevardnadze may have ordered Gamsakhurdia's killing. Sigua claimed that he informed Shevardnadze (he did not specify when) that Gamsakhurdia's whereabouts were known, and proposed detaining him. Shevardnadze allegedly replied that he "did not need Gamsakhurdia alive."
Konstantine Gamsakhurdia similarly told Rustavi-2 TV that he has information suggesting that the former Georgian leadership paid a large sum of money to have his father killed.
Sigua also claimed that then-Russian President Boris Yeltsin had proposed to Shevardnadze splitting Georgia in two, with Gamsakhurdia ruling the western half and Shevardnadze the east. That allegation is open to question in light of the pressure Moscow exerted on Georgia in the fall of 1993.
At that time, Russia helped Georgia militarily to quash Gamsakhurdia's comeback bid in return for a commitment by Shevardnadze to bring Georgia into the Commonwealth of Independent States (CIS). To name the virulently anti-Russian Gamsakhurdia to rule the half of Georgia bordering Abkhazia, which had defeated Georgia in a war of secession in September 1993, would have been geopolitically counterproductive.
Shevardnadze told the Russian daily "Vremya novostei" at the time the parliamentary commission was set up that he is ready to
give evidence
. The commission was initially given a three-month mandate; that mandate was extended on February 24 for a further three months. Its members have already questioned Tengiz Kitovani, who was instrumental in ousting Gamsakhurdia in December 1991, and Shota Kviraya, who served as interior minister under Shevardnadze. They further plan to question Vissarion Gugushvili, Sigua's predecessor as prime minister, who currently lives in Finland.