The medical condition of a Kazakh journalist who was
seriously beaten
by unknown assailants last week has deteriorated.
Bakhytzhan Nurpeisov, 19, who works for the independent newspaper "Public Opinion," was attacked and severely beaten on February 5 near his apartment in Almaty.
His mother, Guldana Nurpeisova, said that doctors asked her to sign documents allowing them to perform brain surgery on her son. She says she signed them.
Neurosurgeon Zhanibek Zhanaydarov told RFE/RL that such surgery might be necessary due to complications caused by a possible brain hemorrhage.
Nurpeisov was hospitalized with a concussion, head wounds, and a fractured cheekbone.
His colleagues believe the attack was connected to his professional activities.
The attackers took Nurpeisov's tape recorder, camera, and media ID, but did not take his money.
Journalists In Trouble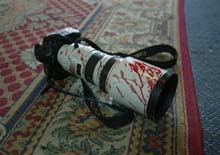 RFE/RL journalists take risks, face threats, and make sacrifices every day in an effort to gather the news. Our new "Journalists In Trouble" web page recognizes their courage and conviction, and documents the high price that many have paid simply for doing their jobs. More