The endorsement last week by Russia and Georgia, and by France as guarantor on behalf of the EU, of the EU-drafted plan for a cease-fire and military disengagement in South Ossetia was hailed by the international community as a first step toward restoring a political and security framework within which Georgia's relations with both Russia and its breakaway regions of Abkhazia and South Ossetia could be reassessed.
But Russian Foreign Minister Sergei Lavrov cast doubt on that possibility on August 16 when he claimed that the version that Georgian President Mikheil Saakashvili signed on August 15 differs significantly from that agreed on two days earlier with the French and Russian presidents, Nicolas Sarkozy and Dmitry Medvedev. "This issue has to be clarified through diplomatic channels," Lavrov added.
Neither the full text of the initial draft agreed on by Medvedev and Sarkozy on August 12 nor that of the truncated version that resulted from overnight talks between Sarkozy and Saakashvili and to which Medvedev acceded by telephone has been made public. But the initial draft apparently consisted of a preamble in which Sarkozy and Medvedev expressed support for a six-point plan for halting the fighting. Those six points encompassed a cease-fire; a pledge not to resume hostilities; the withdrawal of both Georgian and Russian troops to the positions they occupied prior to August 7; unspecified "additional security measures" by the 500-man Russian peacekeeping force in South Ossetia pending the deployment there of an international contingent; and internationally mediated talks on the future status of Abkhazia and South Ossetia. This final point was dropped in the amended version because Saakashvili objected to it.
Speaking on August 16, Lavrov alleged that the version Saakashvili signed the previous day did not include the preamble that, according to Lavrov, affirmed that "the principles set out below are supported by the presidents of Russia and France, and the presidents of Russia and France call on the parties to sign this document." That wording, if indeed accurate, thus fails to designate Russia a "party" to the conflict and implies that the "parties" are Georgia, South Ossetia, and Abkhazia.
In addition, Lavrov said the version of the plan signed in Moscow on August 14 by the de facto presidents of Abkhazia and South Ossetia, Sergei Bagapsh and Eduard Kokoity, and on August 16 by Medvedev, was the original version agreed by Sarkozy and Medvedev in Moscow on August 12 and that included provision for internationally mediated talks on the future status of Abkhazia and South Ossetia and measures to guarantee the security of their respective populations.
A comment attributed by Caucasus Press to visiting U.S. Secretary of State Condoleezza Rice only compounds the confusion. That agency quoted Rice as saying in Tbilisi on August 15, following five hours of talks with Saakashvili, that "we have signed the document that was countersigned by the presidents of Russia, Georgia, and France as a guarantor from the EU."
On the one hand, it seems highly unlikely that Saakashvili would have agreed to a preamble that implicitly not only exonerates Russia but designates Abkhazia and South Ossetia as conflict parties that thus should be represented at future talks on resolving the conflict. But on the other hand, it is equally unlikely Medvedev would have agreed to omitting that preamble from the amended version of the draft, which Sarkozy was quoted by the Georgian website civil.ge on August 13 as saying Medvedev had approved.
Crisis In Georgia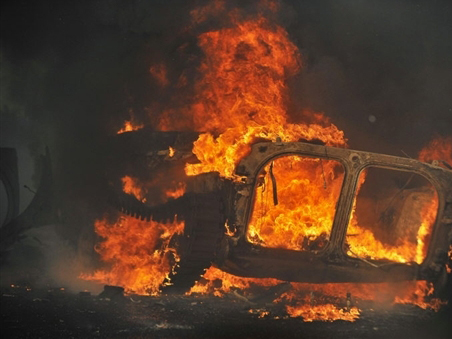 For RFE/RL's full coverage of the conflict that began in Georgia's breakway region of South Ossetia,
click here
.