Meeting in Brussels, NATO foreign ministers have said they could not have normal relations with Russia as long as Moscow had troops in Georgia.
"We have determined that we cannot continue with business as usual. We call on Moscow to demonstrate -- both in word and deed -- its continued commitment to the principles upon which we agreed to base our relationship," the ministers said in a statement.
Russian Foreign Minister Sergei Lavrov reacted by calling the statement "unobjective" and "biased."
"It seems to me that NATO is trying to make an aggressor out of a victim, to whitewash a criminal regime, to rescue a chaotic regime and is on the road towards rearming the current Georgian leadership," Lavrov added.
NATO
also offered Tbilisi some support
, in the form of a new forum called the NATO-Georgia Commission to deepen ties with Tbilisi.
U.S. Secretary of State Condoleezza Rice also said NATO would not permit "a new line to be drawn in Europe."
And NATO Secretary-General Jaap de Hoop Scheffer again urged Russia to abide by the cease-fire agreement, saying that the "future of our relations will depend on the concrete actions Russia will take to honor the words of President [Dmitry] Medvedev to abide by the six-point peace plan -- which is not happening at the moment, which is not happening as we speak -- he signed together with the president of Georgia."
However, de Hoop Scheffer said no cooperative programs with Russia had yet been axed, though "one can presume...this issue will have to be taken into view."
The crisis now moves again to the UN Security Council, which is expected to look at a draft resolution demanding Russian withdrawal -- a text likely to be opposed in an eventual vote by veto-holding Russia.
Meanwhile, in the central Georgian town of Gori, a small column of Russian tanks and armored vehicles left in midafternoon, which Moscow says is the start of the promised pullback of its troops, but which Tbilisi dismissed as a "show."
Journalists saw seven armored vehicles, including tanks, pass along the road toward the main city in the Georgian breakaway region of South Ossetia, Tskhinvali, and then, according to a Russian military officer, on across the border to the Russian city of Vladikavkaz.
This was clearly the moment Moscow wanted the world to see -- Russia's Foreign Ministry had arranged for reporters to watch the column leave.
In Gori,
RFE/RL special correspondent Goga Aptsiauri
reports that the local bishop told him after touring the surrounding villages that there were less checkpoints than the day before, but inside Gori itself Aptsiari saw no change in the number or the behavior of the Russian troops at the checkpoints at either end of town.
In Washington, Pentagon spokesman Bryan Whitman said, "We don't see much change in the [Russian] forces that were there," while State Department spokesman Robert Wood said he saw no evidence of a Russian withdrawal. "We call on them to leave immediately," Wood said.
But in Moscow, Colonel General Anatoly Nogovitsyn, deputy chief of Russia's General Staff, made clear the pullback would happen on Russia's terms -- and at a pace determined by Moscow.
"We are in fact carrying out this procedure, and I've even given you the division number, and this process is mandatory for us," he said. "As far as the rear, technical, and other units are concerned, they will remain here longer for carrying out tasks of a humanitarian nature."
Russian troops were supposed to have started leaving on August 18 under a cease-fire to end the conflict over South Ossetia, the Georgian region run by Moscow-backed separatists. But there had been little sign of any concerted withdrawal.
In Tbilisi, Georgia's Interior Ministry dismissed the move from Gori as a "show aimed at creating the illusion of a withdrawal."
And while some Russian forces were beginning to leave Gori, others were reentering another Georgian town, the key Black Sea port of Poti. Correspondents there said they saw about 20 men, reportedly Georgian servicemen, blindfolded and put into Russian military vehicles.
First Sign Of Goodwill
Earlier on August 19, Georgia and Russia exchanged their first prisoners captured during combat, at a checkpoint some 30 kilometers from Tbilisi.
"Five Russian prisoners, including two pilots, were exchanged for 15 Georgians," reported RFE/RL Georgian Service correspondent Koba Liklikadze, who was on the scene. "I had a chance to talk to one of them, Corporal Gocha Chachanidze from the 2nd Infantry Brigade, and he said that he spent one week in a hospital in Vladikavkaz [in North Ossetia]. He said he was wounded and then taken prisoner and he said he was treated normally in Vladikavkaz."
Liklikadze also
talked to two Russian pilots
who were part of the exchange.
The exchange took place at a bridge over the Lekhura River, which separates the breakaway region of South Ossetia from Georgia proper. (Reuters video; no commentary)
The returning of the first prisoners taken during combat is usually a goodwill sign that tensions are beginning to ease in a conflict.
International Monitors
Under the French-brokered peace deal, Georgian troops are to return to bases and Russian troops are to leave the territory. The only Russian forces which are to remain are those "peacekeepers" that were in the zone of conflict before the recent fighting began -- that is, who were in Abkhazia and South Ossetia.
Washington expressed its understanding of the deal this way on August 18: "Let me be clear," said White House spokesman Gordon Johndroe. "If it rolled in after August 6, it needs to roll out. That would be in keeping with the Russians' commitment on withdrawal."
Meanwhile, the OSCE says Russia has authorized it to send 20 military observers into Georgia. That is in addition to nine already on the ground. In the coming days more monitors are to be dispatched to bring the number of the full force to 100.
The OSCE chairman, Finnish Foreign Minister Alexander Stubb, said in Brussels, "We are now waiting for [Georgian President Mikheil] Saakashvili's reaction." He called the presence of the monitors a "sine qua non" for the cease-fire to hold.
Stubb added that, pending Georgian agreement, the observers would be stationed in areas adjacent to South Ossetia.
Humanitarian Concerns
Amid the debate over the Russian pullback and bringing in more international observers, UN and nongovernmental agencies are appealing for some $58 million to help tens of thousands of civilians affected by the conflict.
UN High Commissioner for Refugees (UNHCR) Antonio Guterres has arrived in Tbilisi to meet with Georgian government representatives. He is then to travel on to Moscow.
The Geneva-based UNHCR estimates that more than 118,000 people have been displaced by the conflict. They are now dispersed within Georgia, South Ossetia and North Ossetia.
In Georgia, dozens of residents in the town of Igoeti, which is a forward position for the Russian military west of Tbilisi, demonstrated to demand the withdrawal of Russian troops. It was the first civic protest against the slowness of the withdrawal since the peace deal was signed.
Crisis In Georgia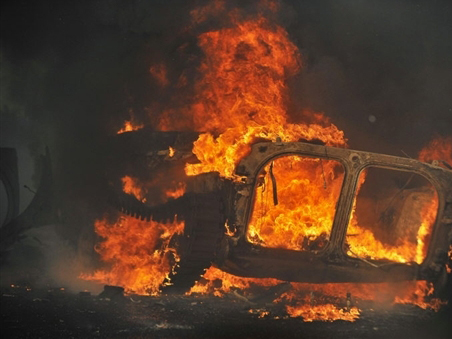 For RFE/RL's full coverage of the conflict that began in Georgia's breakway region of South Ossetia,
click here
.