Congressional Panel Told Corruption Allegations At Kyrgyz Air Base Hurt U.S. Image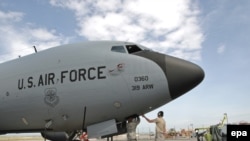 WASHINGTON -- As the turmoil in Kyrgyzstan following the ouster of former President Kurmanbek Bakiev has begun to settle, concern in Washington over the fate of the U.S. air base in that country is escalating.
The military base at Manas, outside the Kyrgyz capital, Bishkek, is a vital link in U.S. military operations in Afghanistan.
The United States routes almost all of its personnel and equipment headed for Afghanistan through Manas, which also houses planes and tankers, and is an essential transfer point for troops coming and going from the region.
In March of this year alone, some 50,000 U.S. troops transited through the base.
The Kyrgyz government that agreed in 2001 to host the U.S. base was led by then-President Askar Akaev, who was thrown out in 2005's Tulip Revolution -- a popular uprising triggered by anger over Akaev's corruption and cronyism.
Fast forward five years to today and the man who replaced Akaev has just been thrown out of office for much the same reason.
Uncertainty Around Air Base
After a couple of weeks of nervousness in Washington, U.S. Secretary of State Hillary Clinton told reporters on April 22 that leaders of the new interim government in Bishkek had "given assurances that the United States will retain access to the Manas air base."
Interim government head Roza Otunbaeva has criticized Washington for continuing to support Bakiev even as he revealed himself to be as corrupt and antidemocratic as his predecessor, but she says her government will renew the U.S. lease when it expires in July.
That seemed to settle the short -term question of whether, like Bakiev, the Americans would be driven out of the country, but the long-term fate of the base is tied to what happens in elections this fall.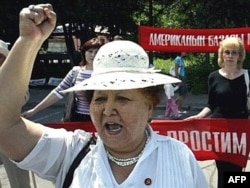 Demonstrators demand closure of the U.S. base in Kyrgyzstan.
Evidence of that -- as well as of disagreement on the issue within the new government -- came in the form of Deputy Prime Minister Omurbek Tekebaev's statement to Reuters on April 23 that any decision on the Manas facility would likely come after elections in October.
The House Committee on Oversight and Government Reform's Subcommittee on National Security and Foreign Affairs took up that issue this week in a lengthy hearing on April 22.
Lawmakers closely questioned a panel of Central Asian experts on whether the postrevolution mood in Kyrgyzstan was anti-American -- and therefore, anti-U.S. air base -- and if so, what the United States should do between now and the elections to try and turn the tide of public opinion.
The mood among legislators on the committee was clearly one of concern as witness after witness testified that the United States had squandered its opportunity over the past eight years to come down on the side of democracy and transparency in Kyrgyzstan.
Lawmakers heard that the anger at Bakiev and his cronies that drove citizens into the streets -- and led to the deaths of more than 80 of them -- seems to have been lost on even the staff of the U.S. Embassy in Bishkek.
Siding With Bakiev
Or perhaps not so much "lost on" as "ignored by," according to Eugene Huskey, a political-science professor and expert on Kyrgyzstan who's spent the last two years researching the country's opposition movement.
"We are here because the United States tried to please a dictator," Huskey said. "We all understand that difficult decisions need to be made in wartime, but our embrace of the Bakiev regime in Kyrgyzstan was far tighter than it needed to be in order to retain our basing rights in that country."
Huskey told the panel that opposition leaders he talked to before Bakiev was driven from power told him that they had been "cut off from contact with the U.S. Embassy in Bishkek" -- something they said hadn't happened since before the end of communism.
He said that one of Bakiev's challengers for the presidency in April 2009, Almazbek Atambaev, had told him that when he was a candidate, neither he nor other opposition politicians could arrange a meeting with U.S. Ambassador Tatiana Gfoeller, even though she had been in her post for over a year.
Atambaev is now one of the leaders of the interim government.
Huskey also told lawmakers it wasn't just opposition leaders who got the cold shoulder from the United States during the Bakiev era.
"I heard the same refrain of isolation from heads of NGOs in Bishkek; they had become 'untouchables' in the eyes of the United States government," Huskey said. "These NGO leaders were smart, energetic, and anxious to take their country in a liberalizing direction."
In response to requests for advice from the lawmakers, the panel offered recommendations for how Washington can try and win hearts and minds between now and this fall's elections.
They ranged from investing in educational exchanges -- bringing Kyrgyz students to the United States to study -- to helping "open up space" in Kyrgyzstan for civil society groups, NGOs, and the media to flourish.
In blunt terms, the congressional panel heard that the true aim of any initiative along these lines must be to prove that the United States is a democratic supporter of, and sincere friend to, Kyrgyzstan -- and not an opportunist military power looking for a convenient regional ally and bulwark against Russian influence.
Sinking U.S. Reputation
When discussion turned to the link between the Manas base and the allegations of official corruption that drove Bakiev from power, lawmakers heard that the two are inexorably linked in the mind of the Kyrgyz public.
Subcommittee Chairman John Tierney (Democrat, Massachusetts) acknowledged as much in his opening statement, when he said: "Some suggest the United States has allowed strategic and logistic expedience in Kyrgyzstan to become a lasting embrace of two corrupt and authoritarian regimes."
Tierney added that "regardless of U.S. intent, we're left with the fact that both President Bakiev and President Akaev were forcefully ousted from office amid widespread public perception that the United States has supported the regimes repression and fueled -- I say that without any pun intended -- their corrosive corruption."
One of the expert witnesses at the hearing was Scott Horton, an international transactions lawyer who has been a member of the Kyrgyz Bar Association for 15 years. Horton has testified before Congress on several investigations involving foreign contractors, and in his testimony, he supported Tierney's view that many in Kyrgyzstan see U.S. activities in the country as corrupt as those of their last two governments.
"This revolution, reduced to one word, was about corruption," Horton said. "All the political leaders there I've talked with agree."
Horton said that following the ouster of Bakiev, "there's a great deal of talk about the rule of law and transparency. And the question I hear thrown at me as an American, when I talk with them, over and over again, is: 'What is your commitment to the rule of law and transparency? You talk about this all the time and we don't see it in your conduct in our country.' And I'm ashamed to say, I think they have a valid point."
Shady Fuel Deals
So does the subcommittee, which has launched its own investigation into allegations that the contractors who supply fuel to the air base had what it called "significant financial dealings" with Bakiev's family.
Those contractors are Red Star Enterprises and Mina Corporation, both of which are offshore entities whose owners' identities are kept hidden by laws in the British territory of Gibraltar, where both companies are incorporated.
The two companies have a shadowy relationship with the U.S. government and have been awarded sole-source contracts worth more than $1 billion so far to supply fuel at the Manas base as well as Bagram air base in Afghanistan.
Horton told the committee there were "very disturbing questions" about the companies and the contracts they received, including the fact that neither seems to have existed before 2001 or has a track record of involvement in the military-fuel-supply business.
He called the contracts he had seen "extraordinary" and said they were "not consistent with the traditional contracting rules and approaches" that the U.S. government normally takes when awarding business worth millions of dollars.
Kickbacks To Presidential Families
Indeed, the new interim government's chief of staff, Edil Baisalov, recently told the U.S. magazine "The Nation" that the two firms "have served as an indirect way for the Pentagon to bribe the ruling families of Kyrgyzstan."
In his testimony Horton cited the article about Manas in the "The Nation," which documents how Kyrgyzstan's leaders and elite began illegally profiting from base operations as soon as Akaev's government approved the deal. Just one example is the two subcontracting companies that Akaev's son and brother-in-law ran on the base, which paid them around $120 million.
Under Bakiev, the story was much the same. The congressional panel heard that as much as $8 million a month was being skimmed off fuel payments at the base.
RFE/RL's Kyrgyz Service has reported that the interim government says more than $20 million in cash and gold belonging to Bakiev and his family has been uncovered in Kyrgyz banks, and more is expected to be found.
In Bishkek, not surprisingly, the new government has launched its own investigation into what has happened since 2005 at Manas -- looking into the U.S. money flowing into the base and what flowed in turn into the pockets of Bakiev's cronies and family members.
Horton said he had seen some of the documents and that there were "numerous red flags of the sort traditionally used by our Department of Justice in looking at bribery cases relating to public contracts, which suggest strongly that we may be looking at a violation of the Foreign Corrupt Practices Act and other antibribery statutes. And certainly there [are] sufficient red flags to merit the opening of a formal and detailed inquiry into what transpired."
With the committee's investigation just getting under way, Chairman Tierney vowed that answers to the "who, what, and where of the contractual dealings at Manas will be answered in due course."
As Horton pointed out, the interim Kyrgyz government already suspects it knows the answers to those questions.
But he urged the committee to uncover all the evidence that's out there, regardless of how bad it might reflect on the U.S. government, saying, "It's our responsibility to operate transparently, get to the bottom of the facts, and admit we made a mistake, if in fact we did."