A Daghestan government commission intended to "help" Islamic insurgents who admit to the error of their ways and wish to return to a normal law-abiding way of life held its first session on November 13. But it remains unclear what legal guarantees, if any, it is empowered to offer.
Meanwhile, preparations continue for an equally controversial congress of peoples of Daghestan intended to
mobilize public opinion
against religious extremism -- even though an overwhelming majority of Daghestanis consider corruption to pose a far more serious threat.
The commission to assist recalcitrant insurgents is apparently the brainchild of President Magomedsalam Magomedov, who since his inauguration in February has
repeatedly offered dialogue
with any fighters ready to lay down their arms. Magomedov has since
publicly condemned
as counterproductive the recourse by police to illegal methods in combating the insurgency. But
Magomedov's edict
on establishing the commission leaves it entirely to the 14 members of that body to formulate their own approach to resolving the problem.
Four Reasons To Fail
In addition, there are four major constraints that will from the very outset limit the commission's effectiveness. The first is that is will operate in a judicial vacuum, given the absence of formal legal guarantees that militants who surrender will be treated with forbearance if they have not committed any serious crime and can be certain of a fair trial if they have. Such guarantees can only be provided by the federal authorities, and it is not clear whether Magomedov has asked Moscow for such guarantees.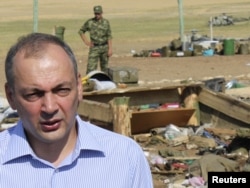 President Magomedsalam Magomedov speaks to the media at a blast site in September.
The assertion by the commission's chairman, First Deputy Prime Minister Rizvan Kurbanov, that Magomedov
will personally guarantee
that those who surrender will not be mistreated by the police and can be certain that their activities will be assessed "objectively" is unlikely to convince men whose lives may be at stake. Creating a commission without such guarantees is putting the cart before the horse.
By contrast, the amnesties proclaimed by the Russian State Duma in 2003 and 2006 for militants in Chechnya induced hundreds of fighters to lay down their arms; the majority of them were subsequently offered employment in the Chechen police and security services. Ingushetia's President Yunus-bek Yevkurov asked Russian President Dmitry Medvedev
several months ago
to declare a similar amnesty for up to 100 fighters in his republic. To date, 36 Ingush militants
have turned themselves in
.
Second, the commission's composition is unlikely to inspire confidence in the men and women it hopes to win over. Of its 14 members, seven are representatives of the Interior Ministry, security forces, or judiciary, and three more represent the republican government. The one commission member whom militants might be inclined to trust is Abbas Kebedov, the respected head of an informal Salafi religious organization, who in 2006
served eight months
of an apparently fabricated one-year prison term for possession of arms. Kebedov's real "crime" may have been the role played by his brother, Bagauddin Magomedov, in the 1999 armed incursions by Chechen radicals into Daghestan that were instrumental in precipitating the second Chechen war.
Third, as Kebedov pointed out at the commission's first session, the controversial 1999 Daghestani law banning "Wahhabism" (meaning the Salafi strain of Islam) remains on the books, despite calls by several prominent and influential political figures
for its repeal
. Adherents of Salafism who "fled to the forest" to join the insurgency after police targeted them for reprisals because of their religious beliefs could thus face prosecution under that law if they turn themselves in.
Fourth, that controversial law is invariably adduced as justification of indiscriminate police brutality against anyone who, in the words of Magomedov's predecessor as president, Mukhu Aliyev, "prays differently." In this respect, the Interior Ministry is apparently beyond criticism. First Deputy Prime Minister Kurbanov, who is responsible for the police and security agencies,
recently admitted
that "we know that in many cases what impelled people to head for the forest was their outrage at illegal actions by members of the law enforcement agencies."
But there have been no reported cases of police being reprimanded, let alone held legally responsible, for any of the "counterterror" operations in recent years whose victims were posthumously found to have been perfectly innocent law-abiding citizens, but practicing Muslims.
Interior Minister Abdurashid Magomedov (no relation to Magomedsalam) for his part categorically denied at the commission's first session that police harassment has ever impelled anyone to join the insurgency.

Better Things To Do?
Given the constraints on its powers and the potential for infighting among its members, it is hardly surprising that many have written the commission off as at best a useless PR exercise. Writing in the most recent edition of the independent weekly "
Chernovik
," journalist Zakir Magomedov (no relation to either Magomedsalam or Abdurashid) posed the question: "What precisely is the commission supposed to help former militants adapt to? To the universal demand for bribes? To the fact that police routinely beat up adolescents and lawyers with impunity? To not having a job? To the fact that the constitution and the human rights it enshrines remain on paper?"
Meanwhile, preparations are continuing for what may prove to be an even more grandiose but equally futile public-relations exercise in the form of a congress of peoples of Daghestan that President Magomedov hopes will
mobilize society
to fight religious extremism.
That undertaking too has elicited skeptical comments from observers who argue that the republic's leadership would be better advised to focus on solving other problems, in the first instance corruption and social and economic inequality. Many Daghestanis would agree with that argument. In a poll conducted five months ago by the weekly "
Novoe delo
," 91.4 percent of respondents said corruption inflicted more damage on the republic than extremism; only 8.6 percent argued the reverse.