Controversial Daghestan Mayor Steps Down, Names Rival As Successor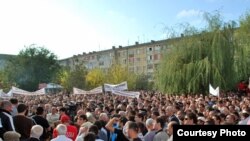 Feliks Kaziakhmedov resigned on April 9 as mayor of Derbent, six months after his reelection in a ballot that was subsequently annulled. Kaziakhmedov proposed as his first deputy former chief prosecutor Imam Yaraliyev, his closest challenger in the October 11 ballot.
Those surprise moves reflect in all likelihood a consensus between Magomedsalam Magomedov, whom Russian President Dmitry Medvedev
named in February
as Daghestan's new president, and reclusive Moscow-based billionaire Suleiman Kerimov. Kerimov is a Lezghin and a native of Derbent, which is the second-largest city in Daghestan. He backed Yaraliyev in the mayoral election.
The run-up to the October mayoral election was marred by blatant intervention on the part of then-President Mukhu Aliyev, who dispatched virtually the entire cabinet to Derbent to campaign on Kaziakhmedov's behalf.
On polling day, 13 of the city's 36 polling stations failed to open. When the city election commission proclaimed Kaziakhmedov the winner with 67.5 percent of the vote, compared with 28 percent for Yaraliyev, Yaraliyev's
supporters took to the streets
in protest, citing such irregularities as ballot-stuffing and intimidation of voters by armed men.
On December 3, the Derbent city court annulled the outcome of the vote. Kaziakhmedov appealed that ruling, but Daghestan's Supreme Court upheld it on December 23. Yaraliyev said the city population
hailed
that decision as a triumph for justice. The following day, President Medvedev announced that repeat elections would be held.
Russian Central Election Commission Chairman Vladimir Churov
explained
on January 4 that the reason for the annulment was not the reported procedural irregularities, but the fact that 38 percent of the city's 65,000 voters were registered at those polling stations that remained closed on election day. (The city election commission calculated voter turnout at 55 percent.)
Churov did not set a date for the repeat vote, which under Russian election law must be held no later than 12 months after the voided ballot. But he indicated that it would be advisable to wait a while in order to "stabilize the socioeconomic situation." Churov also advocated raising the professional competence of members of the city's election commission.
Yaraliyev and two other mayoral candidates, Elkhan Karimov and Salikh Ramazanov, filed an
appeal
with Daghestan's Supreme Court asking for repeat elections to be scheduled for March 14.
And at a public gathering on January 21, some 2,000 Yaraliyev supporters similarly demanded that the repeat election be held as soon as possible. They further called on Kaziakhmedov to step down in accordance with the Supreme Court's December ruling, and
demanded
that the senior city election commission officials deemed responsible for rigging the vote in Kaziakhmedov's favor be brought to trial for doing so.
But Daghestan's Supreme Court ruled on January 28 that the repeat ballot should take place in October.
Two months later, however, on March 27, the Derbent city council
approved
amendments to the city statutes abolishing the direct election of the mayor by the public. Instead, the mayor will be elected by members of the city council.
That decision to abolish direct mayoral elections does not violate the federal legislation on local self-government. But the Russian daily "
Kommersant
" pointed out that the vote was marred by unspecified "procedural violations," and the republican Justice Ministry may therefore overturn it.
As Kaziakhmedov's first deputy, Yaraliyev will presumably discharge the duties of acting mayor until that election. Whether he will indeed be confirmed as mayor is not clear, however.
Regnum on April 8 quoted media expert Khadjimurad Kamalov as predicting that President Magomedov will engineer the election of Magomedfazil Azizov, whom Magomedov named in early March as education minister. Kamalov characterized Azizov as an "innovative thinker" with "an aggressive management style." Azizov, like Kaziakhmedov, Yaraliyev and Kerimov, is a Lezghin, the largest ethnic group in the region. It is reasonable to assume that he is also 100 percent loyal to President Magomedov.
Meanwhile, 14 residents of Kaytag district, which lies just north of Derbent, recently addressed an
open letter
to President Magomedov complaining that a member of Magomedov's staff has travelled three times to the district center to pressure the district council not to schedule elections for the post of district head that has been vacant for the past six months. The signatories construe that pressure as an attempt to destabilize the situation in the district and warn that if the elections are postponed until October, voters may protest by boycotting them.
Kaytag's population are predominantly Dargins, as is President Magomedov, but they speak a dialect that is distinct from literary Dargin. From the 15th to the 18th century, the district was an autonomous khanate.
About This Blog
This blog presents analyst Liz Fuller's personal take on events in the region, following on from her work in the "RFE/RL Caucasus Report." It also aims, to borrow a metaphor from Tom de Waal, to act as a smoke detector, focusing attention on potential conflict situations and crises throughout the region. The views are the author's own and do not represent those of RFE/RL.