NEW YORK -- The decision by a major U.S. publisher to quash the publication of a controversial article in the Russian edition of one its magazines has sparked a lively debate in the United States about self-censorship and freedom of expression.
The article in question is "Vladimir Putin's Dark Rise To Power," a lengthy piece that appears in the current U.S. issue of "GQ." Written by veteran investigative reporter Scott Anderson, the article challenges the official Moscow line about a series of bombings that killed hundreds of people in Russia in 1999.
Anderson wrote his article relying mostly on the account of Mikhail Trepashkin, a former senior Russian intelligence officer who investigated the bombings. Trepashkin points out a number of inconsistencies in the case and suggests a possible link between the bombings and those structures in Russia that brought Putin to power, first as prime minister, then as president.
The subject has long been taboo for Russian journalists. But now it appears that the subject is also a no-no for the publisher Conde Nast, whose management, according to a
report by National Public Radio
, issued a strict order prohibiting the reprint of the article in any of its magazines published in Russia or elsewhere. It also reportedly ordered that the article not be posted on the "GQ" website in the United States.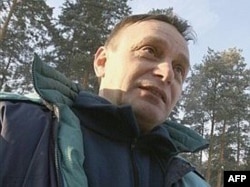 Former KGB agent Mikhail Trepashkin
The article, which is the longest piece in the current issue, is not even mentioned on the magazine's cover.
Conde Nast publishes such internationally renowned magazines as "Vanity Fair," "The New Yorker," and "Vogue." In Russia, it publishes "GQ," "Glamour," "Tatler," and "Vogue."
In addition, NPR reports, the memo written by top Conde Nast lawyer Jerry Birenz specifies that no copies of the U.S. edition of "GQ" may be sent to Russia or shown to Russian officials, journalists, or advertisers.
A spokesman for "GQ," Dan Scheffey, declined to comment when contacted by RFE/RL.
Jane Kirtley, a professor of Media Ethics and Law at the University of Minnesota, tells RFE/RL that there was a similar case in July 2007 involving "The New York Times." The newspaper faced a dilemma when it produced a story on the individuals accused of being behind the bombings in the London subway in July 2005. More than 50 people were killed in the attacks.
The law in the United Kingdom, Kirtley says, stipulates that a media outlet may be held in contempt if it publishes information about an individual accused of a crime before that individual goes to trial. It is not against U.S. law, but because of the possible ramifications in the U.K., the "Times" decided to block access to the story from Internet servers based in the U.K.
'Don't Censor Yourself'
A similar reasoning, she says, may have been behind the Conde Nast decision now.
"Number one, they would be worried about some kind of legal ramifications arising from the story, that they might be sued for libel, or that they might be subject to some kind of criminal libel or other criminal charges," Kirtley says. "I am not an expert on Russian law, but I think these are always possibilities in countries that do not have a fully developed concept of freedom of the press."
Let the censor close you down. Don't censor yourself in anticipation that the censor might choose to do that.
Kirtley says that Conde Nast may have also been concerned about the possibility of their assets in Russia being seized, or for the physical safety of their staff, or about not being able to continue to do business in Russia.
But she believes that, whatever the fears, publishers should never censor themselves.
"If you are a company outside of a country that is taking steps like that, you really should go ahead and do whatever you think is the right thing to do," Kirtley says. "And let that country do its worst. Let the censor close you down. Don't censor yourself in anticipation that the censor might choose to do that."
Christopher Walker, director of studies at rights watchdog Freedom House, tells RFE/RL that while the United States certainly is not among the countries where freedom of the press is being restricted, cases similar to the one with Conde Nast and "GQ" occasionally do happen.
Recently, he says, "Esquire" magazine was poised to run a lengthy feature on the 20th anniversary of the Tiananmen Square massacre in its Chinese edition published in Hong Kong. At the last minute, however, the publisher, the U.S. Hearst Corporation, pulled the plug.
"It indicates the emergence of censorship that's occurring with greater frequency on a commercially coercive basis," Walker says. "In countries like Russia, you don't have the all-encompassing censorship of the Cold War era. You have a selective censorship model that is much more adept at blocking what is politically consequential."
Act Of 'Cowardice'
The story of Conde Nast's preventive self-censorship became an instant media sensation in the United States.
For the first time in its seven-year history, the popular New York blog site Gawker ran an entire headline in Russian: "Эй, вы можете прочитать запрещенную статью GQ про Путина здесь" ["Hey, you can read the forbidden GQ article about Putin here"]. Gawker, which calls Conde Nast's decision an act of "cowardice," is
re-publishing the article
in both English and Russian.
Robert Amsterdam, a popular blogger and part of former Yukos head Mikhail Khodorkovsky's legal team, wrote on his website: "The fact that 'GQ' has buried this article is a testament to how much control the Kremlin wields over the civil bureaucracy (such as taxes, fire safety, etc.) to use these offices as blunt weapons."
Critical analyses were also published in other popular political blogs, such as Examiner and Politico.
Walker, of Freedom House, calls the issue a "very negative" chain of events for freedom of expression. He said he sees in the Conde Nast decision a "testament to the reach and potency of the selective censorship environment." He says international publishing corporations are highly sensitive to what may be appropriate for publishing in countries with heavily restricted freedom of expression, such as Russia or China.
"I think [it] is also a very disturbing thing if the reality here is that the top decision makers at Conde Nast understood that this article would pass limits of acceptability for the Russian authorities and therefore took action on their own," Walker says. "That's a very disturbing example of what seems to be a very effective chilling effect."
Yuri Zhigalkin of RFE/RL's Russian Service contributed to this report.