As global policymakers gather for the annual
Munich Security Conference
, Russia is growing more strident in its complaints that the European security system is dysfunctional.
At the same time, the United States and the West insist that the NATO alliance is and will remain the foundation of security on the continent.
Is it time, then, to move seriously toward a membership action plan -- and eventual NATO membership -- for Russia?

Since taking office more than 18 months ago, Russian President Dmitry Medvedev has argued forcefully that the mechanisms of ensuring security in Europe are outdated to the point of being dysfunctional. Russia feels excluded from key security arrangements, and Moscow has increasingly adopted an old NATO slogan -- that security must be indivisible.
A small, but growing, number of Western observers think that Medvedev has a point -- and that one way of responding to Moscow's concerns would be to work seriously toward NATO membership for Russia. Doing so, they also argue, might also help the alliance through its own identity crisis and infuse it with a new sense of purpose.
Michael Mandelbaum, a professor of international relations at Johns Hopkins University, has noted that following the Napoleonic wars and World War II, defeated powers were incorporated into new international arrangements, leading to periods of stability. However, after World War I, German interests were ignored and Germany was isolated, leading directly to World War II. The West, he argues, now risks making the same mistake with Russia.
"[Mandelbaum] argued that what we must do is find a way to integrate Russia into the post-Cold War security system and he goes so far as to argue that we should give Russia a NATO membership action plan, a MAP," says Richard Krickus, professor emeritus at the University of Mary Washington, who authored
a study
published in December by the Strategic Studies Institute of the U.S. Army War College that argues the case for eventual Russian NATO membership. "And my argument in this book is that it makes some sense to consider it -- that is, it answers the question of how do we give Russia a voice, but not a veto, in a new European security system."
That Time Again
NATO membership for Russia is an idea that gets floated periodically, but never seems to gain traction. In 1999, then-Russian President Boris Yeltsin expressed Moscow's desire to join the alliance. The idea has also been raised by former German Foreign Minister Joschka Fischer, in addition to Mandelbaum and Krickus, and was floated by Michael McFaul, who currently serves as senior director for Russian affairs at the U.S. National Security Council, in a 2006 article titled
"Why A Democratic Russia Should Join NATO."
On the Russian side,
a report
published this week by the Contemporary Development Institute, a Moscow think tank set up by Medvedev, declared flatly that NATO membership should be a goal for Russia in the 21st century. Another Russian report [English text
here
], issued by the Valdai Discussion Club in December, described possible Russian ascension to NATO as "quite attractive," but says it was much more possible in 1991-94. The report concludes that at present, the notion is far less likely, "but cannot be ruled out entirely."
Konstantin Kosachyov, chairman of the International Relations Committee of the upper house of Russia's parliament, says that a serious NATO-membership proposal could be embraced by Moscow.
"I would welcome such a turn of events, but only if it is not a game intended to weaken Russia or distract it in fulfilling some road map," says Kosachyov. "If behind this idea there really stands the possibility of Russia joining NATO, then that would be a correct way of looking at things from NATO's point of view, and it would be an interesting challenge to Russia, one that would have to be accepted."
Others are more skeptical.
Fyodor Lukyanov, editor of "Russia In Global Affairs," says the prevailing view in Moscow is that NATO's day is past and that future security arrangements must move beyond it.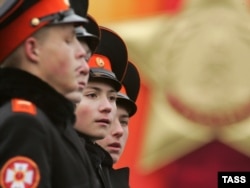 Cadets of Russia's Suvorov Military Academy (file photo)
"Russia, I think, views NATO as an organization in the midst of a profound crisis," Lukyanov says. "Keeping in mind that NATO cannot formulate a new strategic conception and can't in general understand why it should exist in the 21st century, the sense of joining is completely unclear. In other words, NATO is viewed as an organization that is growing weaker rather than stronger."
Russia's ambassador to NATO, Dmitry Rogozin, who declined repeated requests to be interviewed for this article, responded to the Contemporary Development Institute's call for Russia to join the alliance with a Twitter message saying simply, "It is more likely that NATO would join Russia than the other way around."
Foregoing Empire?
Moving toward NATO membership for Russia would mean overcoming many obstacles. But advocates of the idea, like Krickus, believe the process would motivate Moscow to compromise on issues such as the dispute with Georgia over the breakaway Georgian regions of South Ossetia and Abkhazia or Russia's territorial dispute with Japan over the Kurile Islands. It could also hold the potential to shift the balance of political forces in Moscow, giving leverage to those who advocate giving up on what he calls Russia's "imperial project" vis-a-vis its neighbors.
"My argument would be that it is in Russia's vital interests to develop a relationship with the West which is central to its becoming a modern, normal, European society, a society of prosperity and stability," says Krickus. "And that, if Russia should refuse, well, that clears the air. Then we know really how serious they are about a close relationship with the West."
However, serious talk of NATO membership for Russia would entail changes in the alliance as well. Analyst Lukyanov says Moscow would never agree to enter an organization that is dominated by Washington.
"The question is: How would Russia enter -- on what basis? If you mean that Russia would enter NATO on a common basis, like, say, Albania, Montenegro, or Poland, I don't think this would be very interesting," says Lukyanov. "But if NATO were to change fundamentally if Russia joined, if its management system changed,... because Russia is hardly likely to enter an organization in which it is perfectly obvious that the deciding vote belongs to the United States."
Richard Weitz, a senior fellow and security analyst at the U.S.-based Hudson Institute, agrees that NATO would have to evolve away from its consensus-based model, perhaps in a process similar to the one the European Union is now trying to develop. He says Moscow could be "a very disruptive force" if it were granted membership under the current system.
As difficult as the problems associated with possible NATO membership for Russia are, even solving them would not automatically mean a more stable security environment. Lukyanov notes that expanding NATO to include Russia could merely push the security division to the east and exacerbate tensions with Beijing. If Russia entered NATO, Lukyanov notes, China would suddenly be in the same position that Russia is in now.
Russian parliamentarian Kosachyov insists that Western ambivalence toward Russia is the key reason why the question of Russian NATO membership has never been seriously raised.
"Lately I have been asking my Western, NATO colleagues this direct question: 'Can you tell me, is it that Russia can't be a member of NATO because of the way it is now, because something isn't right with its political system or the electoral system or human rights or something else? Or is it that Russia in principle isn't suitable as a NATO member, and even after it resolves all these current problems will you say "no" anyway because that can never be under any circumstances?'" says Kosachyov. "And it is interesting that this direct question always leaves them speechless."
RFE/RL Russian Service correspondent Danila Galperovich and RFE/RL correspondent Brian Whitmore contributed to this report