A Baku court this week sentenced two young Azerbaijani bloggers, Adnan Hajizada and Emin Milli, to two and 2 1/2 years in prison on hooliganism charges, in a case that has brought international attention to declining media freedoms in the oil-rich South Caucasus state.
Western governments and international organizations like the Council of Europe and the Organization for Security and Cooperation in Europe have strongly condemned the case against Milli and Hajizada.
Kenan Aliyev and Anna Zamejc of RFE/RL's Azerbaijani Service discussed the issue with Thorbjorn Jagland, the secretary-general of the Council of Europe.
RFE/RL: You were very critical regarding the arrest of the bloggers. Were you surprised at the verdict and sentences?

Thorbjorn Jagland:
I would say yes and no. We are always surprised when we get that kind of judgment. It was about something that did not take place. They were accused of so-called hooliganism but this was not the background for the judgment, not the fact in this case. Therefore we were of course surprised.
But I have followed the developments in Azerbaijan for quite a long time and therefore I could say that we are not so surprised. We are very concerned about the development with regard to human rights and democracy in Azerbaijan.
RFE/RL: Why does the Council of Europe have these difficulties in holding Azerbaijan accountable to its commitments? How are you going to defend your mission?

Jagland:
Well, it's always difficult when member states are not complying with their obligations to the Council of Europe. The only thing we can do is to always remind them about their obligations. We also have monitoring mechanism we can use. Whenever things like this happen, we always have to get authorities to be accountable to what they are doing.
RFE/RL: What can you say against allegations that the Council of Europe is toothless, that it makes deals with member states just like so many other institutions, and that it looks the other way when member states violate its own charter and principles?

Jagland:
[The] Council of Europe does not have the means and tools that can change the situation immediately. But we believe that for instance in this case, Azerbaijan's presence in the Council of Europe will [lead it to be] influenced over time.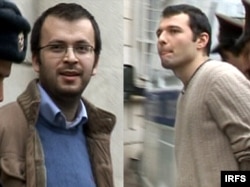 Bloggers Emin Milli and Adnan Hajizada face jail time.
We have to work slowly with this is and we believe that their presence here is important in order to influence developments there. If it is the other way around, then the question about the membership in the organization will be on the table, of course.
We can only have members in the Council of Europe that are complying with the standards and values of the organization. That does not mean that everybody has to be perfect. But [there] is [a] necessity to comply with the rules, standards, and values that we have and that there going in the right direction. This is how the Council of Europe works.
RFE/RL: For the last two years the Parliamentary Assembly of the Council of Europe has not had any hearings on Azerbaijan despite the fact that there was a referendum in March that revoked term limits for the presidency and despite the fact that there are still political prisoners in Azerbaijan. Is it time for the Council of Europe to propose special hearings on Azerbaijan in its forthcoming sessions?

Jagland:
I cannot talk on behalf of the Parliamentary Assembly because this is an independent body of the Council of Europe and they have to decide what to do. But I think that this case and other cases in the past, show that we need to pay much more attention to developments in Azerbaijan in the Parliamentary Assembly, by the human rights commissioner, and we have also other means that we can use.
The people of Azerbaijan should know that we have the European Court of Human Rights here in Strasbourg to which they can bring their cases.
RFE/RL: Your statement on the bloggers' imprisonment was quite strong. Have you received any response from Baku?

Jagland:
We haven't got any reaction yet. I informed the ambassador of Azerbaijan yesterday about my statement and talked to him about it and I asked him to convey this message to the authorities in Baku.
RFE/RL: Do you expect that officials in Baku will listen to your call?

Jagland:
Yes. We have the right to expect it. Azerbaijan is a member of the Council of Europe and they are committed to our standards and values. Therefore they should, of course, take seriously what we are conveying to them.
Energy vs Democracy

RFE/RL: You come from Norway, a country that has successfully managed to reconcile oil revenues with democracy. To what extent do rich energy resources hinder democratic development in Azerbaijan?

Jagland:
That is difficult for me to assess. What I can say is that it is unacceptable to use that kind of resource as an excuse for not moving in the right direction with regard to human rights and democracy.
Azerbaijan and all the states in Europe should be aware of how important it is to be a part of European values, standards and institutions because that is a precondition to be successful with regard to economy. One cannot only rely on natural resources in the future. That would be a very short-term perspective.
RFE/RL: But many Western states seem to view Azerbaijan only in the context of energy resources. Democratization issues are not raised because Azerbaijan is an important partner in terms of securing energy stability in Europe.

Jagland:
That could also be a problem. But the European states, the European bodies, and also the United States are very concerned about the developments in the situation with regard to human rights in Azerbaijan. So, while what you are saying may be true, it is also untrue because we are reacting when things like these happen.
RFE/RL: Next year Azerbaijan will celebrate its 10th anniversary of joining the Council of Europe. Many critics say that Baku's human rights and democracy record have not risen to the standards of the Council of Europe but rather that the Council of Europe has lowered its standards to the level of countries that are violating them. As the secretary-general, are you going to push for reforms to raise the standards of the Council of Europe?

Jagland:
There's no need to change the standards. They are very high. The problem is to get the member states to comply with the standards.
We are all aware of the fact that there are problems in many member states and that's why we have the Council of Europe. It is important to have members like Azerbaijan in the Council of Europe, provided we are able to influence internal developments in the country and provided that they are interested in being assisted by the Council of Europe to go in the right direction.
It cannot be the other way round, that member countries are able to, so to say, undermine the standards and values that the Council of Europe has.