Daghestan Police Ask Medvedev To Fire Top Investigator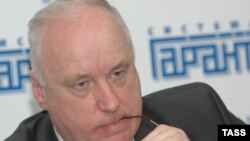 The independent trade union of Interior Ministry and prosecutor's office employees in Daghestan has addressed a
written request
to Russian President Dmitry Medvedev and to Federation Council Chairman Sergei Mironov to fire Aleksandr Bastrykin, head of the Investigative Committee of the federal Prosecutor-General's Office.
Their rationale for that demand, as explained by the union's chairman, Magomed Shamilov, to Caucasus Knot, was the proposal Bastrykin floated last week at a meeting of top prosecutor's office staff that Medvedev attended, to create a database containing the fingerprints of the entire North Caucasus population.
Russian human rights activists immediately
condemned
that proposal as discriminatory; Chechen Republic human rights ombudsman Nurdi Nukhadjiyev termed it anticonstitutional and a violation of citizens' rights. But Chechen Republic head Ramzan Kadyrov said it was "normal."
The Daghestan police and prosecutor's office staffers implied that they too consider the proposal discriminatory. Union Chairman Shamilov pointed out that "we are citizens of Russia just like Bastrykin," and as such deserve respect. A senior Makhachkala police officer argued that Bastrykin's proposal risks fuelling ethnic tensions.
In their joint letter to Medvedev and Mironov, the officers elaborate on that point, arguing that Bastrykin's attitude and statements suggest that he is prone to equate certain ethnic groups, primarily those from the North Caucasus, with "criminals, bandits, and extremists."
Nizam Radjabov, the spokesman for the Daghestan prosecutor's office, has declined to comment on his colleagues' initiative.
About This Blog
This blog presents analyst Liz Fuller's personal take on events in the region, following on from her work in the "RFE/RL Caucasus Report." It also aims, to borrow a metaphor from Tom de Waal, to act as a smoke detector, focusing attention on potential conflict situations and crises throughout the region. The views are the author's own and do not represent those of RFE/RL.