WASHINGTON -- Chatting together at a restaurant in Baku last July, Azerbaijani bloggers Emin Milli and Adnan Hajizada were interrupted by two strangers who allegedly started a fight with them. The result: prison sentences for both men on charges of hooliganism -- unrelated, the government claims, to blog posts by Milli and Hajizada critical of President Ilham Aliyev's. Rights groups insist otherwise, and continue to call for their release.
Cases like that of the jailed Azeri bloggers have mounted in the last 10 years from Baku to Chisinau to Moscow, leading to a "decade of decline" for democratic governance and institutions across most of the post-Soviet sphere, according to the
latest edition of "Nations in Transit,"
an annual report compiled by U.S.-based watchdog Freedom House.
The report concludes that nearly 80 percent of residents of the former USSR -- some 220 million people -- continue to live under entrenched authoritarian governments. Moreover, those governments are in most cases tightening their grip.
Monitoring 29 former countries in Europe and Eurasia, the report tracks democratic progress and setbacks in local and national governance, civil society, the media, the electoral process, judicial framework and independence, and corruption. This year's report also considers decade-long trends.
Russia's 10-Year Drop

Foremost among them is Russia's precipitous decline -- the sharpest in the region, according to Freedom House's director of studies, Christopher Walker. From a besieged civil society to shrinking media independence to rampant official corruption, Walker says Russia has experienced a decade-long retreat from democratic standards.
Under Presidents Vladimir Putin (right) and then Dmitry Medvedev, Russia has suffered worst in the region, the authors say.
"Over the course of the decade, it [the report] tracks what you might describe as the 'Putin-Medvedev era,' and clearly, this has been an era where democratic institutions -- institutions that ensure accountability and transparency -- have suffered," Walker says. "This has occurred during periods of economic growth, as well as during periods of economic downturn. The common thread, and the common pattern, has been pressure on and erosion of all of these critical institutions."
Out of a worst possible score of 7.0, Russia's electoral process score was a grim 6.75 last year, deteriorating from a 4.0 in 1999. The setback reflects what analysts describe as the ruling United Russia party's stranglehold on power and silencing of political opposition.
Such decade-long worsening trends contradict the image of status quo that the Kremlin actively promotes, says Vladimir Milov, a board member of the Russian democratic opposition group Solidarity.
"The official Russian propaganda likes to depict things more in a static mode, saying, 'Look, things are not as bad as they could have been,' using very specific examples -- like 'Take a look at Ukraine, where regional governors have always been appointed by the president,' or 'Take a look at the United States, where there are only two major political parties, and in Russia we have seven official parties registered,'" says Milov, who took part in the release of the "Nations in Transit" report on July 29 in Washington.
"The dynamic picture here instead shows that there has been a steady degradation of all the major parameters of democracy and civil society and governance."
Walker adds that Russia's transgressions also have a "demonstration effect" on neighboring countries, providing cover for or emboldening leaders with an authoritarian bent.
The report says Kazakhstan has little to show in the way of democratic improvement since 2000, despite holding the chairmanship of the Organization for Security and Cooperation in Europe (OSCE) this year. Scores in nearly every measurement category used by the report showed a 10-year decline.
The deteriorating situation in Kazakhstan was mirrored in Azerbaijan, which the report says continued its "downward spiral" last year, punctuated by the removal of presidential term limits. Baku experienced ratings declines in the areas of national and local democratic governance, as well as judicial framework and independence and civil society.
Smaller but still significant 10-year slides were noted in countries such as Armenia, which has a slightly improved corruption score but the authors say has demonstrably tightened the space for free media.
Sharp Kyrgyz Decline
In the last year especially, Walker says, increasing restrictions on media was a common theme across the former Soviet Union. For Kyrgyzstan, he says, the increased silencing of the press was just one of the transgressions that eventually led to the overthrow of former President Kurmanbek Bakiev in April.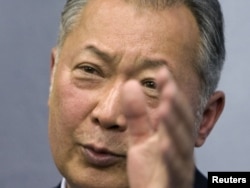 Former Kyrgyz President Kurmanbek Bakiev in Minsk on June 23
"We had identified in the last several years real areas of concern, and Kyrgyzstan had moved in a negative direction during this period. In the last year of our review, we also saw some very, very sharp declines for a whole host of important reasons and, of course, early this year we saw these problems manifest themselves in more violent ways," Walker says.
Data from 2009 saw declines for Kyrgyzstan in five of the seven categories measured by the report.
A relative bright spot on the post-Soviet landscape of the past 10 years is Ukraine, the only country tracked by the report that exhibited overall improvements in democratic standards over the past decade. By demanding electoral transparency, and supported by a media sector that "stands alone in terms of its openness and pluralism," Walker says Ukraine has made significant progress toward leaving its repressive legacy behind.
The report classifies the country, along with Georgia, as one of the two non-Baltic former Soviet states that is neither authoritarian nor semi-authoritarian.
However, the latest "Nations in Transit" report reflects events through the end of 2009. Analysts have since expressed concern at what they say is an increased clampdown on a broad spectrum of rights under the newly-elected president.
"The dreadful news coming from Ukraine is that since being elected president, Viktor Yanukovych has essentially embarked upon a kind of a bulldozing of the political system, which has entailed the transformation of a very messy, very chaotic, and somewhat dysfunctional democracy into what at this point looks like an increasingly consolidated authoritarian regime," says Alexander Motyl, professor of political science at Rutgers University, who was also on hand for the report's release.
Along with the nations of the former Soviet Union, the Freedom House report also tracks democratic developments in the Balkans. Since the end of the wars that accompanied the breakup of Yugoslavia, Walker says, the Balkan countries have made significant strides.
"In the context of the bad news that's coming through, especially in the former Soviet Union, the fact that the Balkans have managed, with plenty of challenges and plenty of remaining obstacles, to keep a steady, gradual trend overall of improvement, is noteworthy," Walker says.
He adds, however, that these gains should not be taken for granted, especially in Bosnia, where extreme nationalism appears to be on the rise.