As General Stanley McChrystal, the top U.S. and NATO commander in Afghanistan, prepared to face the music over his criticism of high-ranking members of the U.S. administration, he had some unlikely supporters in his corner.
Afghan President Hamid Karzai and his younger half-brother, Ahmed Wali Karzai, made public pleas for U.S. President Barack Obama to retain the general, despite the controversy McChrystal generated with the disparaging remarks he and members of his team made in a "Rolling Stone" profile published this week. From the Afghan perspective, the Karzais argued, McChrystal was seen as the man responsible for dramatically reducing civilian casualties and for cultivating friendships with senior Afghan officials.
But nothing could save McChrystal. He tendered his resignation and Obama accepted it on June 23. In announcing McChrystal's departure, Obama stressed that is was a "personnel decision, not a policy decision," adding that his critical statements "erode the trust that's necessary for our team to work together to achieve our objectives in Afghanistan."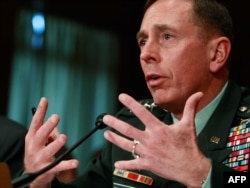 General David Petraeus is taking over McChrystal's role.
Obama did express his overall support of McChrystal's counterinsurgency plans as he handed the command to General David Petraeus. As U.S. and NATO troop numbers were built up under the Obama administration, it was McChrystal who had attempted to build a bond of trust with beleaguered Afghan civilians by ordering his soldiers to protect them and to provide help in rebuilding their economy and government institutions.
Rifts Exposed?
Speaking after the announcement to RFE/RL's Radio Free Afghanistan, Karzai spokesman Wahid Omar praised McChrystal as a "commander who had the trust of Afghan government and people." With his resignation, many Afghans and international observers were left to question the counterinsurgency approach the international coalition is attempting to implement in Afghanistan.
Lawmaker Noor ul-Haq Uloomi told RFE/RL the episode exposed a rift within the U.S. administration and its international allies. And this rift, he says, has contributed recently to setbacks in Marjah and Kandahar.
Thousands of NATO troops went into the Taliban stronghold in Marjah in February. But the agricultural town in southern Helmand Province is far from stabilized.
Following his resignation, McChrystal issued a statement reaffirming his "strong support" for the Obama administration's Afghan strategy. But in the "Rolling Stone" profile, the general described the Marjah operation as a "bleeding ulcer."
Amid ongoing efforts to bring stability to Kandahar, the Taliban has mounted a counteroperation and launched a campaign of targeted murders of key officials that is hampering plans to build local institutions.
Uloomi, a former communist military commander in southern Afghanistan in the 1980s, suggests that divisions among Western leaders ultimately harm Afghans. "Who is harmed when they don't have coordination among themselves?" he asks.
"The Afghan people are at a loss when the situation deteriorates -- insecurity increases and more innocent people are killed," Uloomi says. "From the beginning the Afghans perceived the international community to be united. And [believed] that they have come to Afghanistan to implement their plans for [stabilizing] their country."
Reconstruction And Counterinsurgency
Antonio Giustozzi, a researcher at the London School of Economics and Political Science, tells RFE/RL that counterinsurgency is an improvement on previous approaches to Afghanistan, in which a small number of Western troops and special forces relied on heavy weapons to repel militants. Those tactics resulted in too many civilian casualties and did little to win Afghan hearts and minds.
McChrystal's approach, to the contrary, centered on building up troop numbers to protect the population and slowly building the economy and government institutions so they can sustain themselves.
Giustozzi, who has written books about the Taliban insurgency, said that the implementation of a counterinsurgency effort in Afghanistan is fraught with problems. "The weak spot of the counterinsurgency effort is on the political side, meaning there isn't a political strategy accompanying it," he says.
"Tthe expansion or the strengthening of the governance on the Afghan side that should have accompanied the counterinsurgency effort is not really happening or is happening too slowly," he adds. "In theory, probably with sufficient resources and time any war can be won, but the question is whether the resources or time are there."
Petraeus, 57, is expected soon to be confirmed as the new commander of NATO and U.S. forces in Afghanistan. His job will be to lead nearly 150,000 Western troops against tens of thousands of Afghan and foreign Muslim guerillas based in teeming Afghan cities, fertile river valleys, and isolated mountain villages.
Once in command, he will face the challenge of repeating the success he had in implementing a counterinsurgency in Iraq, which basically rescued the Iraq war effort in 2007. By comparison, the task at hand in Afghanistan appears monumental.
'Trust And Calm'

Karzai spokesman Wahid Omar tells RFE/RL's Radio Free Afghanistan that Obama spoke to President Karzai before announcing the appointment of Petraeus as his new military commander in Afghanistan, and that Karzai backs the decision wholeheartedly. "In our opinion, General Petraeus is an outstanding military commander like McChrystal," he says.
"We hope that his arrival in Afghanistan will accelerate plans that McChrystal had set in motion. This will ultimately strengthen the process for peace and stability," he adds. "And together with the Afghan government and people, he will be able to bring about an atmosphere of trust and calm in Afghanistan."
Others, too, express confidence that the change in command will not deter the trans-Atlantic alliance from its mission in Afghanistan.
Mark Sedwill, McChrystal's civilian counterpart in Afghanistan, had nothing but praise for his former colleague, calling him "an outstanding military commander" and one of the finest men he has known.
But in an interview with RFE/RL's Radio Free Afghanistan today, Sedwill dismissed the suggestion that the command change would have palpable effects on military operations in Afghanistan. "Let me reassure the people of Afghanistan that not only will the campaign remain on course, General McChrystal's departure and General Petraeus' arrival will have no impact on the outcome."
On that point, even the enemy is in agreement.
Yousuf Ahmadi, a Taliban spokesman, has said it matters little who commands NATO and U.S. forces. "We don't care whether it's McChrystal or Petraeus," he told Agence France-Presse. "We'll be fighting the invading forces until they leave."
RFE/RL Radio Free Afghanistan correspondents Abdul Hameed Mohmand and Breshna Nazari contributed reporting from Kabul.