BAGHDAD -- Iraq police are on the streets in greater numbers and Iraqi soldiers are at the ready to deal with insurgent violence as the government in Baghdad prepares to assume full responsibility for security in population centers starting July 1.
Nearly all U.S. troops -- currently numbering about 133,000 -- have now withdrawn from Iraqi cities, towns, and villages as stipulated in a U.S.-Iraqi security pact that took effect this year.
"We are on the threshold of a new phase that will bolster Iraq's sovereignty," Iraqi Prime Minister Nuri al-Maliki said on June 27. "It is a message to the world that we are now able to safeguard our security and manage our own affairs. We have to trust our security force to administer security and pursue Al-Qaeda remnants and criminal gangs."
The landmark transition takes place at midnight June 30 as required by the bilateral Strategic Framework Agreement that governs the continued U.S. military presence in Iraq.
Reuters video: The Iraqi Army officially took over control of the last U.S.-led base in Baghdad, while soldiers and police paraded in Baquba.
It is both a milestone and a major challenge for the country after six years of violence. At stake are the security gains achieved in the 2007-2008 "surge" of U.S. troops into Baghdad and the aggressive "clear, hold, build" counterinsurgency strategy of former Iraq force commander General David Petraeus, as well as the feelings of greater safety they have given many average Iraqis.
'Through The Dark Days'
In comments to the Fox television network on June 28, the commander of U.S. forces in Iraq, General Ray Odierno, said he believes the time is right for the handover.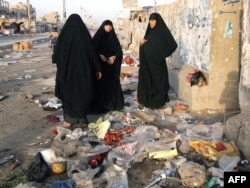 Women gather at the site of a blast in the Sadr City district of Baghdad on June 25 that killed some 70 people.
"We've had a partnership, we've built a hard partnership here over the last two and half to three years, through the surge, through the dark days here in Iraq when attacks were 10 times what they are today, when there were a significant amount more of civilian casualties," Odierno said.
"We've worked very hard together to gain this improvement. There have been sacrifices by Iraqi security forces, there have been sacrifices by the coalition forces, they recognize this. We are continuing this partnership, but it's time for this partnership to have an Iraqi lead. It's time for this partnership to have the Iraqis out front, and it's time for us to support that," he said.
Significant hostile acts throughout Iraq numbered about 3,250 last year, according to U.S. figures. That's down from around 6,200 in 2007 and 6,600 in 2006, as U.S. and Iraqi operations broke up terrorist cells, battled sectarian militias, cut off insurgent supply routes, and seized weapons caches.
The Iraqi Security Forces have worked very hard, they've trained very hard, and we believe that they are ready to take over these important functions.
Attacks using improvised explosive devices (IEDs) -- the weapon of choice for various insurgent groups -- numbered 454 in greater Baghdad from January 1 of this year to the end of May -- a 75 percent drop from last year. And nearly half of those were discovered and neutralized before they could be detonated.
Nevertheless, more than 200 Iraqis -- including schoolchildren, police, and soldiers -- are estimated to have been killed in bombings in Baghdad and the northern city of Kirkuk since June 20.
'This Is The Right Time'
Despite this "uptick" in high-profile attacks, which he blamed on "extremist elements that are attempting to bring attention to themselves," Odierno said he believes "this is the right time" to turn responsibility over to the Iraqis. That message was repeated by the U.S. ambassador to Iraq, Christopher Hill, in a briefing with reporters in Baghdad on June 28.
"Our military has worked very closely with Iraqi security forces, and it's the judgment of our military that they are ready to take on these additional missions. The Iraqi Security Forces (ISF) have worked very hard, they've trained very hard, and we believe that they are ready to take over these important functions," Hill said.
"There's no question that there will be terrorists and other groups who will try to make this a more difficult process than it already is, but I really do believe that they will be confronted by the very united spirit of the Iraqi people," he said.
Al-Qaeda, Iranian-backed "Special Groups," and other insurgents still operate throughout the country, however, especially in and around the northern city of Mosul in Ninevah Province, in the eastern and northern sectors of Diyala Province above Baghdad, and in the capital itself.
Mood 'More Tense'
In the past week, in northeastern and eastern Baghdad, which includes the Shi'ite enclave of Sadr City, U.S. forces were targeted five times. At least a dozen soldiers were wounded by bombs believed to have been planted by Special Group cells.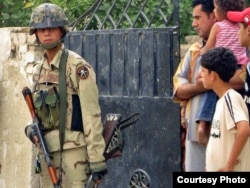 All eyes are on Iraqi troops as they prepare to assume responsibility for the security of the country's urban areas starting July 1.
"The mood in the area is definitely more tense," says Staff Sergeant Matthew St. Pierre of the 1st Battalion, 5th Cavalry Regiment, which operates in northeastern Baghdad. "What happened [in the recent bombings] is kind of hitting home that the transition is going to be harder than we anticipated. If the insurgents let it go smoothly, they won't grab any headlines. So just like we're pushing, they are going to push right back."
Also at stake in the performance of Iraqi forces is the political future of the prime minister, who faces reelection early next year, and plans by U.S. President Barack Obama for a faster withdrawal of U.S. forces from Iraq and a troop increase in Afghanistan.
"The training wheels are already off," Sergeant First Class John Shumaker says of the transition. "If not now, when? They're ready. [Iraqi forces] need to go and take that next step. They're going to take some bumps, yes, but they have to stay the course and they'll get over them."
There were more than 200,000 trained and assigned Iraqi Army troops last year, according to figures compiled by the U.S. government. There were also more than 42,000 paramilitary national police and more than 300,000 regular police.

'God Willing Nothing Will Happen'
Brigadier Hameed Kadhim, commander of the 2nd Battalion of the Iraqi police, told Reuters that Iraqi forces are prepared.
"We are ready and our forces are deployed all over Iraq," Kadhim said. "We are ready for any situation, and God willing nothing will happen because our forces are everywhere."
"One of two things needs to happen -- pull back completely or fully commit," said one soldier who didn't want to be identified. "They can't keep us in the middle. If they do, things like the IEDs will happen. If you're going to pull us out of the cities, then pull us out [of everything] and not say, 'You still have to do this and do that.' "
But you can't pull out completely, said Staff Sergeant St. Pierre, "and watch them fall on their ass. We're going to have to take things nice and slow, see how things go. And if we have to project more combat power inside and help them out again -- if the government of Iraq requests that -- that's how we will go."