Actor Bekim Fehmiu, whose career spanned more than 40 domestic and foreign films, was considered a rarity in the former Yugoslavia.
An ethnic Albanian born in Bosnia who spent much of his adult life in Serbia, Fehmiu -- who died last week at age 74 after committing suicide in his Belgrade home -- was one of the region's few remaining "Yugoslavs," with roots and devoted fans in many parts of the once-united country. He was also the first ethnic Albanian actor to work throughout the whole of Yugoslavia, as well as maintaining a film career abroad.
Kosovar film director Isa Qosja said Fehmiu (pronounced FEH'-myoo) was a hero to many ethnic Albanians.
"We were always proud when we heard his name on the international scene," Qosja said. "Bekim Fehmiu was a rare, special, and even unique artistic personality. He had great energy, a strong will, and artistic force...And now he's died in a tragic fashion."
Fehmiu was found in his Belgrade apartment, dead of a gunshot wound. Police ruled the death a suicide after determining the gun was registered in Fehmiu's name. The actor had recently suffered a stroke that had left him partially paralyzed.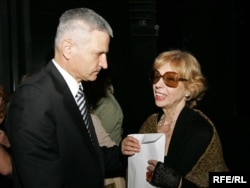 Serbian writer and dramatist Jovan Cirilov (left) and Fehmiu's wife, Branka Petric, at a memorial service in Belgrade on June 22
He is survived by his wife, Serbian actress Branka Petric, and their two sons. After a funeral ceremony in Belgrade, his ashes were scattered in the Bistrica River in Prizren, the town in western Kosovo where Fehmiu spent much of his childhood.
Played Down National Divisions
Fehmiu was born in 1936 in the Bosnian capital, Sarajevo, to parents who belonged to the city's small ethnic Albanian community. But while he is fondly remembered in Kosovo as one of the 20th-century's best-known ethnic Albanian stars, he never acted in an exclusively Albanian-language film. Most of his performances were in Serbo-Croatian.
Fehmiu was noted for his willingness to embrace Yugoslavia in its entirety, playing down national divisions. Hedon and Uliks, his sons with Petric, were given names that were neither Albanian nor Serbian.
Ultimately, however, it was Fehmiu's pride in his ethnic heritage that led to the end of his acting career. In 1987, he walked off the stage of the Yugoslav Drama Theater in Belgrade in protest over the growing anti-Albanian sentiment in Slobodan Milosevic's government.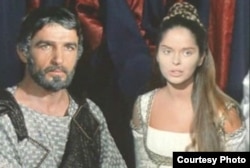 Fehmiu with actress Barbara Bach in 1968's "Odyssey"
Fehmiu continued to work on productions at the theater but did not attend performances where members of the political establishment were in attendance. His last movie role was in 1998. He broke his silence only once, with the publication of a memoir, "Brilliant and Terrifying," about his early years.
'He Gave Up The Words'
Fehmiu's son Uliks has said the wars that led to the breakup of Yugoslavia were devastating to his father.
"The breakup of Yugoslavia, the horrible fratricidal war, the destruction of Vukovar, the bombing of Dubrovnik, the long-running siege of Sarajevo, the war in Kosovo, the bombing of Yugoslavia made my father withdraw even more," he said. "He gave up the words which are the strongest and most beautiful means for an actor. He gave them up and turned them into silence -- into protest."
At home, Fehmiu is best known for his role in the movie "I Even Met Happy Gypsies" or "The Feather-Gatherers," as it is called in Serbo-Croatian. The 1967 film, which centers on the lives of Roma living in northern Vojvodina, was filmed in the Romany language. It was considered one of the crowning achievements of Yugoslavia's Black Wave artistic movement and won the Cannes jury prize that year.
WATCH: An excerpt from "I Even Met Happy Gypsies":
Other Yugoslav films starring Fehmiu include "Special Education" and "Swarm," for which he won an acting award at Croatia's Pula film festival.
Fehmiu's swarthy good looks also drew the attention of Western filmmakers, although he never succeeded in achieving full-fledged Hollywood stardom. His first foreign starring role was in "The Adventurers," a 1970 movie co-starring Charles Aznavour and Candice Bergen.
The film was considered a critical failure. After that, Fehmiu's international film career was mainly limited to Westerns and historical works like
"Odyssey,"
Italian director Franco Rossi's TV miniseries based on the Homer epic.
'Behaved With Dignity'
In Serbia and Kosovo -- two countries that normally find little to agree on -- the reaction to Fehmiu's death has been common in its outpouring of grief.
Both Kosovo President Fatmir Sejdiu and Serbian President Boris Tadic sent condolences to Fehmiu's family, a sign of the actor's broad and enduring popularity. Sejdiu told RFE/RL that Fehmiu "lived, worked, and departed like an artist of great and universal dimensions."
Supporters like Serbian writer and dramatist Jovan Cirilov have come forward to praise the actor for both his performances and his personal courage in standing up to Milosevic.
"Bekim Fehmiu was without doubt one of the most significant and best actors born in our region," Cirilov said. "He showed his worth on the international scene and behaved with dignity where the ethnic conflict was concerned, which surely wasn't always an easy thing to do."
In Kosovo, Fehmiu's death has stirred especially deep emotions, with many Kosovars remembering the actor as not just a man of Yugoslavia, but as a native son.
"One of the greatest Albanian artists of the 20th century is gone," said Haqif Mulliqi, a writer and director based in Pristina. "He made us proud to be Albanians and often was an inspiration to all Albanian artists, regardless of where they lived."
reported by Branka Mihajlovic and Slobodna Kostic in Belgrade and Bekim Bislimi and Amra Zejneli in Pristina