If Uzbek Prime Minister Shavkat Mirziyaev is really in the running to become president one day, then he must feel his chances have improved lately. Mirziyaev has recently been given extra and significant responsibilities and made an important appearance in Moscow as a representative of Uzbekistan.
Mirziyaev has been Uzbekistan's prime minister since 2003, prior to which he served for five years as governor of Jizzakh Province, which neighbors President Islam Karimov's native Samarkand Province.
Karimov turned 72 at the end of January, a reminder that his time in office is probably approaching an end after two decades. Mirziyaev's name comes up often in discussions of succession in Uzbekistan, but in these discussions another big name -- Gulnara Karimova, the president's eldest daughter -- always figures prominently.
Earlier this year, Karimov chose Mirziyaev, known for his ability to get the job done by any means necessary, to spearhead an investigation of leading business figures in Uzbekistan. The president said there were no oligarchs in Uzbekistan and Mirziyaev's task was to ensure that remained the case. The prime minister's investigations eventually lead him to Zeromax.
President's Heir
Karimova was widely seen as her father's likely successor as president.
Zeromax is a Swiss-based company that has enjoyed amazing success in Uzbekistan since being formed in 2001. It's a rather opaque company, but when it is reported on, it is widely tied to Gulnara Karimova. Her former husband, Mansur Maksudi, amid a custody battle for the couple's two children, filed a court case against Gulnara that alleged she was the part-owner of Zeromax and that the company had deposited $1 million in one of her accounts in a Latvian bank.
The Spanish newspaper "El Pais" earlier this month published an article about Karimova that called her the "owner of an Uzbek conglomerate called Zeromax." Other reports and articles have also drawn a connection between the president's daughter and the company.
No clear link between Karimova and Zeromax has ever been established and she denies having any direct role in the company. But in December 2009, the Swiss magazine "Bilan" included Karimova in its list of the 300 richest people in Switzerland, reporting she has assets in Switzerland of $570 million-$655 million.
Where all that money came from is not entirely clear but shortly after that report was published Karimova, who represents Uzbekistan at the United Nations office in Geneva, was given another post -- Uzbekistan's ambassador to Spain -- and she left Switzerland for Madrid.
Zeromax head Miradil Jalolov was among those questioned by Mirziyaev's investigators, although only as a "witness" according to officials. Then Russian Deputy Prime Minister Sergei Ivanov visited Uzbekistan in late March. Ivanov complained about the role of "intermediaries" in Russian-Uzbek gas deals, a role Zeromax subsidiaries have played.
Assests Frozen
At the beginning of May the Tashkent city economic court ordered Zeromax to halt its operations in Uzbekistan and for financial authorities to seize the company's assets and property in Uzbekistan. RFE/RL has been unable to contact anyone at Zeromax offices in Uzbekistan since then.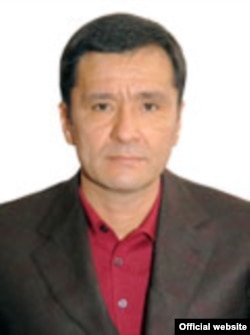 Zeromax chief Miradil Jalolov
One employee of the company, who spoke under condition of anonymity, confirmed the closure to RFE/RL's Uzbek Service, adding that the company's bank accounts were frozen on May 7. "We are hoping the accounts will be unfrozen, but if not we will have to shut down operations."
Another employee of a Zeromax subsidiary indicated that even sites being developed at the request of the president's oldest daughter were affected.
"At the moment all of the construction sites are closed. There were some construction sites near Tashkent's Alaiski Bazaar and they were all closed," the employee said. "All the construction material was confiscated and locks were put on the gates. There was a special building being constructed for Gulnara Karimova and that work was stopped also."
Company head Jalolov -- who has been referred to as Karimova's "gray cardinal," or as her "straw man" in some reports -- was questioned by the financial police prior to the government's announcement that the company's operations in Uzbekistan were suspended.
At the end of April, Jalolov briefly left Uzbekistan. The Zeromax construction company employee said he was rumored to have gone to Spain, to meet with Karimova. The source said it was possible Jalolov went to watch a soccer match, since the Zeromax head is an enthusiastic soccer fan and owner of one of Uzbekistan's most successful teams.
A Zeromax investor profile from October 2009 says that the company conducts "its business mainly in Uzbekistan." Zeromax is the only Western company involved in Uzbekistan's oil and gas industry and by some accounts was responsible for some 80 percent of construction projects in the sector. The company clearly had some link to the state oil and gas company Uzbekneftegaz, which over the last five years has signed contracts only with Russian and Asian companies.
This recent bad news for Zeromax, and potentially Karimova, contrasts sharply with Prime Minister Mirziyaev's good fortune. President Karimov handed over responsibility for the gas and oil sector to Mirziyaev as Zeromax was being nudged out. Karimov also chose to stay in Uzbekistan rather than accept Russian President Dmitry Medvedev's invitation to come to Moscow for celebrations marking the end of World War II. Mirziyaev went in Karimov's place.
RFE/RL's Uzbek Service Director Alisher Sidikov and correspondent Farruh Yusupov contributed to this report