Dubai Police Implicate State Duma Deputy From Chechnya In Murder Attempt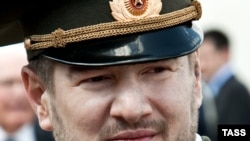 Dubai's chief of police, Lieutenant General Dahi Khalfan bin Tamim, told a press conference on April 5 that two men, one from Iran and the other a Tajik, have been arrested on suspicion of the March 28 attempt to assassinate
Sulim Yamadayev
, the disgraced former commander of the Vostok battalion subordinate to the Russian Defense Ministry's 42nd Motorized Rifle Division.
Tamim said four more men, one from Kazakhstan and three citizens of the Russian Federation, are wanted for questioning in connection with the crime, and that police also have evidence indicating that a Chechen, Adam Delimkhanov, was behind it.
Delimkhanov, 39, who represents Chechnya in the Russian State Duma, is a maternal cousin of Chechen Republic head Ramzan Kadyrov and previously served as a first deputy prime minister with responsibility for police and security. A member of Delimkhanov's bodyguard is said to have given the suspected assassin the gun used to fire on Yamadayev.
Delimkhanov was similarly implicated in the execution-style killing in broad daylight in Moscow in November 2006 of another former Kadyrov ally, Movladi Baysarov, who until shortly before his death headed the Gorets (Mountaineer) battalion that was subordinate to the Federal Security Service (FSB).
Delimkhanov issued a statement on April 5 dismissing the Dubai police accusation as a "provocation" and affirming his readiness to cooperate with them in investigating the attack on Yamadayev. As a Russian parliament member, he cannot be extradited to Dubai for questioning.
About This Blog
This blog presents analyst Liz Fuller's personal take on events in the region, following on from her work in the "RFE/RL Caucasus Report." It also aims, to borrow a metaphor from Tom de Waal, to act as a smoke detector, focusing attention on potential conflict situations and crises throughout the region. The views are the author's own and do not represent those of RFE/RL.