Dutch legislator Geert Wilders, the creator of a controversial web-based film stigmatizing Islam, is to be prosecuted in Amsterdam on charges of discrimination and incitement to hatred.
A court in the Dutch capital said on January 21 that Wilders, who heads the far-right Dutch Freedom Party, made biased and radical statements "as a result of which hate is created."
The 17-minute film "Fitna" received worldwide attention last year when its release on the Internet sparked protests by Muslims in Afghanistan, Iran, Indonesia, Pakistan, and elsewhere.
The film, whose title means "strife" in Arabic, juxtaposes verses from the Koran with images of beheadings, attacks by Islamic terrorists, and clerics calling for jihad.
The court particularly faulted Wilders for equating the Koran and Islam with the ideology of Nazism and Adolf Hitler's book "Mein Kampf."
"The instigation of hatred in a democratic society constitutes such a serious matter [that it is necessary] to draw a clear boundary in the public debate," the judges said.
The decision caps a several-year effort by civil-rights groups in the Netherlands to bring Wilders to trial for repeated public statements attacking Muslims.
The efforts seemed to have reached a dead end in June when the Dutch prosecutor's office refused to press charges against Wilders. The prosecutor's office said at the time that the lawmaker's film and other public statements equating Islam with fascism were painful for Muslims but not criminal.
But the court decision on January 21 forces the prosecutors to reverse that position.
One of the rights groups that led the effort to bring charges against Wilders is Nederland Bekent Kleur (Netherlands Recognizes Color). A spokesman for the group, Frank van Schaik, said: "If you start talking about a whole group of people and portray them as negative and as all being very bad and believers in something that is violent, and this is what [Wilders] says...then this is very dangerous because you will alienate two large groups of people in one society toward each other. I think we have seen in the past what can happen if you follow this course for years and years."
Struggle For Balance
Wilders called the court decision "an attack on freedom of expression." In remarks on his website, he wrote, "if you give your opinion, you risk being prosecuted."
The prosecutor's office says it will now bring detailed charges of hate speech against Wilders "within the year." The case will then go to a court which will decide whether Wilders should be convicted on those charges and, if so, what penalties he must face.
Under Dutch law, members of parliament are not immune from prosecution.
The legal battle over Wilders' public statements again highlights Europe's struggle to balance an individual's right to the freedom of speech with society's interest in order and stability.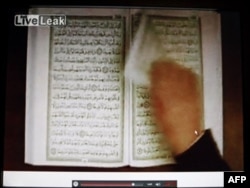 A screenshot from "Fitna," which equates Islam with fascism
The boundaries have been tested in recent years by several cases regarding Islam, including the publication of satirical cartoons of the Prophet Muhammad in Denmark in 2006.
Proponents of wide boundaries for freedom of speech argue that religious and other groups cannot be exempt from the continent's rough-and-tumble political debates, where exaggeration and caricatures are frequent weapons. Everyone has the right to speak freely, they argue, and no one has the right to be protected from possible offense.
But critics of that interpretation argue that the right to free speech stops when it stirs up hatred against a single group, raising the specter of violence and pogroms.
In the Netherlands, debate over Islam and its place in Europe has been particularly heated in recent years, partly due to two assassinations.
Cooling Of Passions
One was the 2002 killing of politician Pym Fortuyn by an assailant who later claimed in court he acted to stop Fortuyn from exploiting Muslims as scapegoats. The second was the 2004 killing of filmmaker Theo van Gogh by a Muslim extremist. Van Gogh had released a film criticizing Islam's treatment of women.
After the Van Gogh murder, polls showed 40 percent of Dutch respondents "hoped" that Muslims "no longer feel at home in the Netherlands."
The Netherlands has a Muslim community of about 1 million people, or 6 percent of the total population. Most are from Morocco or Turkey.
Some analysts say that recent years have seen a cooling of passions over Islam in the Netherlands, despite the rhetoric of far-right politicians like Wilders.
Edwin Bakker, an expert on Islam at The Hague-based Netherlands Institute of International Relations, says the cooling may be due in part to the previously heated nature of the debate.
"We needed a tough debate on issues of what is wrong in the Muslim community but it also showed the majority population that they have to give room to newcomers, and that they are not as bad as [depicted], that they are not all 9/11 suicide terrorists," Bakker says. "And that took some time and the debate was perhaps harsher because of certain politicians. But, in general, I would say we have come a long way and the discussion is more open now and the trust between communities is stronger than five, six, or 10 years ago."
Bakker says that recent opinion polls show that the number of people afraid of radicalization has dropped to 8 percent and the number afraid of terrorism to 13 percent.
RFE/RL's Russian Service freelance correspondent in the Netherlands, Sofia Kornienko, contributed to this story
.