TBILISI -- In an effort to facilitate a peaceful end to antigovernment protests in Georgia, European Union special envoy Peter Semneby traveled to Tbilisi on April 16 to hold separate meetings with opposition leaders. Nino Gelashvili of RFE/RL's Georgian Service asks him about his trip.
RFE/RL: You are meeting with all major political players in Georgia these days. How would you assess the political situation in the country and the prospects for dialogue?

Peter Semneby:
I think this is a good opportunity for Georgia to make sure that the cycles that we have seen in this country of resolving issues in the street is changed to something else and, if we would manage, if the Georgian political forces would manage to transform this action into a political process, I think this would be a very good thing for Georgia.
RFE/RL: And how do you see the prospects for such a dialogue following the meetings you've held?

Semneby:
I think that all sides are aware of what is at stake here. This is really about the future of Georgia, how Georgia is governed; about reaching a consensus about the rules of the game so that the political discussion can focus not primarily on procedural issues but on substantive issues like the economy, like social issues, and so on. I have a strong sense that most of those who are involved here, who have a stake in this, also realize their responsibility for the future of Georgia.
RFE/RL: Do you see readiness for compromise on the part of the government, as well as from the opposition?

Semneby:
Of course, there are some concessions that are necessary on both sides and certainly the advice that we have been giving, that others have been giving, is that the primary aim of the demonstrators -- the immediate resignation of the president -- should be put aside.
I'm not saying that they should give up this. It's a legitimate right in any democracy to make any political demand that keeps within the constitutional framework. But in order to make sure that we have a dialogue it will, of course, not be helpful to have as the primary aim that the immediate departure of your negotiation partner. So, while this demand can of course remain, there has to be at the same time a dialogue on constitutional issues, on electoral issues, and so on, which will have to involve all the major political forces in Georgia.
On the part of the government...to engage in good faith in this dialogue, not to take it as an opportunity to put additional pressure on the opposition, to marginalize the opposition, and squeeze the opposition, but, actually, I would say, to empower it, even.
RFE/RL: The position of the opposition is empowered by those protest rallies in the streets. How realistic does it seem to you that the political parties would accept such kinds of compromise?

Semneby:
I think it's impossible to say exactly what the result of such a dialogue and such negotiations will be. I think it should be in the interests, though, of both parties that this confrontation is transformed into a dialogue.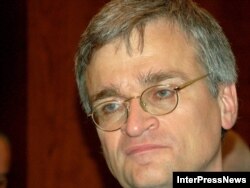 Peter Semneby, EU special envoy to the South Caucasus
I don't think it's in the interest of the opposition that the rally just fizzled out. The manifestation has given the opposition some leverage. I think this leverage will not last forever so it should be in their interest to use it in a constructive way while it lasts.
It's also not in the interest of the government that this rally ends without the fundamental, underlying issues being resolved. Because if this is the case then I fear that we will be back to this in, I don't know how many months -- three, four, six, 12. This is an opportunity to break this cycle that Georgia has been going through now for a long, long time of resolving issues in the streets. This is not the way that things are done in a modern democracy.
Let me just add here also that there is a difference, obviously, between airing issues, and positions, and grievances, and so on. For this the freedom of assembly is tremendously important. And what we have been seeing outside the parliament is an expression of this fundamental democratic right.
But this is different from actually resolving issues. For resolving issues you need other mechanisms, other fora. And for that a negotiation table is a much more appropriate forum.
The EU's Role

RFE/RL: You mentioned several times that the political parties on both sides understand what is at stake. So what do you think is at stake from the point of view of the authorities and the opposition? Do their perceptions coincide?

Semneby:
The stakes here concern the future of Georgia, how Georgia is governed, the political culture of Georgia, how Georgia is viewed in the world, which in turn will influence also how Georgia's partners and friends are able engage with Georgia.
So there are many implications that go beyond actually the more narrow issues that are in the focus of attention there before the parliament. So this is what is essentially at stake.
RFE/RL: There are certain expectations regarding the EU on Georgia, towards its mediating role in the current political crisis. What kind of role can the EU play in facilitating a dialogue, and is there any chance the EU can serve as a mediator in this process?

Semneby:
These are issues that need to be resolved between the political actors in Georgia, and the result of any such process has to be seen as legitimate by the majority of the people of Georgia. And this observation limits the role of any external actor.
I don't really think that any formal mediation would be appropriate. We are certainly not seeking such a role. At the same time, any role that is acceptable to both sides, or the sides in such a discussion, is obviously something that we will...consider. We are doing what we can without any formal role at this stage and we will be waiting for what comes out of the first stages of, of the discussion, whether the sides will desire any further role and what that role will look like.
RFE/RL: You said the majority of the Georgian population should decide what kind of political life the country should have in the future. The ways of finding out the majority's position are elections, or a referendum. The government does not see the need neither for a referendum, nor for early elections. If either of these ways would help reduce the tension in society, could you say it's a legitimate way of solving the problem?

Semneby:
I will not take a stand or position on this. What needs to be done is to bring the sides together, and, and whatever comes out of that kind of discussion, that kind of process, we will see then what comes out of that kind of dialogue and that kind of process, but it would be presumptuous for me as an outsider to give any direction or recommendation in that way at this stage.
RFE/RL: Could you say when the start of the dialogue might be expected?

Semneby:
I can only hope that the relative peace that is likely to, to occur over these next few days, we will also be used as a period of reflection and preparation for dealing with the issues at stake here. It is again a good opportunity that we have over the next few days to prepare the ground. Or, next week, which, I think, will be important.
RFE/RL: What about monitoring the political process in Georgia? What is the result of the work of the European monitors? Georgian NGOs, the human rights ombudsman, oppositionists speak about the incidents of violence taking place these days. One opposition activist has been detained. I know that the night when the stage and the equipment in front of the parliament was demolished by unknown people, some opposition leaders were having a meeting with you and later they witnessed the end of that violence. Did you have an opportunity to look into these cases?

Semneby:
First of all, we had a number of police monitors here on April 9 and a couple of days after April 9 by request of the Georgian government in order for us to have a picture on the situation, how it evolved in real time, and also to possibly have a restraining influence and a possibility, ability to react quickly if there should be a need to react.
I will not comment on, on the incident of last Saturday [April 11]. There are still some facts that need to be clarified. I was obviously there myself and I saw the immediate aftermath of that incident.
As far as the cases of violence are concerned that we have seen over the last few days: This is obviously something that is of concern to us and we have talked with both the opposition and the government about this and about the need to take action to prevent such, to investigate what has happened, that is very important. But also to take measures to prevent this from happening again and to prevent this violence from spreading.
RFE/RL: In order to avoid further tension, the authorities decided not to let the police and other public services be close to locations where rallies take place. Now the representatives of the opposition decided to take action to prevent the violence and keep law and order themselves. Do you think it's a normal situation?

Semneby:
Well, fundamentally the maintenance of law and order is the responsibility of the police, of course. And, there are always tactical considerations that have to be made in situations like this. But, fundamentally speaking, the police have responsibility for protecting the security of the citizens. I don't want to get into the, all the tactical choices that the police have to make here, but a balance, anyway, has to be struck. And if these things continue, and if there is continued threat of this kind, then I think also that the opposition would, would want to see more of a role, more of a presence of the police.
As far as the organizers of the rally itself are concerned..., if they organize their own security, that security can possibly prevent incidents of various kinds, but once these incidents happen, for example, that's not a matter for any kind of civil militia, this has to be the law enforcement bodies that have to be involved.