BRUSSELS -- It would be fair to say that the noises Brussels is making ahead of the May 8 Southern Corridor energy summit suggest the European Union is finally getting serious about ensuring the diversity of its energy supplies.
The bloc has invited to the Prague summit representatives from Turkmenistan, Uzbekistan, Kazakhstan, Azerbaijan, Georgia, Iraq, Egypt, and Turkey. All are either key suppliers of natural gas, crucial transit countries, or both.

Only two major regional players are missing. Qatar has not been invited -- "for the time being," said one EU official without elaborating. Iran would be invited to participate "when circumstances permit" said another official, in an allusion to the country's internationally controversial nuclear program.
Azerbaijan, Georgia, Turkey, and Egypt are expected to field their heads of state or government, others cabinet-level ministers. The EU will be represented by its Czech Presidency and other high officials.
Russia has been invited as an observer, along with the United States and Ukraine. Germany, France, Italy, Spain, and Slovenia insisted throughout the preparations for the summit that Moscow be present. But the Southern Corridor agenda conspicuously fails to include any of the Russian pipeline projects and is generally couched in terms making it clear the bloc is looking for alternatives to a partner whose reliability has been put into question after frequent spats with transit countries such as Ukraine.
Two senior EU officials -- who spoke on condition of anonymity -- gave reporters in Brussels on May 5 an account of what promises to become by far the most ambitious EU foray into the region to date. The account combines evidence of unprecedented levels of EU ambition and commitment with a degree of concrete detail which has hitherto been absent from the bloc's designs in this field.
'Concrete Issues'
First, the EU will be seeking specific commitments from potential supplier countries.
"We are expecting the summit to discuss concrete issues," one official said. "I am not in a position to tell you now whether we will ask for 10, 20, 30, or 50 billion cubic meters (bcm) of gas, but this question will be discussed."
The EU will commit whatever political, economic, or -- if needed -- financial support necessary.
This is just one facet of a highly complex and changeable equation.
"Before constructing a pipeline, the producer needs to have the security of a market," the official said. "[He] needs to know who will buy the gas; transit countries will need to get insurances on the volumes that pass across their territory; and the European gas companies will need to have assurances that if they embark on building their pipelines the gas will be there in [necessary] volumes."
Despite the obvious political sensitivity of the Southern Corridor project, officials in Brussels insisted to journalists that the summit in Prague will not be a "political event, but a business opportunity."
But the same officials also underlined that the EU is giving the undertaking its full backing. The bloc will commit "whatever political, economic, or -- if needed -- financial support necessary," said one official.
This echoes wording contained in a draft summit declaration
obtained by RFE/RL
.
Borrowed Time
There's a keen sense now in the EU that it's living on borrowed time when it comes to securing gas supplies from the Caspian Sea region.
"If the EU will not go to make the deal -- political, technical, commercial -- to get the gas, that gas will go either to China or Russia," one official said.
The project comprises three key pipelines, all in "advanced stages" of planning, according to EU officials. These are Nabucco, running from the eastern border of Turkey to Austria; White Stream, running from Georgia under the Black Sea to Romania; and the Interconnector between Turkey and Greece and Italy (ITGY).
Combined, all three could supply up to 10 percent of the total EU gas need by 2020, or some 60 bcm. But, as one official noted, the potential is higher, as laying new pipelines alongside existing ones is a relatively simple matter.
Russia currently provides the EU with some 150 bcm annually, and that figure is not expected to rise significantly.

Open Backing
For the first time, the EU is giving its open backing to plans to build a trans-Caspian pipeline from Turkmenistan to Azerbaijan. This would allow Turkmenistan, Kazakhstan, and Uzbekistan to feed their gas directly into Nabucco. Currently, Nabucco remains dependent on Azerbaijan, which is thought to be capable of exporting some 20 bcm early in the next decade.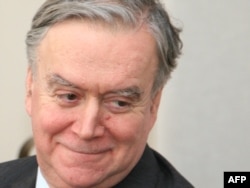 Pierre Morel, the EU's special envoy to Central Asia
One of the EU officials downplayed Azerbaijan's recent deal with Gazprom -- which some had predicted would spell the end for Nabucco -- saying the country's "selling 1.5-2 bcm of gas to Russia is not exactly the end of the world."
The three Southern Corridor pipelines, as well as the trans-Caspian link, would be purely commercial propositions, built and operated by private companies. The EU officials said securing finances for any of them would not be a problem, as long as supplies are guaranteed at profitable prices.
One major pitfall that remains for the EU is Turkey's dragging of feet over a transit deal. Turkey is angling for terms which the EU believes would violate its obligations under international law, in particular with a view to the rules put in place by the World Trade Organization. This issue has political ramifications, with Turkish leaders periodically hinting they see a link with the country's stalled EU membership talks.
It is an open secret, too, that for the Central Asian countries, and to a lesser degree for Azerbaijan, giving the cold shoulder to ardent suitor Russia entails inevitable political risks. These would need to be addressed and allayed by the EU. As these issues spill over into foreign policy, a domain in which EU member states jealously guard their sovereignty and autonomy, this could jeopardize Southern Corridor's chances of materializing.
But there are signs the EU's member states may be getting their act together here, too. An April 22 meeting of EU diplomats in Brussels which discussed Central Asia was told by the bloc's special envoy to the region, Pierre Morel, that the EU must step into the breach left by Russia's partial withdrawal from Central Asia brought about by the global economic crisis.
Morel also noted that with the elevation of the status of Afghanistan and Pakistan in the U.S. list of global priorities Central Asia's strategic importance as a transit corridor is growing. He noted Uzbekistan in particular is emerging as a key country for the EU's existing Central Asia Strategy, alongside Kazakhstan's recognized leadership role in the region.