(Voters go to the polls in Tajikistan. Video by RFE/RL's Tajik Service)
(RFE/RL) -- Europe's main election watchdog says Tajikistan's parliamentary and local elections on February 28 failed to meet basic democratic standards.
"I'm happy that election day took place in a generally good atmosphere, but I'm even more disappointed that these elections failed on many basic democratic standards," said Pia Christmas-Moller, vice-president of the Parliamentary Assembly of the Organization for Security and Cooperation in Europe (OSCE).
In a statement, the OSCE said its hundreds of observers had "highlighted serious irregularities on election day, including a high prevalence of family and proxy voting and cases of ballot box stuffing," claims seconded by opposition politicians.
"Such serious irregularities weaken genuine democratic progress," Christmas-Moller said.
In a report ahead of the vote, the OSCE had expressed concern over a lack of transparency and accountability among election officials. The organization also cited reports from several political parties alleging that their campaigning had been obstructed by the authorities.
Tajikistan has never held an election judged free and fair by Western observers.
According to the Central Election Commission, Tajik President Emomali Rahmon's ruling People's Democratic Party won 71.7 percent of the vote. The party held more than 50 of the 63 seats in the outgoing parliament and its leader has ruled the former Soviet republic for more than 17 years.
The opposition Islamic Revival Party and pro-government Communists also secured some seats in the lower house, it said.
Official final results will be announced in two weeks.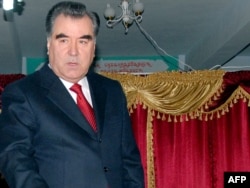 Tajik President Emomali Rahmon casts his vote at a polling station in Dushanbe.
Rahmon's 23-year-old son, Rustam Emomali, widely seen as a successor to his father, is also using the election to launch his political career, seeking a seat on the city council of the Tajik capital, Dushanbe.
Electoral authorities in Tajikistan said more than 85 percent of some 3.5 million eligible voters cast ballots.
Rahmatillo Zoirov, the head of the opposition Social Democratic Party of Tajikistan, complained that in Dushanbe, his party's observers were made to sit in corners of the polling stations and were unable to keep an eye on the process.
"In several polling stations we detected illegal activities such as multiple voting. They [the authorities] are not allowing filming or taking pictures in the polling stations. At the same time they have restricted the functions of voting monitors," Zoirov told RFE/RL's Tajik Service.
Young Leadership And Swelling Ranks
The Communist Party and the
Islamic Renaissance Party
(IRP) have emerged as the main contenders to the ruling People's Democratic Party. Both parties held a small number of seats in the outgoing assembly.
The IRP is Central Asia's only Islamist political party that is registered to work legally. With its young leadership and swelling ranks, the party aimed to use the election to strengthen its representation in the parliament.
But despite campaigning hard, IRP leader Muhiddin Kabiri says he is discouraged by what he saw on election day.
"We hoped that these elections would be better in comparison to the elections of 2005. But unfortunately, according to reports we received in our election headquarters from polling stations, authorities in districts are still not ready for transparent and democratic elections," Kabiri said.
News agencies quoted Kabiri as saying his supporters have registered numerous violations, including multiple voting and obstruction of the work of electoral observers and poll workers. Kabiri said he believed his party could have won 10 seats in parliament in a fair vote. The party has two seats in the outgoing legislature.
Javharshoh Himmatshoev, a voter in Dushanbe, says that despite being registered to vote, his five-member family didn't receive voting cards. "Are they blind to lose five names? You can forget one name, two names but five is too much," he says.
Despite the criticism of his opponents, Rahmon called the elections an important political event to promote the country's economic and social life. While voting close to his official residence in Dushanbe, Rahmon told journalists that he prefers to keep quiet on election day and will answer questions later.
"From the point view of improvement of the international image of Tajikistan, the more transparent, more free, and more democratic parliamentary elections are, the more important they for the people and the country of Tajikistan," Rahmon said in response to a question from RFE/RL's Tajik Service.
with agency reports