For the first time in more than 30 years, Muslims will be observing the holy month of Ramadan in what will be the peak of summer in the Northern Hemisphere.
The timing has prompted concerns over how Muslim believers can deal with sunrise-to-sunset food and water abstention, while maintaining their health.
"From the medical point of view, Ramadan has many good points, but also for the people with certain health problems, it might be not so good," says Kyrgyz physician Ramis Usenbekov. "Also, the current hot weather is a big issue. In hot weather, the body dehydrates quickly, and it is necessary to get liquids frequently in this kind of heat."
Ramadan is tied to the lunar cycle and starts on August 20 in many Central Asian countries, although various Islamic sects and practices in different countries dictate different starting days. For example, Ramadan starts August 21 in Iran and Lebanon, but August 22 in the United States.
"We know that the temperature is a little bit high, and the day is much longer than last year," says Dr. Ali bin Shakar, director of the United Arab Emirates' Health Ministry. "So that's why we are concentrated on health education, how to deal with this time."
Shakar mentions "outdoor exposure, indoor exposure -- even what kind of food to take before fasting, how to start, and how to break your fast after that."
'Reasonable Way'
Kazan-based doctor Ildar Tukhvatullin explains that breaking the fast correctly can be critical, given that the longer days of summer will push that hour back considerably.
"During 'iftar' [evening] and 'sakhar' [morning], people have their meal. If they do it in a reasonable way -- don't overeat or eat anything irritating their stomach -- then fasting will be good for them," he says.
We know that the temperature is a little bit high, and the day is much longer than last year. So that's why we are concentrated on health education...
"It is important to have plenty of food containing carbohydrates -- that is, dried fruit, dates and figs, poultry, fish, dairy products. All of them are light and easily digested. Gas-forming products and water with gas should be excluded from the meal."
Afghan Mullah Mustafa Fedai stresses that Islam does make exceptions for health conditions.
"Islam wants convenience and health for its followers," Fedai says. "In a specific situation, such as if someone is going to lose consciousness and cannot continue fasting, the holy Koran makes clear that Islam allows people to eat. One verse says that exceptions can be made in cases of extreme need."
Tatar cleric Ildus Faiz points out the exception for the sick and tells RFE/RL that the point of fasting is holiness, not health.
" 'Uraza' [fasting] is not for getting healthier. People should know this. Sick people who think they will get better while fasting are mistaken," he says. "This shouldn't be the goal."
'Commit A Sin'
Iraqi cleric Ali al-Jubouri explains the travel exception, and cautions that while sickness exempts followers from fasting, faking illness is unacceptable.
"God says travelers and those who are ill are free from the fasting during Ramadan," Jubouri says. "But those who fake illness so they don't have to fast will have to fast at a later time, and they commit a sin."
Amid the heat of summer, fasting ethics have become a flashpoint this year. In Italy, for example, Muslim agriculture workers have been threatened with suspension if they refuse to drink liquids during the hotter parts of the day.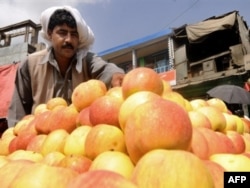 An Afghan vendor waits for customers at a market on the first day of Ramadan in 2008. (file photo)
Speaking from Germany, Afghan Dr. Akram Malikzi says more could be done to help day laborers struggling to maintain their fast.
"In this holy month, if people follow the Islamic fasting rules, it is good for health and will not have a bad effect," Malikzi says.
"Regarding impoverished people who have to work in hot weather, it is clear that every human being loses a lot of liquid and minerals by sweating. If they continue to work in such hot weather, they will definitely they become dehydrated. But if they don't work, what will they eat, and who will support their children? I have a suggestion to the wealthy people in the government: help support these families," he said.
A shorter workday is informally kept during Ramadan in many Muslim countries.
Health concerns are compounded this year by the emergence of swine flu, a global pandemic. Ramadan is traditionally a popular month for followers of Islam to go on pilgrimage to the holy city of Mecca, in Saudi Arabia.
The country issued a swine flu alert in July and announced that it will block visas from chronically ill pilgrims, as well as those over 65 or under 12 years old, to help prevent the spread of illness. More than 3 million pilgrims from 160-plus countries travel to Mecca each year.
The World Health Organization announced recently that 50 percent of Iran's 144 swine flu cases have come from Saudi Arabia, and a young Egyptian woman died July 19 after contracting swine flu during a pilgrimage to Mecca. Iran, Iraq, Lebanon, and Egypt have imposed restrictions -- or outright bans -- on the pilgrimage.

RFE/RL's Tatar-Bashkir, Iraq, Afghan, and Kyrgyz services contributed to this report.