Eastern Europe has borrowed a lot of money from Western banks.
How much?
More than $1.5 trillion as of 2008, according to statistics published in September by the Bank for International Settlements.
And the region -- including the new EU states, the Balkans, and Ukraine -- has grown used to borrowing ever more with each passing year.
In the past three years alone -- from 2005 to 2008 -- Eastern European borrowing tripled.
The loans helped many countries enjoy impressive economic growth rates. In some cases, Real Gross Domestic Product (GDP adjusted for inflation) increased by up to 7 to 8 percent a year.
And for a long time, it all sounded like good news. Eastern Europe got used to living on credit, just as Western Europe does, and it began to feel like it was catching up.
But now, with the global economic crisis, the world seems to have been stood on its head. Western banks that once could not lend enough to Eastern Europe have stopped lending. And everything that once seemed like good news about credit suddenly seems bad.
"We have seen a tremendous lending boom, a property market boom, and these countries have become extremely vulnerable in the present environment of tightening global credit conditions," Lars Christensen, head of research for emerging markets at Danske Bank in Denmark, says in describes the situation in Eastern Europe.
"What we are seeing now is European banks, Austrian banks and others, reducing their exposure for the very simple reason that they have to reduce their risk," Christensen added.
Can't Afford To Lend
Eastern Europe's influx of loans came mostly from Austrian, Swedish, Greek, Italian, and Belgian banks.
So, there is no doubt the Baltic countries -- Bulgaria and Romania within the EU -- look very fragile.
Many of these banks -- which now need money to offset their own debts and devalued assets at home -- simply cannot afford to lend any more.
And worse, some financial experts suspect they have already loaned so much that if Eastern Europeans default on their loan payments, the defaults could wreak havoc in the West's already shaky economies.
Austrian Finance Minister Josef Proell recently said that Austria alone has loaned 230 billion euros to Eastern Europe. That is equal to 70 percent of Austria's GDP.
The Austrian daily "Der Standard" has warned that a failure rate of 10 percent in Eastern Europe's debt repayments could lead to the collapse of the country's financial sector.
The European Bank for Reconstruction and Development (EBRD) has estimated Eastern Europe's bad debts could go over 10 percent and might even reach 20 percent.
Underlining the mounting concern, Proell tried last week to convince EU finance ministers to provide 150 billion euros to the former Soviet bloc, something that would help assure East Europeans do not default on their debts.
Balked At Rescues
A major Austrian bank, Raiffeisen International, is leading a consortium of nine banks that is lobbying the EU and European Central Bank do the same thing.
However, the EU, and in particular its economic powerhouse Germany, has balked at rescuing any country outside of the union's borders.
Instead, the rescue job has fallen to the International Monetary Fund (IMF). The fund already has provided money to Belarus, Hungary, Iceland, Latvia, Pakistan, and Ukraine.
But the IMF is now reported to be fast approaching the limits of its $200 billion reserve. And some of those it has already helped are already showing of needing much more.
Ukraine is in particular trouble. It is facing a 12 percent contraction rate of its GDP as worldwide prices for steel -- normally 40 percent of Ukraine's exports -- have collapsed. At the same time, Ukraine's industry faces higher prices for Russian gas.
Kyiv is currently negotiating the terms of the second tranche of its $16.4 billion IMF loan. The loan will enable Ukraine to make repayments on its sovereign debt -- that is, debt the government has guaranteed to pay back. But corporate and bank defaults are considered inevitable.
Christensen says Eastern Europe's problems today are partly due to Western banks ignoring warning signs that the region's economies were never as healthy as their high growth rates often suggested.
"We have for a couple of years since 2006 been warning about overleveraging in Central and Eastern Europe," Christensen says. "And the countries that we have often within the EU pointed to are the Baltic countries and Bulgaria and Romania. All those countries have been struggling with very extreme property market bubbles, huge current account deficits, 20 to 25 percent of GDP in some countries.
"So, there is no doubt the Baltic countries -- Bulgaria and Romania within the EU -- look very fragile. Hungary also, and to some extent Poland, in terms of foreign currency lending, but not as extreme as the others."
'Easy Money'
Current account deficits reflect how much more the population of a country spends on foreign goods and services than it produces or sells abroad.
As in the West, consumers in Eastern Europe too often have used the "easy money" Western banks provided to speculate in the local housing market or buy imports. That is instead of investing the money in industrial and other productive sectors.
Now, Christensen predicts, the drying up of new credit, and the need to pay off existing loans, means Eastern Europe faces a painful adjustment.
He takes Bulgaria as an example.
"The current account deficits in the country basically are financed by bank loans that are not sustainable," Christensen says. "Once those loans disappear, you basically have to find other sources of funding or your current account gap has to close. But if you have a current account deficit of let's say 25 percent of GDP, then basic domestic demand has to fall as much. That's the kind of crisis Bulgaria is headed for."
The only alternative to this scenario is for some outside party to come to the rescue.
Both the Eastern Europeans -- and the Western Europeans who have invested in the region -- hope that will happen.
But the only candidate is the EU. And before the EU can act, it will have to take the tough decision to embrace Eastern Europe's problems as fully as it once embraced its opportunities.
Journalists In Trouble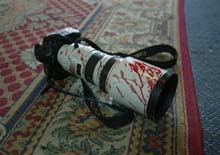 RFE/RL journalists take risks, face threats, and make sacrifices every day in an effort to gather the news. Our new "Journalists In Trouble" web page recognizes their courage and conviction, and documents the high price that many have paid simply for doing their jobs. More