Ebadi Says U.S. Turns Blind Eye To Iranian Rights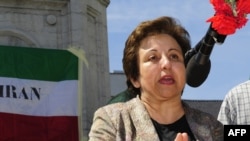 WASHINGTON (Reuters) -- Iranian human rights lawyer Shirin Ebadi has accused the United States of turning a blind eye to human rights violations in Iran as it seeks to rein in Tehran's nuclear program.

A Nobel Peace laureate, Ebadi congratulated U.S. President Barack Obama on being awarded the prize last week and suggested she hoped it would widen his view of peace to include the basic rights of people to live in freedom and dignity.

Ebadi left Iran just before its disputed June 12 election, which triggered huge opposition protests, plunged Iran into its worst political crisis since the Islamic revolution 30 years ago and revealed deepening rifts within its ruling elites.

Opposition leaders believe the poll was rigged to secure the reelection of hard-line President Mahmud Ahmadinejad but the authorities deny this and portray the protests as a foreign-backed bid to undermine the Islamic Republic.

In an interview, Ebadi decried the prosecution of people accused of involvement in the demonstrations as "show trials" and she said the authorities recently sentenced three people to death so as to intimidate others who are in prison.

She also said the United States, and the West, have placed their interest in halting Iran's suspected pursuit of nuclear weapons above protecting the rights of Iran's people.

Saying Iran has the world's highest rate of juvenile death sentences and the largest number of imprisoned journalists, Ebadi asked: "So [why] does the West, and especially the United States, choose to close its eyes to these facts?"

'Big Lie'

"If Mr. Obama is saying that he wants to press the hand of friendship of other nations, (why) does he choose to press the hand of a country that violates human rights?" she told Reuters.

The lawyer, who said she plans to return to Iran within the next two months or so, called on the West to speak out more on behalf of Iranian human rights and, in particular, the cases of three Iranians recently sentenced to death.

Iran's ISNA news agency reported on October 10 that a court had sentenced three people to death over street unrest and links to exiled opposition groups.

ISNA identified the three only by their initials, one set of which matched that of Mohammad Reza Ali Zamani, who was one of about 100 opposition supporters who were accused in a series of mass trials of fomenting postelection street unrest.

Ebadi said the claims that the three were involved in the postelection protests were "a big lie" and she said Ali Zamani had been arrested well before the election and was promised that he would be freed if he confessed to taking part in the protests.

Ebadi said she did not expect the death sentences to be carried out, saying popular discontent would prevent this.

"In my opinion, the reason why the death sentence verdicts were issued was in fact to place pressure on people who have been arrested and have not yet...confessed," she said.

She also called for the United States and Europe to take a more muscular stand in defending the three.

"If they speak up more about them it will certainly help. Europe and the United States cannot be indifferent to human rights violations in Iran," Ebadi said.

"In the past three years they have only spoken of the nuclear issue, primarily. And even now, the United States wants to only focus on talking about the nuclear issue with Iran."

While faulting the U.S. focus on Iran's nuclear program, Ebadi welcomed Obama to "the Nobel Peace laureates' family."

"I am glad that he won the award because it increases his commitment to create peace...to improve the situation here in the United States and in the rest of the world," she said.

"In my opinion, peace has an expansive definition. Peace does not mean the lack of war. Peace is the collection of circumstances that allow human beings to live in freedom and with dignity," she said. "I hope that the Nobel Prize will help guide his thinking to focus more on the definition of peace."