Nobel Peace Prize winner Shirin Ebadi has called on women around the world to express solidarity with mourning mothers in Iran by wearing black and gathering once a week in their neighborhood parks.
In an open letter, Ebadi says it has become clear that the number of dead from Iran's postelection crackdown is higher than officials have been willing to admit.
"The dimensions of the disaster are more extensive than what we imagined," Ebadi says.
Iranian officials say about 20 people have died in the postelection violence.
But rights groups that include the International Campaign For Human Rights in Iran say they think the numbers are far higher.
A group that initially met in late June for a rally in a Tehran park (Laleh Park) to commemorate those who have lost their lives or disappeared after participating in protests has been dubbed "The Mourning Mothers of Iran."
The gatherings reportedly have been repeated despite security forces' dispersal tactics and detentions.
In a sign of support for the mothers of those killings, Ebadi asks women around the world to meet in their local parks on Saturdays from 7:00-8:00 p.m.
-- Golnaz Esfandiari
Iran Election Special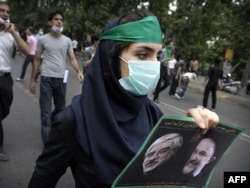 RFE/RL's Full Coverage
Following the disputed reelection of Iranian President Mahmud Ahmadinejad, supporters of Mir Hossein Musavi have taken to the streets to protest.
Click here
for news, blogs, and analysis of the presidential election and aftermath.