PRAGUE -- U.S. Federal Reserve chief Ben Bernanke was one of the first, spotting "green shoots" back in March. Then President Barack Obama spoke of "glimmers of hope" for the U.S. economy. And influential voices in Russia and Britain have said the worst of the economic crises in their countries appear to be over.
After a long winter, is spring finally in the air?
The number of new single-family homes being built in the United States has been roughly steady for the first three months of this year after huge drops in previous months.
Some recent indicators show that Americans' consumer confidence is picking up, too.
The U.S. Fed recently reported a "moderation in the pace of decline" in economic activity in five of its 12 districts.
Some large U.S. banks, such as CitiGroup and Goldman Sachs, have announced profits in the first quarter.
Not Just In U.S.
In China, Premier Wen Jiabao on April 18 said his country's economy was faring better than expected, thanks to its huge stimulus spending. That followed data showing encouraging growth in the world's third-largest economy.
Earlier this month, Russia's central bank chief, Sergei Ignatyev, said he believed the sharpest phase of the crisis was over.
Leading employers' groups in Britain and Italy -- the Confederation of British Industry and Confindustria -- both voiced optimism this week that their countries had put the worst of the recession behind them.
In Germany, the index of investor confidence turned positive on April 21 for the first time in two years.
There's clearly a lot of optimism that the actions taken around the world to fight the recession -- including aggressive interest rate cuts, bank bailouts, and $5 trillion committed by governments -- are beginning to bear fruit.
It's all led to a rally in world stock markets. The main U.S. index, the Dow Jones Industrial average, rose nearly 23 percent in a six-week rally that stalled only on April 20.
So has the global economy turned a corner?
"It's true that we won't see output decline by as much as it did in the last quarter in 2008 and first quarter of this year, so in that sense I suppose it's possible to say the worst might be behind us," says Dawn Holland, a senior research fellow at Britain's National Institute of Economic and Social Research. "But there's still very little evidence there's outlook for positive growth in most of the major economies for the rest of this year. It's still a little early to jump on any glimmers of hope."
And for every green shoot, there are plenty of nasty weeds around.
"We still expect unemployment to rise in most countries at least until the end of this year and probably through the middle of 2010, so more people are going to be out of work," Holland says. "All those people would not view it as the beginning of a recovery if they are about to lose their jobs."
No Reversal
"We're not getting wholly bad news anymore," Professor Peter Morici, who teaches economics at the University of Maryland, says of the U.S. economy. "Now we're getting some good news mixed in with the bad. What it means is that the rate of decline has slowed -- we haven't hit bottom yet."
In other words, things aren't necessarily turning around. They're just not deteriorating as quickly as before.
Experts also say the good news might not be all it seems, particularly those rosy-looking bank results.
That's partly because they came after a relaxation of accounting rules that now allow banks more leeway in pricing some hard-to-trade assets.
Those problem loans and securities lie at the heart of the financial crisis.
Prominent U.S. economist Nouriel Roubini has estimated that global losses linked to those assets could rise to more than $4.6 trillion.
No wonder he talks of "yellow weeds" instead of green shoots.
Morici notes the U.S. economy faces risks in the form of defaults on credit-card debt and problems in commercial real estate.
"The other shoe is yet to fall: We've had the mortgage problem, we'll now have problems with credit-card debt and retail space," Morici says. "So I think the banks are exaggerating their health. I think the administration is trying to talk things up too much."
To be sure, official optimism is heavily tempered, too.
Obama's "glimmers of hope" came with the warning that the economy was still under severe stress.
At a regional summit in Trinidad on April 19, he said, "We're not out of the woods. This is still a difficult time for the economy."
Even if the green shoots do take root, economists warn global growth is likely to be weak.
The International Monetary Fund (IMF) has forecast growth of just 1.5-2.5 percent next year -- in global terms, a level it considers still to be a recession.
World Economic Crisis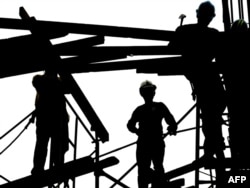 Multimedia coverage on the impact of the global financial crisis on markets and individuals across RFE/RL's broadcast region. More