It's election season and that can mean only one thing in Iran: jokes. Perhaps unsurprisingly, many of them are poking fun at Ahmadinejad.
(A conservative member of the parliament, Behruz Jafari, said on May 27 that the campaign activities of the president's rivals seems to be focused on damaging the government rather than criticizing Ahmadinejad.)
For instance, a viral ad purportedly published in an Iranian newspaper, says, "Darling just buy tomatoes. We're nearing the election and we have plenty of potatoes at home. With lots of love, Manijeh [a female name]."
(Ahmadinejad has been accused of
distributing free potatoes
in order to buy votes ahead of the June 12 election.)
And
RFE/RL's Radio Farda
has received masses of text messages from Iranians. Here are a few examples:
"You don't change the driver of a car that is falling into a ravine. From The Election Campaign Headquarters of Dr. Mahmud Ahmadinejad."
"Between bad and worse, we choose bad and participate in the election."
"Don't pick your nose with your finger, you're supposed to create an epic with that finger!" (Officials have talked in grandiose terms about Iranians fulfilling their destiny by voting.)
Or an e-mail joke circulating among Iranians: "The Election Commission has announced in its last statement regarding the election that writing names such as monkey, traitor, fascist, silly, and [expletive] on the ballots will be considered a vote for Ahmadinejad."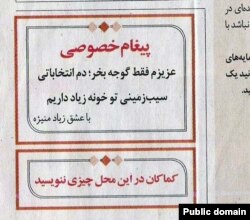 'Darling, just buy tomatoes'
And here are some reasons why people should vote for Musavi from a list put together by his supporters:
"He's older and we don't have to bear him for a long time."
"He's made anti-Israeli and anti- American comments at international venues but nobody walked out."
"His wife is educated, she's a professor, she's not into gossip, and she won't make him lose his nerves while working."
"He has no friends in Latin America."
"He didn't give his relatives government jobs."
-- Golnaz Esfandiari