The latest controversy in Kazakhstan's presidential family affair erupted early this week when the father of Rakhat Aliev, an embattled former Kazakh envoy who was once married to the president's daughter, left his son's home, walked 20 kilometers, and surprisingly showed up at the Kazakh Embassy in Vienna.
There, according to Kazakh officials, 76-year-old Mukhtar Aliev pleaded with the embassy to help him return to Kazakhstan -- sparking a media frenzy, allegations from Rakhat Aliev that the Kazakh state was using his own family against him, and raising eyebrows as Kazakhstan prepares to take over chairmanship of the Organization for Security and Cooperation in Europe (OSCE) next year.
Kazakh Foreign Ministry spokesman Ilyas Omarov told reporters that "according to Aliev's statement, his son Rakhat Aliev has been impeding his return, taking away all his documents -- passport and credit card -- mobile phone, and cash, as well as other personal belongings, including a suitcase and two travel bags."
News outlets reported that Kazakh diplomats in Vienna purchased plane tickets for the elder Aliev, and officials in Astana announced his impending return.
But then, at the last minute, Mukhtar Aliev apparently changed his mind, decided not to return to Kazakhstan after all, and checked himself into a local hotel.
Heart Condition
Mukhtar Aliev, a former health minister and renowned surgeon, reportedly travelled to Vienna last year to seek medical treatment for a deteriorating heart condition.
Once there, he stayed with his son Rakhat, the embattled former Kazakh ambassador to Vienna who has been convicted in absentia in Kazakhstan to 40 years in prison on a variety of charges, from kidnapping, to conspiracy, to treason.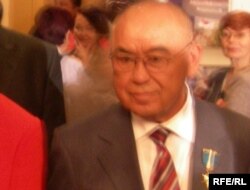 Mukhtar Aliev in April 2007
Foreign Ministry spokesman Omarov told reporters that Mukhtar Aliev left his son's house at daybreak on May 4 without anyone noticing. Upon his arrival at the embassy, Aliev reportedly told Kazakh officials in a written statement that he had pleaded with his son many times to let him return to Kazakhstan -- and had even gone on hunger strikes to show his commitment to the idea -- but that his son refused to let him go.
Speaking to RFE/RL's Kazakh Service, Mukhtar Aliev acknowledged that he had visited the embassy on his own accord. However, he insisted that he did not have any disagreements with his son.
"I did write the statement, but I was in such condition that my blood pressure was very high. I didn't quite understand what I was doing," Aliev said. "Now I categorically retract my testimony. I didn't have any disagreements with my son. He is my flesh and blood."
Earlier, the elder Aliev had distanced himself from the statement, saying it had been written under the effect of "tablets" given to him at the embassy.
Disputed Embassy Role
However, Altai Abibullaev, a high-ranking Kazakh diplomat in Vienna, said he was not aware of Aliev being given any medication during his stay at the embassy.
"He was under strain because he had to come to the embassy -- some 20 kilometers -- by foot. You can imagine it, at his age, especially after [his heart] operation," Abibullaev said.
"We invited one of Austria's top cardiologists to the embassy to check him out. The doctor examined him, she had an EKG. We have a medical report that [Aliev] was overall in good health, his blood pressure and pulse were normal," he added. "Of course, only a doctor has the right to talk about it, but I don't know anything about any tablets."
Abibullaev said that, as a Kazakh citizen, Aliev had the right to seek the embassy's assistance to return to Kazakhstan. Taking this into account, the embassy decided to accommodate the elder Aliev's wishes by obtaining tickets for him to fly to Astana. However, after a telephone conversation with his London-based daughter, Gulshat, he changed his mind, the diplomat said.
As journalists in Astana awaited his return and checked the times of flights from Vienna, Aliev checked into a Vienna hotel along with his daughter, who flew in from London to collect him from the embassy.
Rakhat Aliev, meanwhile, has told RFE/RL that Kazakh diplomats arrived at the hotel with the intention of taking his father to the airport, and that his sister had to call the police to ask the diplomats to leave him alone.
Mukhtar Aliev now says he feels too weak to speak with the diplomats.

Kazakh Enemy No. 1
Rakhat Aliev, once married to the Kazakh president's eldest daughter, Darigha, has insisted the entire episode is part of a plot "being orchestrated directly by President Nursultan Nazarbaev" to turn father against son.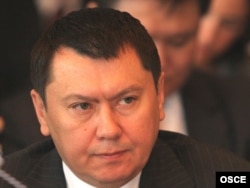 Rakhat Aliev in 2007
Aliev has said he is going to publish a book titled "Godfather-In-Law" in June to reveal damaging information about Nazarbaev and other members of Kazakhstan's political elite.
An influential member of the ruling elite before falling out of the president's favor in 2007, Aliev has been vocal in his criticism of his former father-in-law.
A doctor by profession, Rakhat Aliev has held a variety of key government positions from chief of the tax police, deputy head of the National Security Committee, to deputy foreign minister. As Kazakhstan's ambassador to Vienna, he played an important role in Astana's successful bid for the rotating OSCE chairmanship in 2010.
However, in 2007 a number of serious charges -- including economic crimes, abuse of office, kidnapping, and treason -- were brought against him by Kazakh officials. An international warrant was issued by Kazakhstan's Interior Ministry for his arrest.
Aliev was dismissed from his ambassadorial post in Vienna and stripped of his diplomatic immunity. A divorce from his wife Darigha soon followed.
Rakhat Aliev maintains he was punished for his presidential ambitions, and for criticizing a 2007 amendment to the Kazakh Constitution that opened the door for Nazarbaev to be president for life.
Despite the guilty verdict and jail sentences, Austrian authorities have refused to extradite Rakhat Aliev to Kazakhstan.
The Kazakh state's actions in the case, an alleged attempt to kidnap a former colleague of Aliev in Vienna, and the questioning of former political elites in Kazakhstan over their ties to Aliev, have put the spotlight on Kazakhstan as it prepares to take over the mantle of chairing the OSCE -- which has its headquarters in Vienna.