France's ambassador to Iran, Bernard Poletti, has met with a French national who has been in detention at Tehran's Evin prison since she was prevented from leaving the country in early July, RFE/RL's Radio Farda reported.
French Foreign Minister Bernard Kouchner told France Radio Info that Poletti delivered clothes and a book to Clotilde Reiss and passed along a message from Poletti's family.
Reiss, 23, was arrested at Tehran airport and reportedly accused of espionage over photos on her mobile telephone from recent protests against the result of Iran's June 12 election.
Reiss is a teacher of French language at Esfahan University who has been living in Iran for five months.
French officials have repeatedly said the allegation is baseless.
Iranian authorities have also detained British Embassy staff, with one still in custody despite protestations from London.
Iran Election Special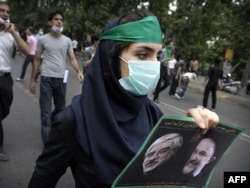 RFE/RL's Full Coverage
Following the disputed reelection of Iranian President Mahmud Ahmadinejad, supporters of Mir Hossein Musavi have taken to the streets to protest.
Click here
for news, blogs, and analysis of the presidential election and aftermath.