Earlier this month, 12 prominent European thinkers and former leaders issued an open letter titled "
Europe Must Stand Up For Georgia
." In it, they urged the authors of a coming EU report on the causes of the Georgia-Russia war of 2008 to "remember the painful lessons of our recent past."
Noting that "the European Union was build against the temptation of Munich and the iron curtain," the signatories -- all of whom grew up inside the Soviet bloc or threatened by its tall shadow -- cited "the critical question...[of] which country invaded the other, rather than which soldier shot the first bullet."
RFE/RL Georgian Service correspondent Nino Gelashvili spoke with one of the letter's signatories, former Estonian Prime Minister Mart Laar, about how the international response to the Georgian-Russian conflict could help make or break "the fate of the project to which we continue to dedicate our lives: the peaceful and democratic reunification of the European continent."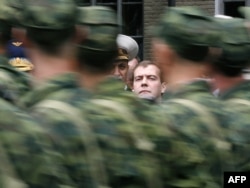 Russian troops poured into Georgia just three months after President Dmitry Medvedev took office.

RFE/RL: Mr Laar, in his address to the UN General Assembly on [September 24], Georgian President Mikheil Saakashvili evoked the example of the Berlin Wall and spoke about the "new artificial dividing lines" that are present in Europe. Such parallels have been drawn before. In what ways do you think the case of the Berlin Wall is pertinent to current processes?Mart Laar:
I think it's important that Europe, first of all, remember what happened and remember how several areas and countries fell under the rule of totalitarianism. Because when we are looking at Georgia, comparing last year's events with events in Budapest's 1956 Soviet aggression or in Prague's 1968 Soviet aggression, there are lots of things to remember, to think about how such things happen.
It's important to celebrate the fall of the Berlin wall, and the fall of Communism. At the same time, keep all this in mind as a lesson.
RFE/RL: In the open letter published in "The Guardian" and other European newspapers and signed by many distinguished European politicians and intellectuals -- including yourself -- you call on Europe to stand up for Georgia. What made you write this letter now? Do you see any immediate danger for Georgia -- or for Europe?Laar:
[It's] not so much an immediate danger, I must say. This [letter] was [conceived] through discussions [held] several times. Such a group of people -- [representing] quite different political parties, different ideas, and different backgrounds -- agrees that Europe must remember these events and must look at Georgia now, and not [when] it will be too late. I think that is an important message, and it's not so much connected to any concrete event.
RFE/RL: The EU-funded mission which is investigating the August [2008 Georgia-Russia] war is due to publish its findings next week. Some reports -- including those published by the German magazine "Der Spiegel" -- speculate that the report will lay most of the blame with Georgia -- although other sources contradict this. What are your expectations about the document?Laar:
I'm a little afraid because of the discussion we see around the report -- which is not yet published -- and still I keep hearing [things] that make it look like it's been published already. But it is not. We will see from the report; it is very difficult to comment [on it] now.
[People seem to be] looking at things from a very interesting point of view, forgetting history, forgetting context, and forgetting one simple point: that during the war, no Georgian soldier, no plane, no other military equipment left the legal, internationally recognized territory of Georgia.
But, of course, I am a little afraid -- looking at the comments on the possible report, and looking at the statements of several people who belong to that commission -- statements they made even before [joining] the commission. [They seem to be] looking at things from a very, we can say, interesting point of view, forgetting history, forgetting context, and forgetting one simple point: that during the war, no Georgian soldier, no plane, no other military equipment left the legal, internationally recognized territory of Georgia. It was Georgian territory, and no Georgian soldier [left] the borders of Georgia.
So it could not have been any aggression, any attack, or anything like this. One other country -- the neighboring country -- actually [entered] Georgia in several ways, in several areas, in several trajectories. That's very clear; this is a fact. And the problem is that some people do not want to look at the facts.
RFE/RL: What more steps, in your view, can Europe undertake vis-a-vis Georgia?Laar:
I think, first of all, Europe can speed up the European integration. There has been hope for a long time that agreements like [on] visa facilitation, trade development, etc., will [finally] be made. I really hope this will now be the case, that [the Swedish EU] presidency will now seriously deal with these matters. I very much hope that at least the visa-facilitation agreement will be done [soon], and then there will be positive movement forward with the free-trade agreement, too.
For now it is clear that the main task for Georgia is to look for stability, look for development of its economy, politics, legal structure. This, I think, is the highest priority; and whatever steps help Georgia in this [direction], the same steps -- in the long run -- help with territorial problems, too.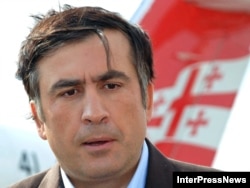 Georgian President Mikheil Saakashvili has been punished in the polls.
This problem is nothing new -- just look at other countries. In Cyprus it took a long, long time till solutions began to be put on table. They are not yet there, but I think they will be.
RFE/RL: Do you believe that Europe has real leverage for pressuring Russia?Laar:
Actually, it has. Otherwise, Georgia would probably have been occupied [on a larger scale] -- because it was largely the European Union's intervention that stopped the war last August.
When Europe is united, there are a lot of possibilities, a lot of influence. When Europe is not united, then of course there is not so much.